Some of the most recognizable conductors in the classical music world will take the stage at Rice University's Shepherd School of Music over the next 18 months. The leadership roster is noteworthy for the range of talent and musical experience it represents, marking the first time in the school's history that such a variety of internationally renowned conductors will work with its orchestras.
Starting in early February, the Shepherd School is bringing in Andrew Grams, former music director of Elgin Symphony Orchestra; Rice Shepherd School alum Cristian Măcelaru '06 '08, music director of the Orchestre National de France and artistic director of the George Enescu Festival and Competition; and Patrick Summers , artistic and music director of the Houston Grand Opera. All will guest conduct performances this spring, with preparations led by Joshua Gersen, former assistant conductor of the New York Philharmonic.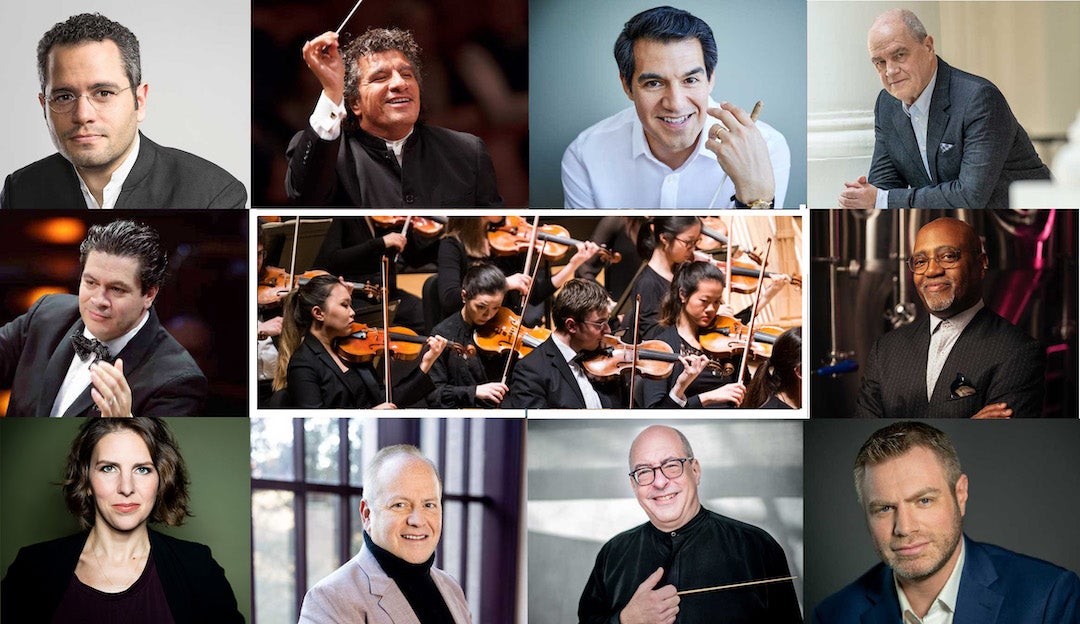 The 2023-24 academic year will welcome Robert Spano, music director of the Fort Worth Symphony Orchestra and Aspen Music Festival and School and former music director of the Atlanta Symphony Orchestra; Hans Graf , music director of the Singapore Symphony and former music director of the Houston Symphony; William Eddins, music director emeritus of the Edmonton Symphony Orchestra; Lidiya Yankovskaya, music director of the Chicago Opera Theater and founder of the Refugee Orchestra Project; Miguel Harth-Bedoya, music director laureate of the Fort Worth Symphony Orchestra and director of orchestral studies at Baylor University; and Giancarlo Guerrero, music director for the Nashville Symphony and NFM Wrocław Philharmonic in Poland.
"Many of these conductors have deep roots in the Lone Star State and represent musical leadership from the Houston Symphony and Houston Grand Opera to the Fort Worth Symphony and beyond," Shepherd School Dean Matthew Loden said. "We hope Houstonians will come see their favorite conductors on the podium at the Shepherd School's Stude Concert Hall, an easily accessible location on the Rice campus."
Following the death of longtime Shepherd School conductor Larry Rachleff last fall, Loden said the search for a new orchestra director presents a unique opportunity for the school and its students to experiment with finding new voices to help lead the renowned program and creatively design ways for it to continue to grow.

"Being able to capture such conducting talent is a real coup for our music school, and is a true testament to the reputation of the school that our students and faculty have built over the years. Giving our music students more opportunities to engage with these types of high-caliber international conductors from top-ranked professional ensembles will help them to keep winning big orchestra jobs," Loden said.
The selected repertoire for the 2023-2024 season includes a remarkable range representing the past, present and future of classical music. Masterpieces that have inspired listeners for generations — Stravinsky's "The Firebird," Brahms' Symphony No. 2, Prokofiev's "Romeo and Juliet" and Rimsky-Korsakov's "Scheherazade"— are featured alongside works by living composers Jennifer Higdon, Shepherd School alumna Caroline Shaw and Jimmy López Bellido. World-premiere compositions from award-winning Shepherd School students will also be performed on the guest conductor programs, along with solo performances from the annual concerto competition winners, many of whom are already working on the world stage.

"I'm really looking forward to coming back to Houston — and, for the first time, visiting the Shepherd School," said Yankovskaya, who previously conducted "Carmen" at the Houston Grand Opera. "It's so inspiring to work with students who are just on the cusp of exciting careers in music. At this point in their artistic lives, the world is full of musical possibilities, and I love exploring those ideas together."

Grams will kick off this spring's performances Feb. 4 when he leads the symphony orchestra as it performs Bartók's Suite from "The Miraculous Mandarin" and Beethoven's Symphony No. 3, "Eroica." On March 4, Măcelaru will present a program including Rice alumna Gabriela Lena Frank's "Concertino Cusqueño," Debussy's "Jeux" and Rachmaninoff's "Symphonic Dances." Summers will round out the semester as he leads the Shepherd School Symphony in an April 21 performance of music by Strauss and Brahms' "Variations on a Theme by Haydn."

"I'm so looking forward to this collaboration with the remarkable young artists of the Shepherd School," Summers said. Repertoire for his program will include Strauss' "Ein Heldenleben" (A Hero's Life), which he calls "a monumental challenge for any orchestra."

"To help unlock this summit of orchestral storytelling for a new generation is incredibly exciting and inspiring to me," he said.
More information about Shepherd School events and guest orchestra conductors is available at https://music.rice.edu. Tickets will be available in August for the 2023-2024 season.