Young adults in the Global Rice Empowers Academics and Training (GREAT) project enjoyed cultural presentations by international graduate students outside the Rice Welcome Center Feb. 12. Fueled by tacos and other treats, the GREAT group was led on an arts walk across campus that ended with a sunset light show at the James Turrell "Twilight Epiphany" Skyspace.
GREAT is an outreach initiative of the Office of International Students and Scholars (OISS), pioneered in 2019 by Brazilian grad students and continued by students from China and Ecuador. It provides informal academic and cultural opportunities to young adults with intellectual or developmental disabilities while offering international students and scholars a chance to teach others about their countries.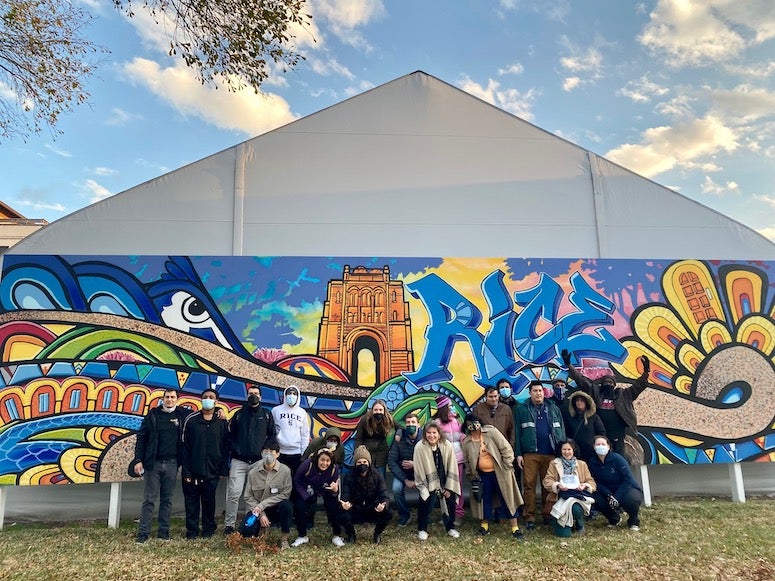 This year, the GREAT program expanded to include an arts walk thanks to OISS staff Maria Corcuera and Andy Meretoja, who were inspired by the Rice Public Art app. Built by students in the Rice Apps Club, the app displays a full catalog of Rice's art pieces with images and descriptions of each work; it will even create walking routes like the one used by the GREAT group.
Corcuera and Meretoja took turns telling the GREAT group about each piece as they covered ground that included outdoor works such as John Henry's "Archer" and Jaume Plensa's "Mirror" as well as indoor pieces such as Anny Coury's "Owl" and Pae White's "Triple Virgo."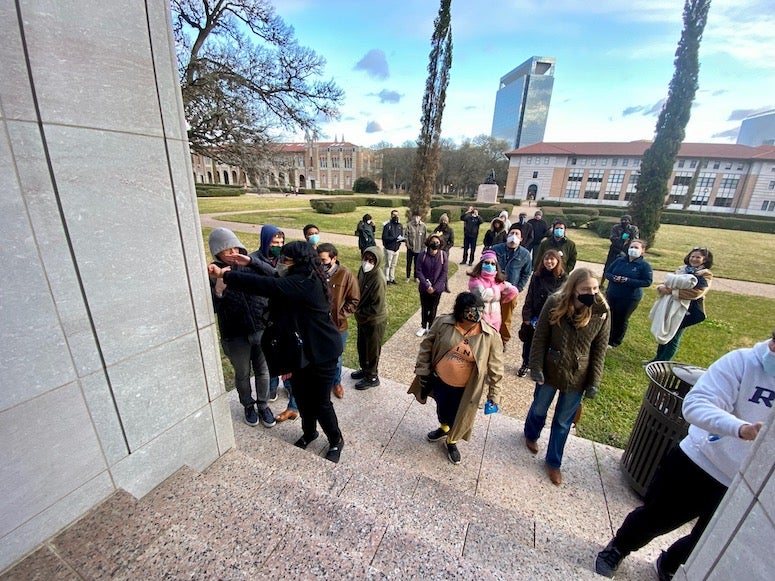 Grad students — including a few who helped start the program and are now Ph.Ds working in post-doctoral positions on campus — strolled and chatted with the young adults and their families along the way, concluding their tour at dusk just as the Skyspace lit up for its nightly sequence.
"It is amazing to see how Rice graduate international students give back to our local community through generously sharing part of their weekends to teach special young adults with unique learning challenges — and their families — amazing things about their home countries," said Adria Baker, Associate Vice Provost for International Education and the executive director of the OISS.
"The friendships and interactions between the Rice international students and the young adults is something spectacular," Baker said. "In fact, each learns a lot from one another. I am in awe of all of them, and they reflect the best of Rice's importance to diversity, inclusion, equity and building community."