There's a new way to take a self-guided tour of the abundant public art on the Rice campus: the handy Rice Public Art app released last week. Designed and developed by students in Rice Apps club collaborating with the Moody Center for the Arts, it's now available to download for free in the Apple store, with plans for an Android version in the coming months.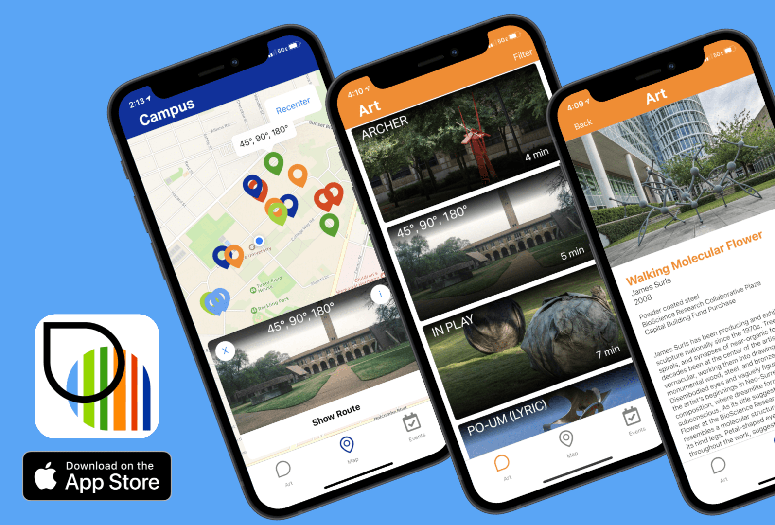 The app's colorful interface provides a map of the Rice campus with pins marking the locations of everything from notable megastructures such as James Turrell's "Twilight Epiphany Skyspace" and Michael Heizer's "45°, 90°, 180°" to more intimate pieces like Anny Coury's "Owl" tucked inside Allen Center.
Users can also scan a list of public art pieces with photos, listed in order of proximity to a phone's current location and each with a brief summary of the piece and its artist.
Brown College sophomore Adam Zawierucha and Hanszen College sophomore Ryan Knightly worked over winter break in a final push to get the app finished. Both of them are majoring in computer science and started developing games for fun in high school, but developing a fully functional, public-facing app has been a novel adventure for them and their team.
"I've never done anything with phones before so this is new for me," Zawierucha said.
"And I'd never really done back-end stuff like setting up a server or setting up a content management system," Knightly said.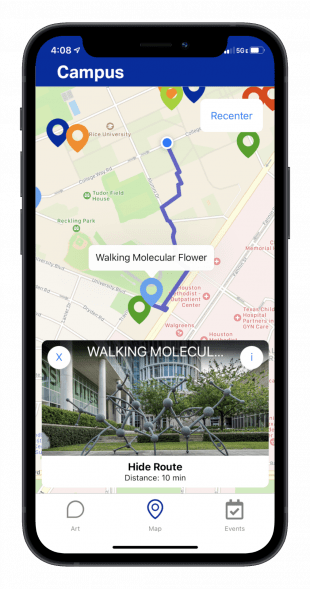 What they learned through the year of development is already coming into play as they venture into other projects, both for Rice Apps and in their own work.
"Now I'm doing a project with MD Anderson where I'm building a Node application, so the skills are already transferring to some other areas, which is kind of cool," Zawierucha said.
Equally rewarding were the Saturday Zoom sessions with the other Rice Apps members on their team: Danny Andreini '20, Baker College senior Ginny Jeon, McMurtry College junior Nicholas Meisburger, Katherine Ngo '20 (who was pursuing a Master of Business Administration degree at Jones Graduate School), McMurtry College junior Jiin Rhew and Brown College sophomore Ananya Vaidya.
After joining the club, Rice Apps student developers are placed on teams and given briefs from real-world clients who need a software solution, including Hives for Heroes and the Center for Career Development.
Being a part of the club means dedicating four hours a week to building an app with your team, a weekly ritual that ended up providing crucial bonding time after COVID-19 forced most Rice activities and classes to transition online.
"We started having little traditions during  our meetings on Saturday afternoons," Knightly said. "One of the serveries would frequently have brunch on Saturdays, so we'd be in the middle of sprint, run out to get some food, then come back and keep working."
The team reconvened for a final Zoom session once the app officially launched last week. The virtual celebration included the members who had already graduated, such as Andreini, tuning in from his new job as a software engineer in California.
"It's so nice to have a final product," Zawierucha said. "You can hold it in your hand and have other people actually use it for a real purpose, unlike some toy project that's sitting on my computer."
The Moody Center is just as happy with the end result, which it can now update as new pieces of public art are acquired and installed. And with four new pieces slated for this semester, look for new pins on the app's map to arrive soon.
"We are thrilled to have such a well-designed app for students and campus visitors to discover and engage with Rice's stellar public art collection," said Alison Weaver, the Suzanne Deal Booth Executive Director of the Moody Center. "The student developers, designers and product managers have done an outstanding job creating a valuable resource in support of the arts at Rice."
Download the new Rice Public Art app in the Apple store.