Rice O-Week 2022 wrapped up on a hot August Saturday after seven straight days of academic advising, introductions to all things Rice and more than a little fun along the way.
It was the first weeklong new student orientation at Rice since 2019 to take place entirely in person, without quickly pivoting online or cancelling events over COVID-19 concerns.
The dozens of student and staff leaders who managed O-Week within each of Rice's residential colleges and campuswide were also glad that a week forecast to be rainy didn't see much sustained precipitation.
"I thought the rain would impact something, but all events went on as planned," said a relieved Araceli Lopez, former associate director of First Year Programs and now executive director of Student Success Initiatives.
For Lopez, who was directly overseeing her last O-Week, the festivities were especially fulfilling. The return to a more face-to-face slate of programming still incorporated best practices gleaned from the university's experience working through the pandemic.
"It felt great to be able to revive our O-Week traditions campuswide and those that are specific to the colleges that were impacted by COVID-19," Lopez said.
After an emotional move-in day and a celebratory matriculation ceremony Aug. 14, new students were in for a jam-packed week of activities introducing them to both academic and social life at Rice.
Early in the week, new students attended the annual faculty address and were welcomed by each of Rice's academic schools based on what areas of studies they'd indicated an interest in during the application process. New students were invited en masse to Founder's Court in the shadow of Lovett Hall for the annual President's Welcome, where they chowed down on Goode Company BBQ fare, danced with their new friends and got a chance to meet Rice's new president, Reginald DesRoches.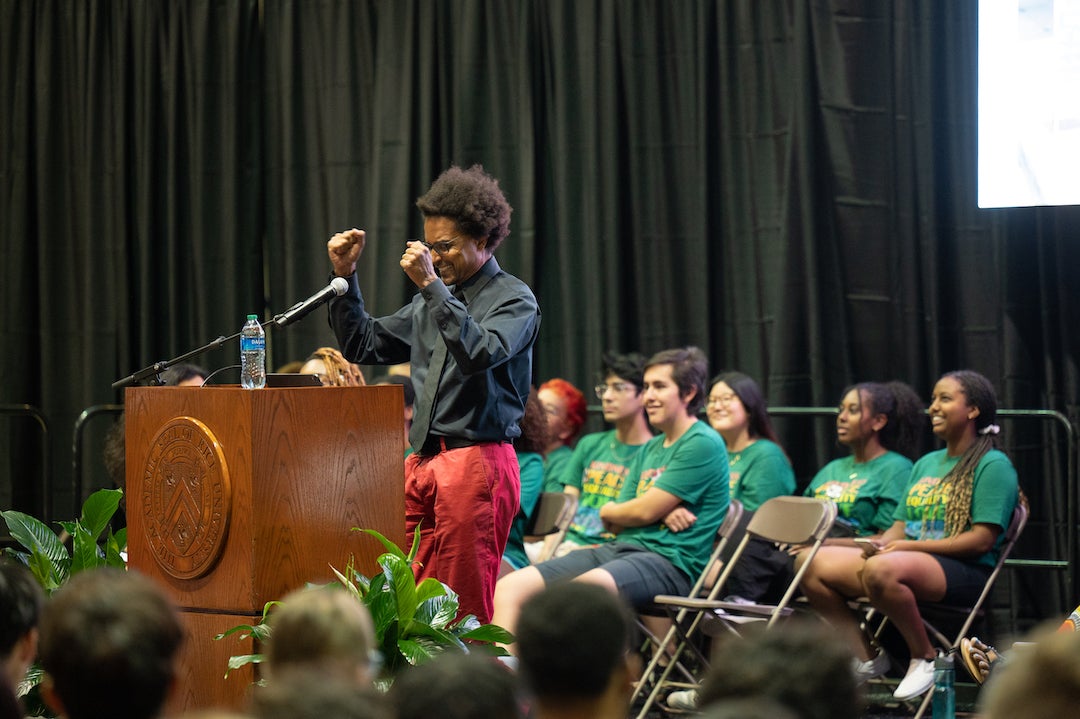 On Tuesday, the incoming students marched around campus in their colleges' matching O-Week shirts to a plethora of information sessions, including presentations on diversity at Rice, health and safety, Rice's academic honor code and tips for college well-being. Students flocked to the Barbara and David Gibbs Recreation and Wellness Center for an academic fair where they learned more about Rice's myriad majors, minors and programs of study. Afterward came the annual Rice Rally, where new students cheered on their student athlete peers in a celebration of university athletics and Owl spirit.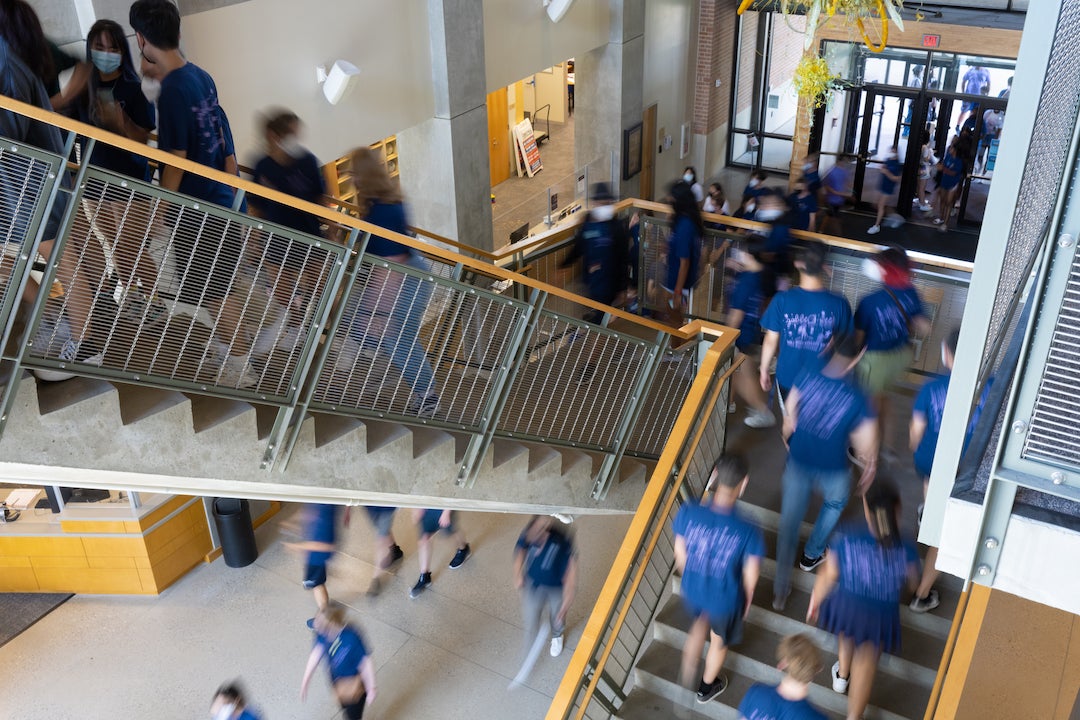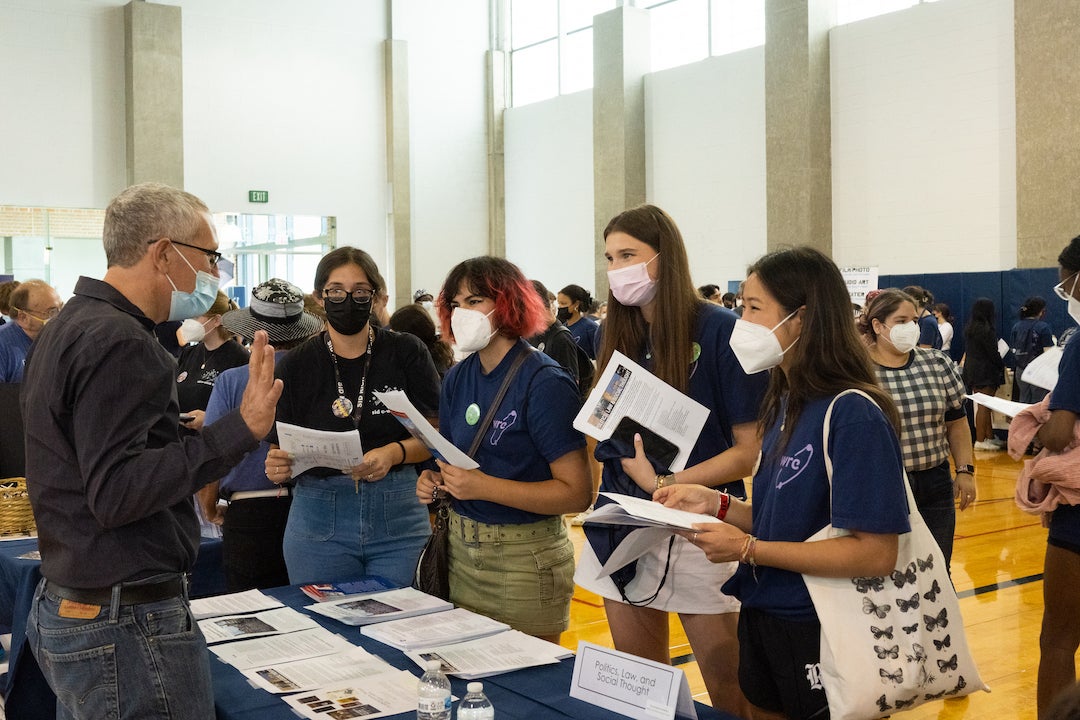 Other O-Week events included Associates' Dinners held within each college, where students were introduced to the Rice faculty, staff and alumni who have volunteered to serve as mentors.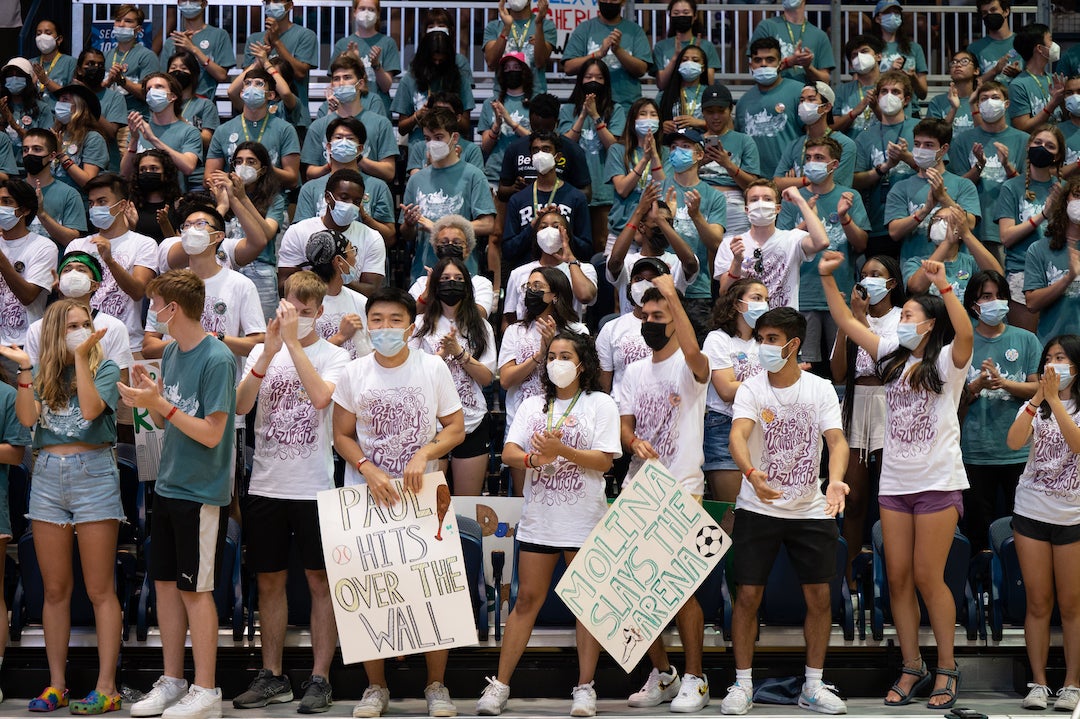 Throughout the week, new students received academic advice from student volunteers and faculty advisers before registering for classes at the end of the week. And no O-Week would be complete without a plethora of residential college-specific games, bonding activities and introductions to time-honored college traditions that help form each residential college's unique sense of community and identity.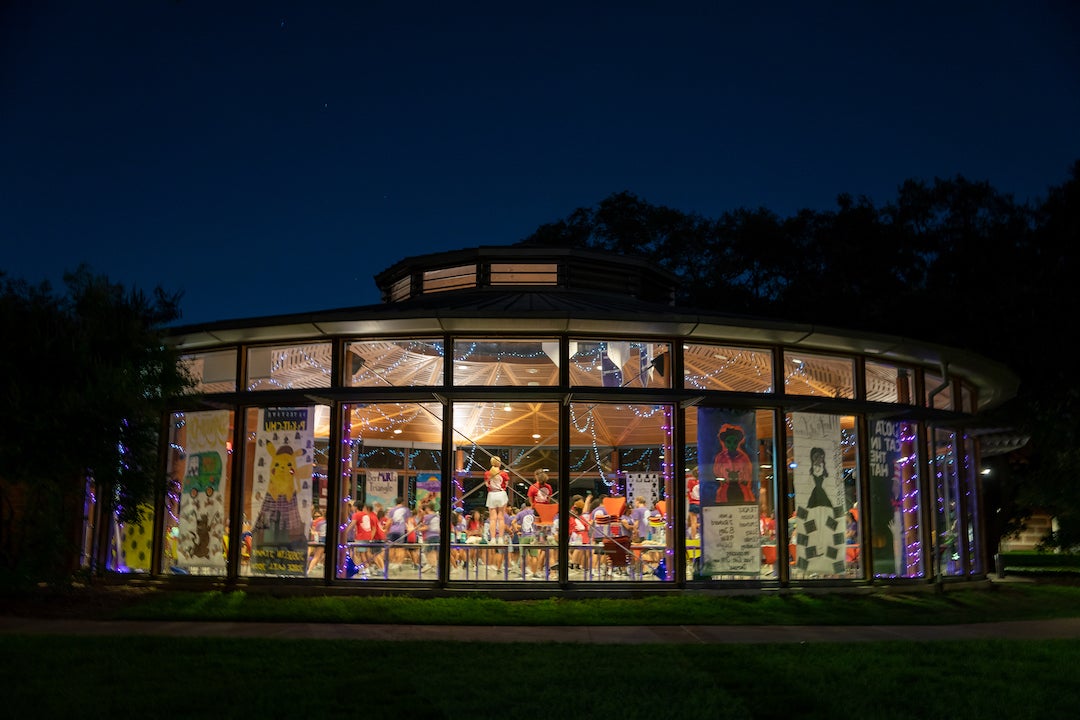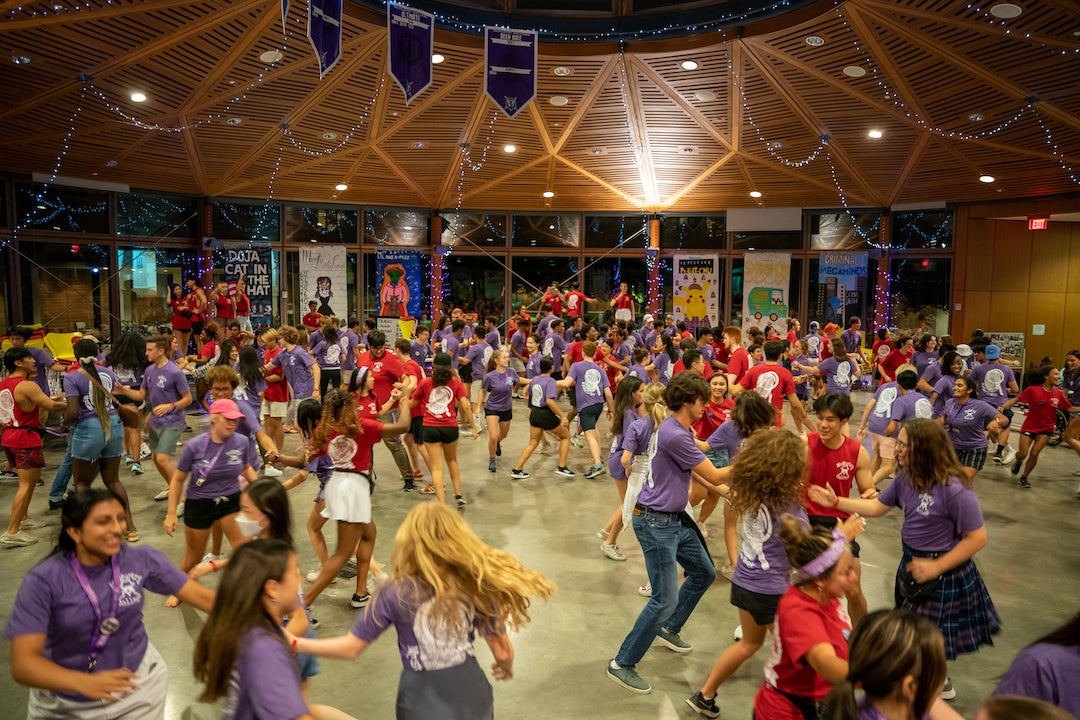 The fun wasn't limited to incoming undergraduates either; all incoming graduate students were treated to their own welcome barbecue in Founder's Court, and on Wednesday, hundreds of international graduate students invited by the Office of International Students and Scholars came out for their own share of barbecue -- they even got a crash course in country-western line dancing on the plaza below the Sallyport.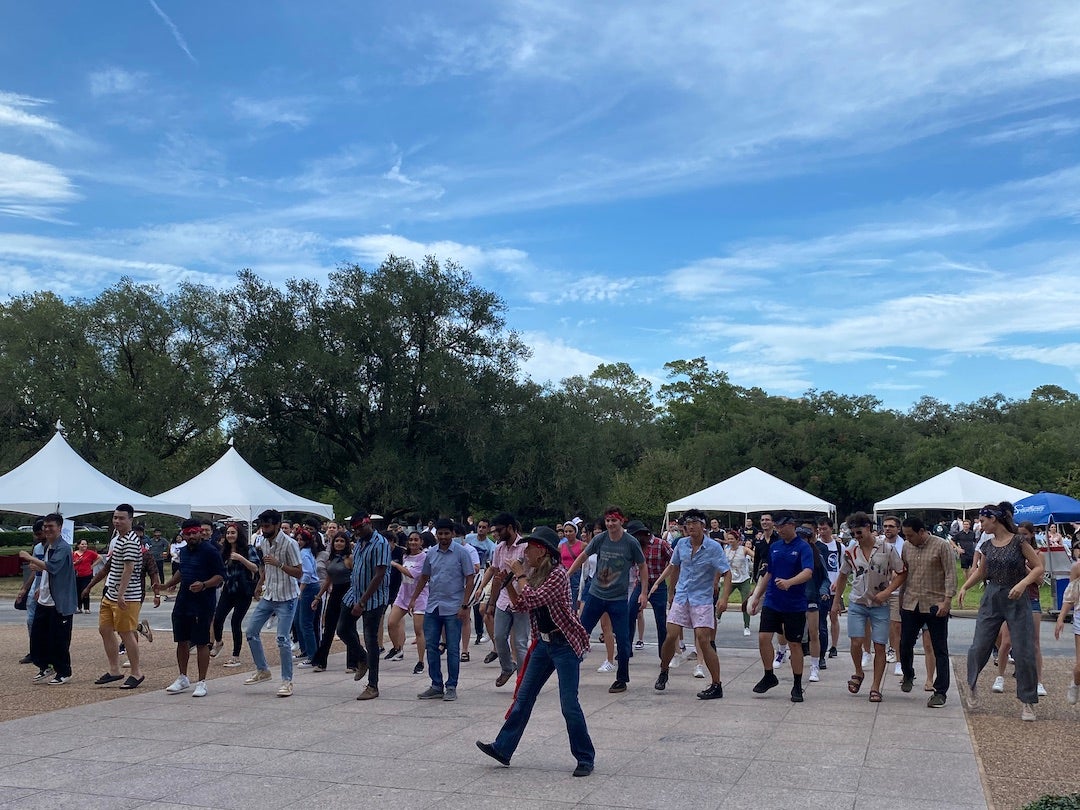 To Rice seniors Lingkun Guo and Savannah Parrot, this year's campuswide O-Week student directors, the week represented the culmination of months of preparation and the hard work of hundreds of student leaders selected to mentor new students.
Both Parrot and Guo matriculated in 2019, so their own O-Week experience as new students was the last traditional O-Week held in years before the COVID-19 pandemic. Guo and Parrot expressed pride that while 2022's O-Week felt much closer to the O-Weeks of yore, they, Lopez and their team of student leaders were still able to incorporate lessons learned throughout the pandemic about how best to serve new students, especially those with disabilities and other special needs.
"Over the past three years, there's been a lot of innovation happening during O-Week. Even now when it's back in person, I feel like there's a much larger focus on new student well-being and well-being in general," said Guo. "We're a lot more accommodating toward people with special needs — not just with COVID, but also people with sensory issues, or people who are more introverted in general."
Parrot agreed, and highlighted her own ADHD diagnosis when talking about different types of students whose unique needs she and the O-Week leadership team worked hard to address.
"We really put an emphasis on new student well-being as a whole, and making sure that no matter where the new student came from they felt like they were coming home, not necessarily 'going off to college,'" Parrot said. "As a disabled person, I'm just incredibly grateful that we actually were able to have a 'Students with Disabilities' panel during adviser training, and have some of the things that people are normally too afraid to ask be answered, and in a way that hopefully will help other new students."
Outside of the always poignant move-in day festivities and the spectacle of matriculation, Guo and Parrot pointed to the Rice Rally and the President's Welcome dinner as two of this year's O-Week events that will always stay with them.
"I was doing all of the social media stuff, and going through all of the clips and seeing up to 300-400 people at a time doing a dance en masse, in matching T-shirts that you helped the coordinators design, create, actually physically materialize with knowledge that you've helped them create over the last nine months … I feel like seeing all of the new students and seeing all of the coordinators in action, it made it feel like we actually made a difference," said Parrot.
Lopez effusively praised "all our O-Week student leaders and campus partners," including Parrot and Guo, "the O-Week coordinators that execute everything and the advisers and affiliates that ensure everything happens as directed," as well as the Dean of Undergraduates' office, Housing and Dining, Rice Athletics, the Rice University Police Department, Facilities Engineering & Planning, and the entire team within Student Success Initiatives.
Guo and Parrot expressed the same gratitude for their student and faculty partners across campus, but made sure to highlight Lopez's steady hand and guidance as pivotal to ensuring O-Week 2022 went off without a hitch.
"She's not allowed to say that about herself," Guo said. "But we can!" Parrot concurred.