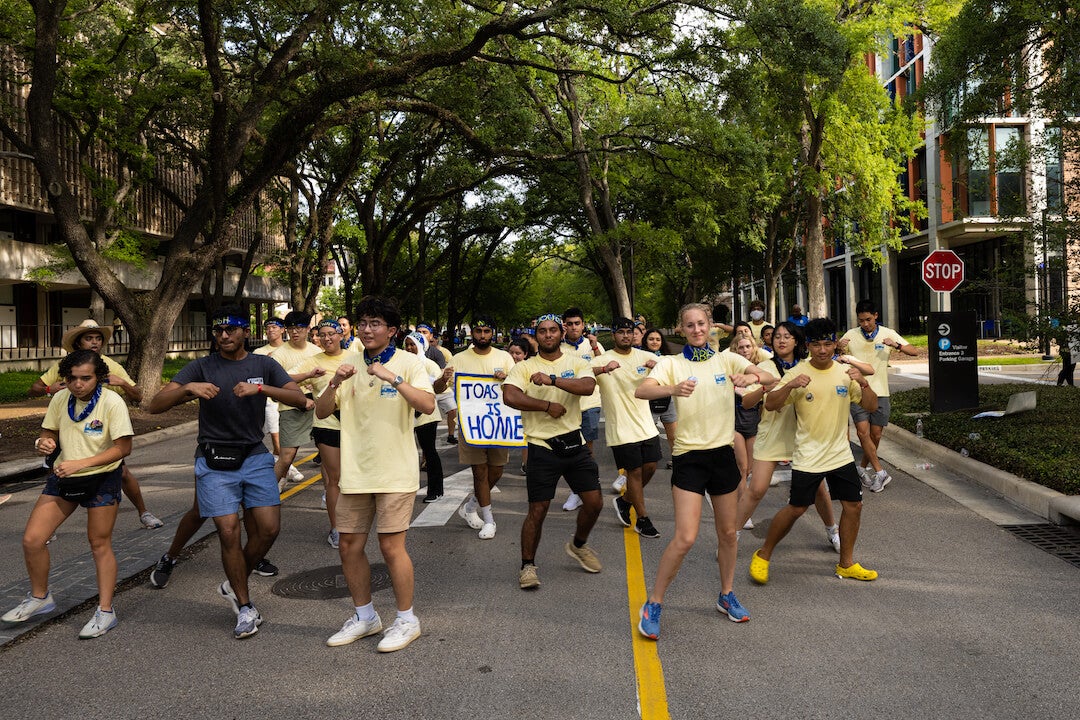 A light drizzle didn't stand a chance of dampening spirits inside Rice's hedges when the university's incoming Class of 2026 arrived on campus Aug. 14 for their jubilant move-in day celebration.
Or maybe it was all the joyful energy emanating from every corner of the university that kept heavier rain from pouring on the parade of smiling faces scrambling around the school that Sunday morning.
Starting at 7 a.m., cars loaded with dorm room supplies, eager students and more than a few emotional parents lined the roads surrounding each of Rice's eleven residential colleges, the student dormitories to which incoming students are randomly assigned, one of the unique traditions that forms the bedrock of Rice's one-of-a-kind undergraduate student experience.
Dozens of Rice students who'd volunteered to lead new students through O-Week — Rice's time-honored weeklong orientation — awaited the arrival of the newest parliament of Owls. There were 1,210 in this latest flock, the second-largest incoming class in Rice's history.

It was a very special move-in day for one particular pair of proud Rice parents: President Reginald DesRoches and his wife Paula. They started their move-in day — the first of DesRoches tenure as Rice's eighth president — at Sid Richardson College, the same place they left their daughter Shelby at the start of her Rice career in 2019.
"We dropped off our daughter three years ago, so we remember what it's like to be parents dropping off a student," said President DesRoches. "Now, to be in a position to welcome all the new students and their parents, it's exciting! It gives you a sense of the culture at Rice. I don't think other universities do this."
"It's extraordinary," said Paula DesRoches.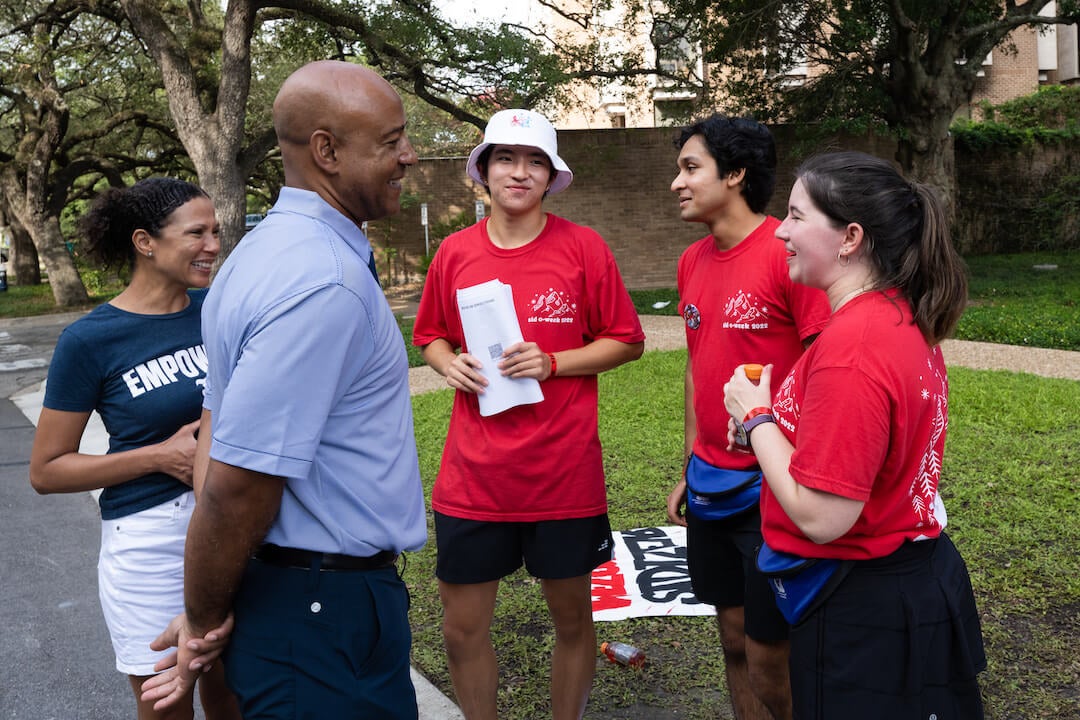 Student volunteers ("advisors" in Rice parlance) brandished hand-painted signs welcoming the newest members of their respective flocks, all in matching, brightly colored t-shirts emblazoned with each residential college's O-Week theme, typically puns ending in the letter O (such as HBO-Week, Pokémon GO-Week, and CasinO-Week).
Advisors danced and jumped along to pop music blaring from loudspeakers, which was sporadically drowned out by cheers from upperclassmen shouting the names of incoming students arriving in their vehicles. Each car was quickly enveloped by advisors — hand carts and dollies at the ready — leaping to the task of moving their new classmates' possessions into their new homes on campus.
Providing extra hands for a smooth move-in process is just the beginning of the job O-Week advisors signed up for. These dedicated student volunteers will serve as mentors, friends and helpful sounding boards throughout their fellow students' years at Rice.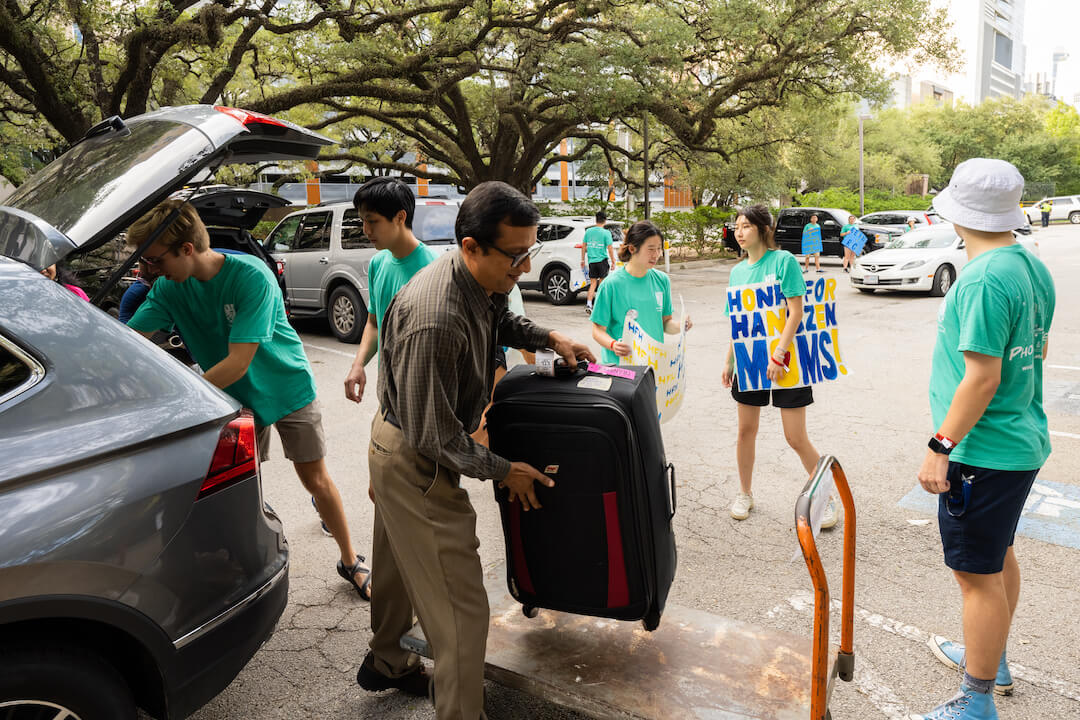 New students and twin sisters Samah and Nimah Haidar of Pearland, Texas arrived at their new home, Brown College, eager to start their college careers in earnest. "Just to be here with this amazing community is just so exciting," Samah said. "We're so ready."
"I think O-Week is something that every Rice student looks forward to," Nimah said. "And it's just crazy that it's finally happening." While some siblings opt not to be placed in the same residential college as their brother or sister, Nimah and Samah were thrilled to become roommates. "It's really fun to be able to have these four years with someone who you consider your best friend," said Nimah.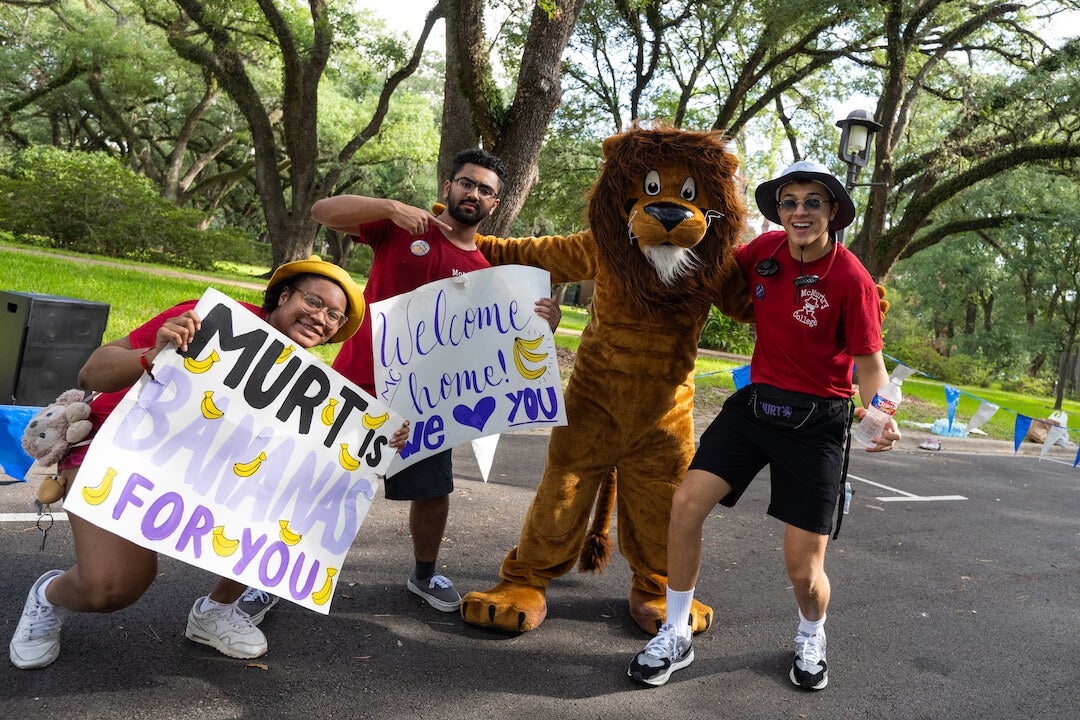 Lovett College President and senior Nick Ess noted how the energy of the morning mirrored that of his own arrival at Rice back in August 2019. "I've helped the past three move-ins," he said. "I remember when I came here, it was just an insane welcome. And to be able to welcome the last class that I'll see here at Rice with the same amount of energy as I had is frankly incredible. I've had a lot of amazing experiences here, and they've got all that ahead of them."
Mike Gustin and Denise Klein were thrilled to welcome the newest batch of Lovetteers in their capacity as Lovett College Magisters, positions held by Rice faculty members and their spouses who live adjacent to each college while working to foster the vibrant intellectual, cultural and social atmosphere among students.
"It's really terrific," said Klein. "We've really suffered these last few years in a lot of ways, and it's really refreshing to see us back to normal."
Gustin noted how O-Week and move-in day in particular are pivotal moments where incoming students are shown firsthand what makes Rice such a compassionate, tight-knit community. "Rice has a culture where upperclassmen support new students. Rice doesn't feel competitive, it feels cooperative. And I think this starts the whole thing right here," said Gustin.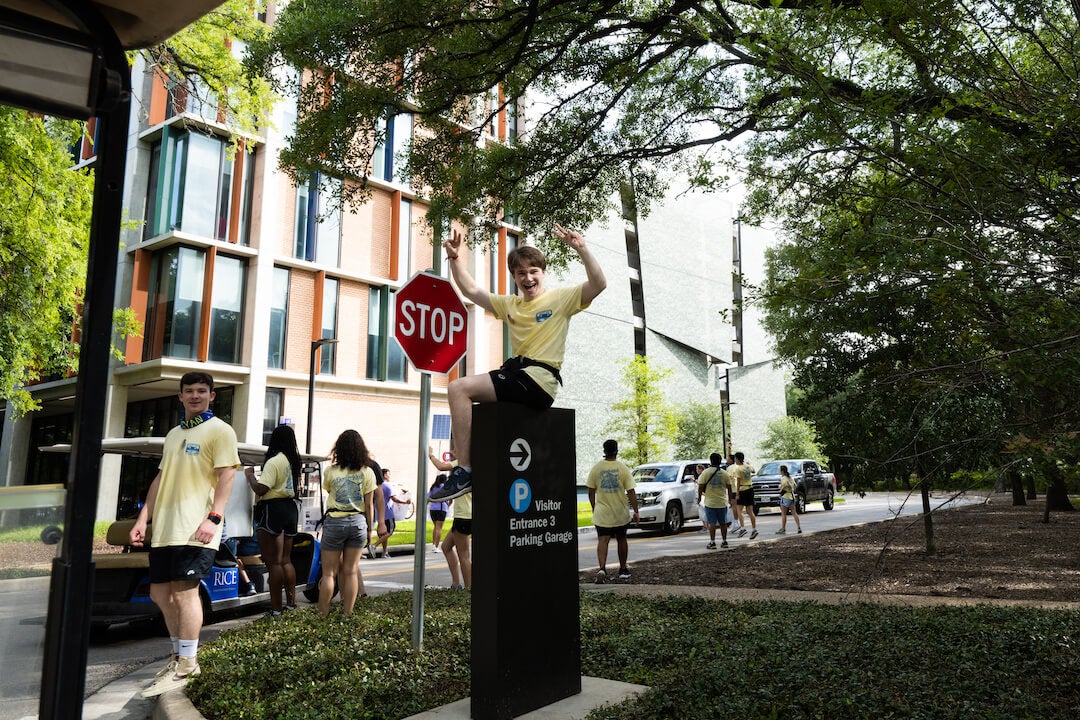 New Duncan College member Ryker Dolese of New Orleans cited the sense of culture and community fostered by the residential college system as the main attraction that drew him to Rice. "You feel like you have a home right off the bat," Dolese said. "And I really wanted that. I have a bunch of friends without even trying, I feel like.".
A few hundred yards away at McMurtry College, Saniya Friendly of Schertz, Texas was just as enthusiastic. "I barely got any sleep last night," she confessed, "because I'm just so excited to be here."
"The way we came in, they were all yelling my name — I was just so happy," she said.
Saniya's father, Chesley, was beaming with pride in a crisp Rice t-shirt. "She's coming to a great university," he said. "It's great to see the effort you put into stuff pay off, and coming to Rice. It's definitely paid off. It was well-deserved."
"I think you're trying to make me cry!" Chesley said, when he was asked about how it felt to be dropping off his first child at college. "It's my little girl, so it's a little tough, but it's all right."
A few minutes later, incoming freshman Abhi Jain of Plano, TX arrived at McMurtry College along with his sister, McMurtry senior Shreya Jain. "I'm having a lot of déjà vu right now," he said, thinking back to how it felt to be with his sister as she moved in to McMurtry three years prior.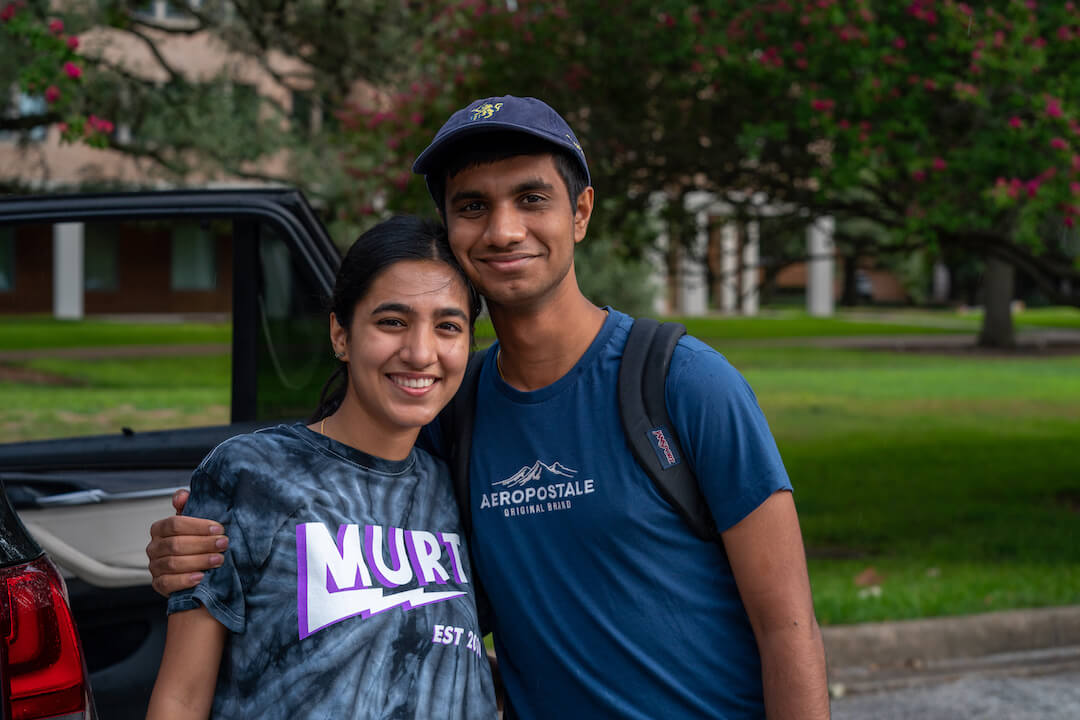 "I advised last year," Shreya said. "And it's just amazing to see all the energy going toward someone I love."
Freshly-minted McMurtry resident Paige Matthys-Pearce of Ballwin, Missouri, who plans to study computer engineering or linguistics, was just as excited to finally arrive on-campus as she was in the gleeful reaction video her family recorded when her daughter got the news months ago that she'd been accepted to Rice.
"This is where I'm meant to be," she said.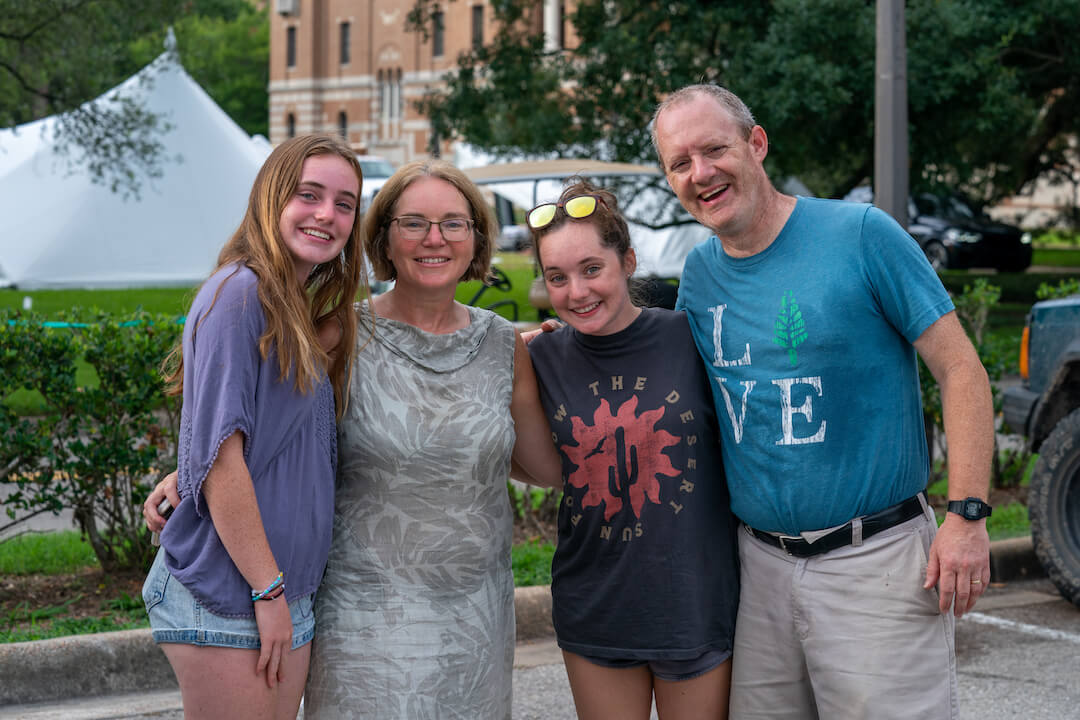 "It's a happy day," said Patti, Paige's mom. Paige's dad Andy added, "I think it's time to get out of the way. It's time for them to have fun and rock. It's always hard… I love being involved, but it's Paige's time."
"It's just an awesome environment," Andy said.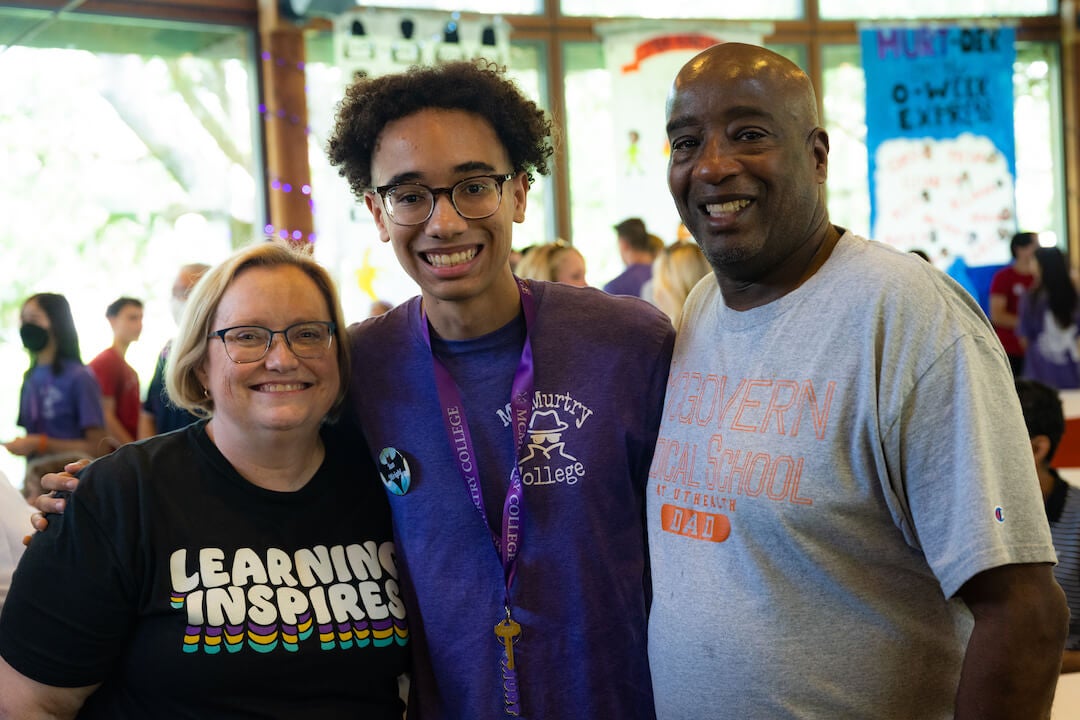 While advisors are the seasoned Owls who new students spend most of their time with during O-Week, Rice's weeklong orientation wouldn't be possible without the efforts of the student O-Week coordinators at each residential college who've been working since Spring 2022 and through the summer to prepare for the week, as well as the work of campuswide O-Week student directors Savannah Parrot and Lingkun Guo.
"It's pretty surreal," said Parrot, now that O-Week 2022 had finally arrived. "You've been planning for so long for all of these different phases. Up until now, they've just been kind of numbers and forms, and it's really exciting to put people to faces, start to get to know them and see that our work had an impact."
Jones O-Week coordinator Sarah Birenbaum agreed. "It feels great; seeing everyone's smiling faces is just so brilliant," she said. "All the new students are so excited to be here and we cannot wait to make them official Jonesians. All the advisors have put in so much work, and we can't wait to see it all come together."
New Jones resident Samy Martinez from Dayton, Texas felt joy wash over her as she and her mom, Osiris, pulled up to campus. "I started tearing up," she said. "I just felt really privileged to go to my dream university."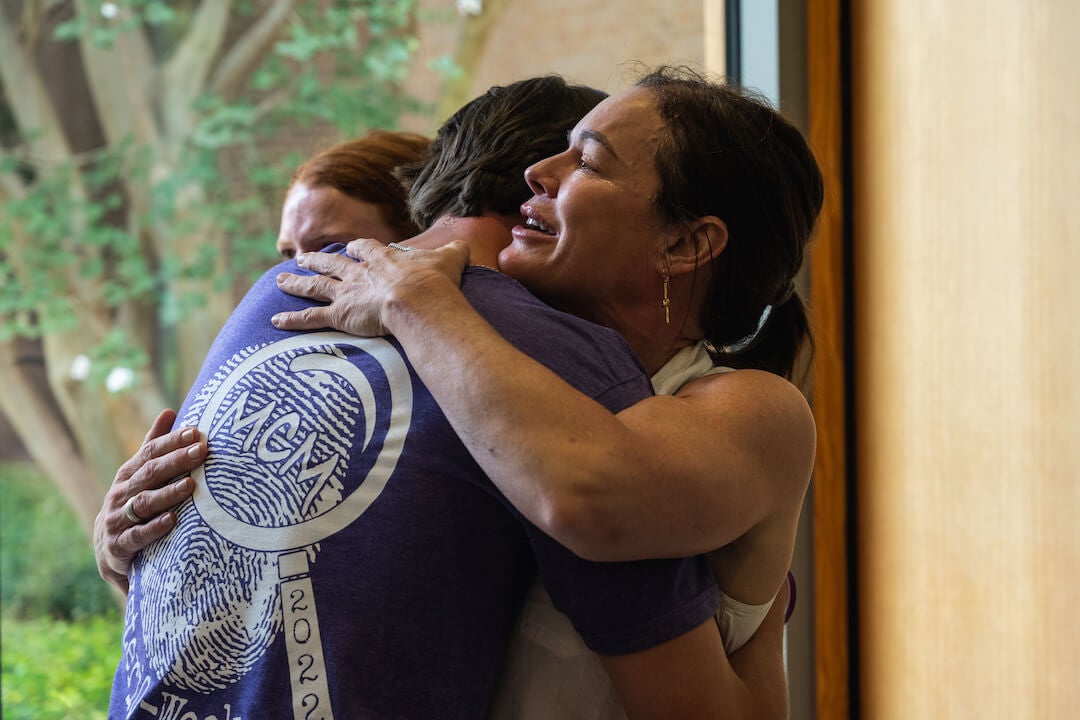 At 11 a.m., students and their families headed into the residential colleges for a buffet lunch, the last meal the Class of 2026 would share with their loved ones before parents, uncles, aunts, cousins and siblings would be whisked away to family orientation presentations. Their Owls would begin getting to know the small O-Week groups they'd been assigned to, as well as the upperclassmen advisors who lead each microcosm of the incoming class.
By 12:30 p.m. it was finally time to say goodbye. Hugs were shared as the eyes of students and their loved ones welled up across campus. As one chapter of life ended for each student, another began anew, rife with hope, maybe a touch of anxiety, but most of all abundant excitement about everything Rice and the future has in store.