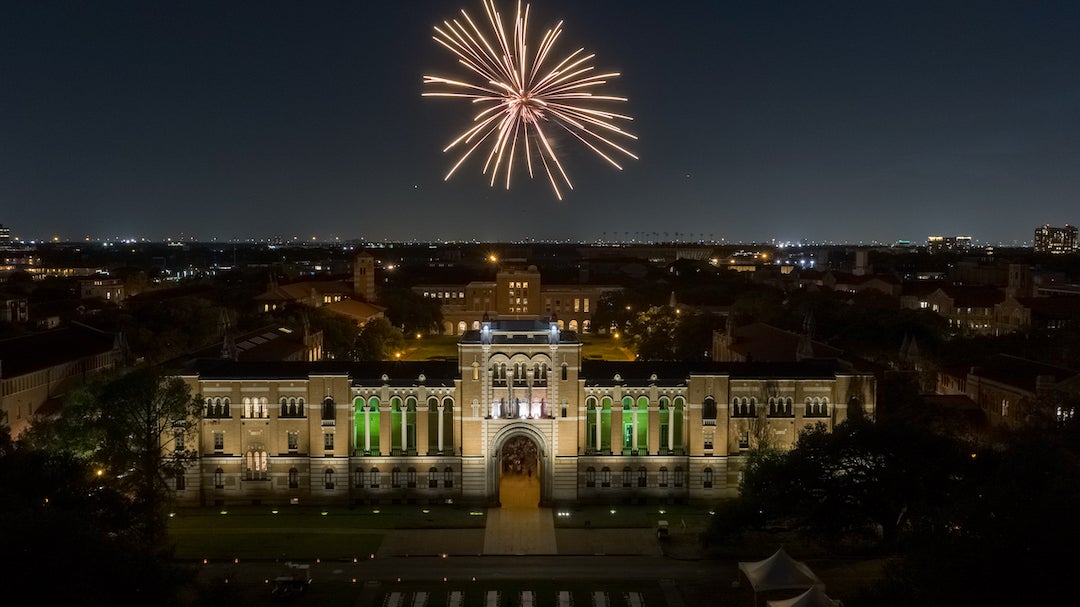 An eventful first day of O-Week for Rice's Class of 2026 was capped off with yet another annual Rice tradition — the matriculation ceremony and accompanying slate of speeches that signal the official beginning of incoming students' new lives as members of the Rice community.
"Life is dotted with turning points, and today you took the first step down a new path," said Bridget Gorman, dean of undergraduates.
In her remarks Sunday, Gorman impressed upon the new Owls seated in the Tudor Fieldhouse that this night was the start of something incredible. "Know that you now sit in a room filled with people who will be your friends, your mentors and your teachers for years to come," she said. "What a wonderful adventure you have begun."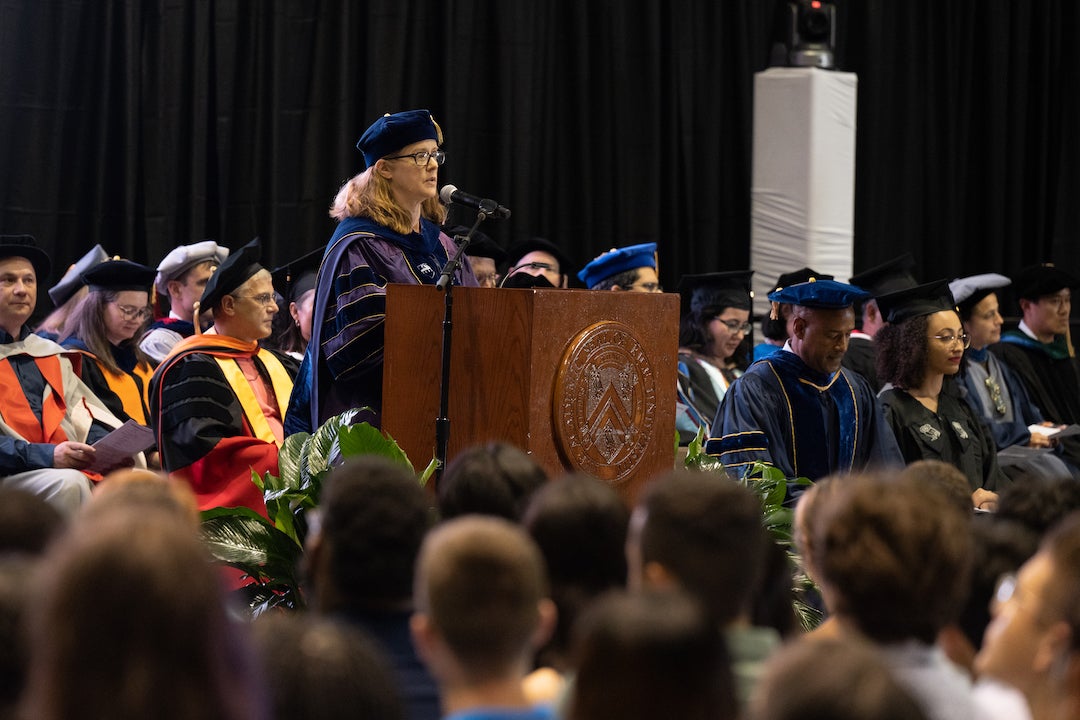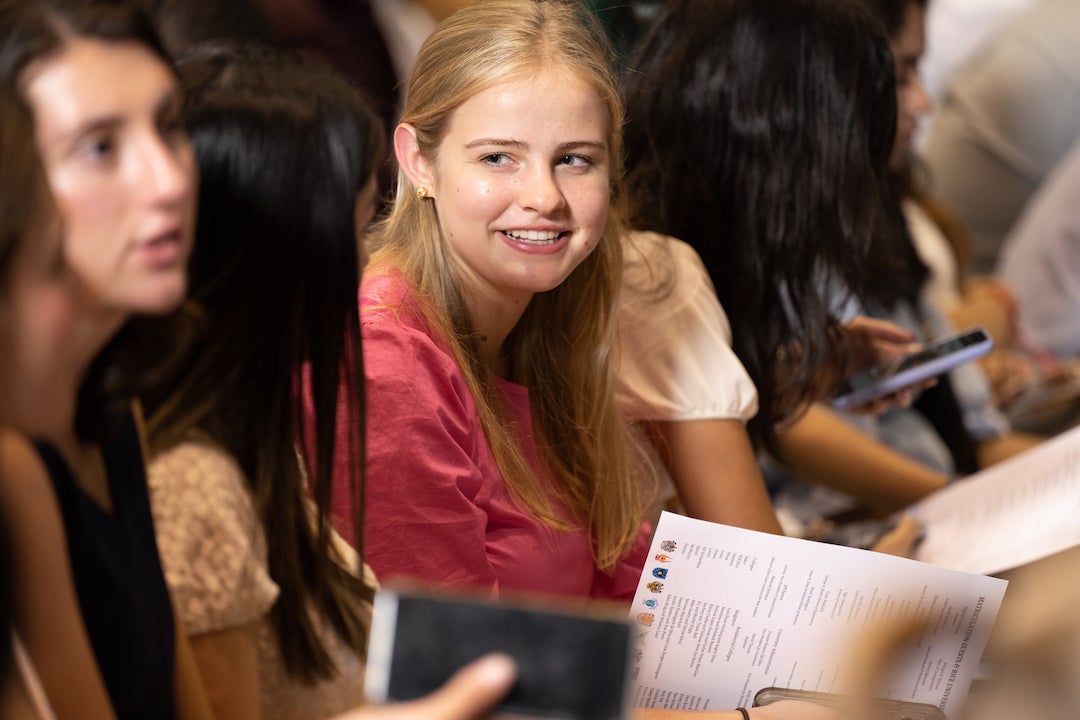 It was then President Reginald DesRoches' turn to impart some wisdom onto the 1,210 new students in this year's admitted class — which includes representatives from dozens of countries, several states and Texan locales big and small — the most selective in Rice's roughly 110-year history.
"Let me first say how much fun I had today going to all of the colleges and seeing all the energy and the excitement for the move-in," said DesRoches. He sagely claimed impartiality in the eternal battle over which residential college is the best of them all: "I can't tell which one was the best — they were all great."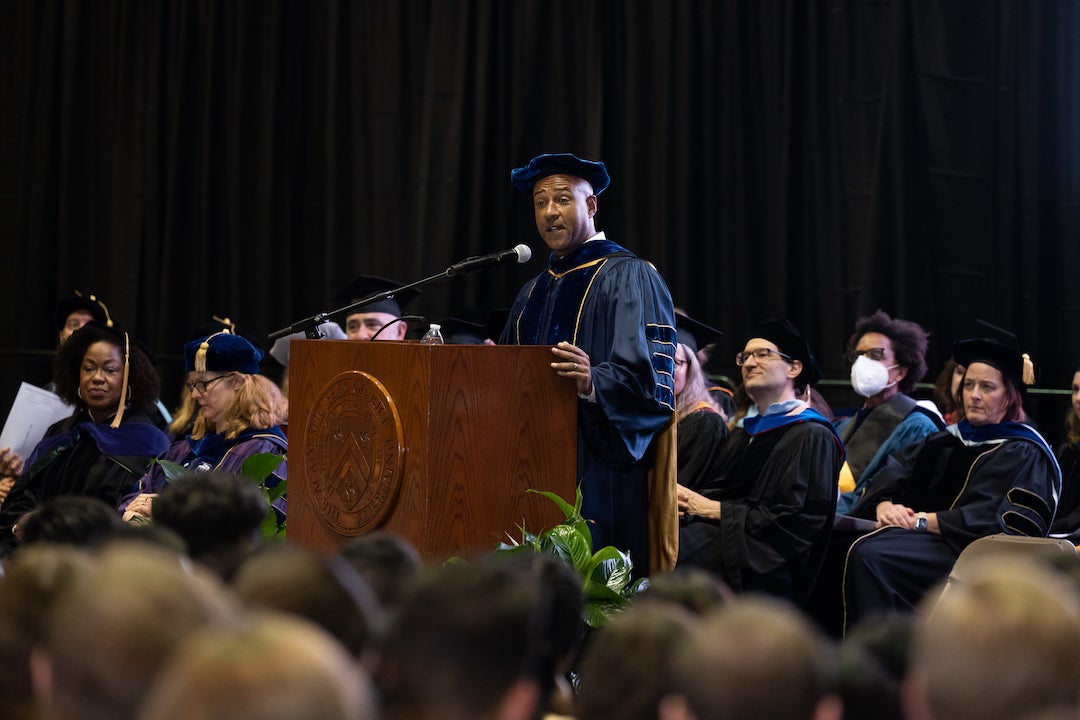 About six weeks after taking the helm as the university's eighth president, it was DesRoches' first time addressing a crowd of new Rice students. He took the opportunity to share some key insights into what makes Rice such a special place, insights DesRoches gained in the three years he served as dean of the George R. Brown School of Engineering and his two-year term as provost.
"What I've learned over the past five years at Rice," DesRoches shared, "is that in addition to being an outstanding research university with a distinctive commitment to undergraduate and graduate education, the university is home to a special community and inclusive culture dedicated to diversity, equity, inclusion and excellence.
"The breadth of support students get here is unique, and is one of the university's greatest strengths," he continued, explaining that matriculation and the ceremonial walk through Lovett Hall's iconic Sallyport that each new student would take later that night "signifies much more than the beginning of your studies: it represents becoming part of our community, the Rice community."
It's something DesRoches witnessed firsthand three years ago, as he watched his daughter Shelby join that very community. "She said it was one of the most memorable and meaningful experiences in her life," he said. "It set the right tone for the coming years as a student, as a member of the Rice soccer team and as a member of Sid Richardson college."
After mentioning Sid Richardson, the proud father couldn't help momentarily stepping off the sidelines in the perpetual friendly battle for residential college supremacy. DesRoches playfully waved his hand toward his ear to summon raucous cheers from the Sid Richardson residents in the house.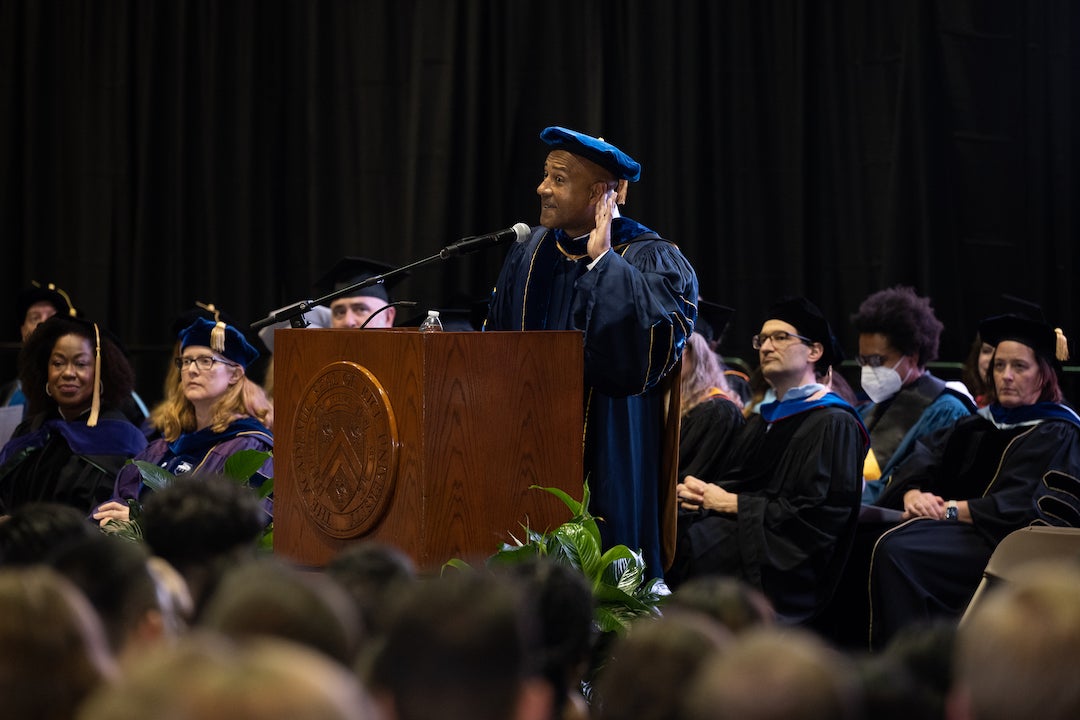 The welcome new Rice students receive, DesRoches said, is not a typical college experience, and definitely nothing like his own first day as an undergraduate at the University of California, Berkeley over three decades ago.
"No one marked the occasion but my parents," he said, "who drove me to the airport and told me to find a phone booth to call them when I'd made it safely to Berkeley."
"I suspect none of you know what a phone booth is," he quipped toward his overwhelmingly Generation Z audience.
Celebrating diversity
After highlighting the diversity of the incoming class with vignettes about two students — Lovett College's Arturo Amarilla, a Paraguayan scholar with a love for the physics of the cosmos and playing the drums in a funk rock band, and Kristal Hanson, a Mexican American Duncan College member who's carried on her family's tradition of dog mushing by sledding over 3,000 solo miles — DesRoches drove the point home with statistics.
"Thirty-two percent of you are from underrepresented minority groups, and another 14% are international students," making the Class of 2026 the most internationally diverse cohort of students Rice has ever welcomed.
"Our differences are not just tolerated, but they are celebrated as a core strength of the university. Being part of such a diverse class will benefit you for decades to come. What you learn from each other is just as valuable as the academic education you receive from our prestigious faculty," DesRoches stressed.
"Soak in every experience, especially if it's different from your own. You will grow in ways you never imagined," he continued, encouraging students to seek out opportunities for interdisciplinary education at every turn. "If you're an engineering student, take a class in the music school, or learn about philosophy. If you're an English major, take a class in statistics or chemistry."
DesRoches was followed by Gabby Franklin, the Brown College senior serving as president of the Rice Student Association, who shared a heartwarming story of how she overcame her insecurity about getting accepted at Rice that lasted into the first day of her own O-Week.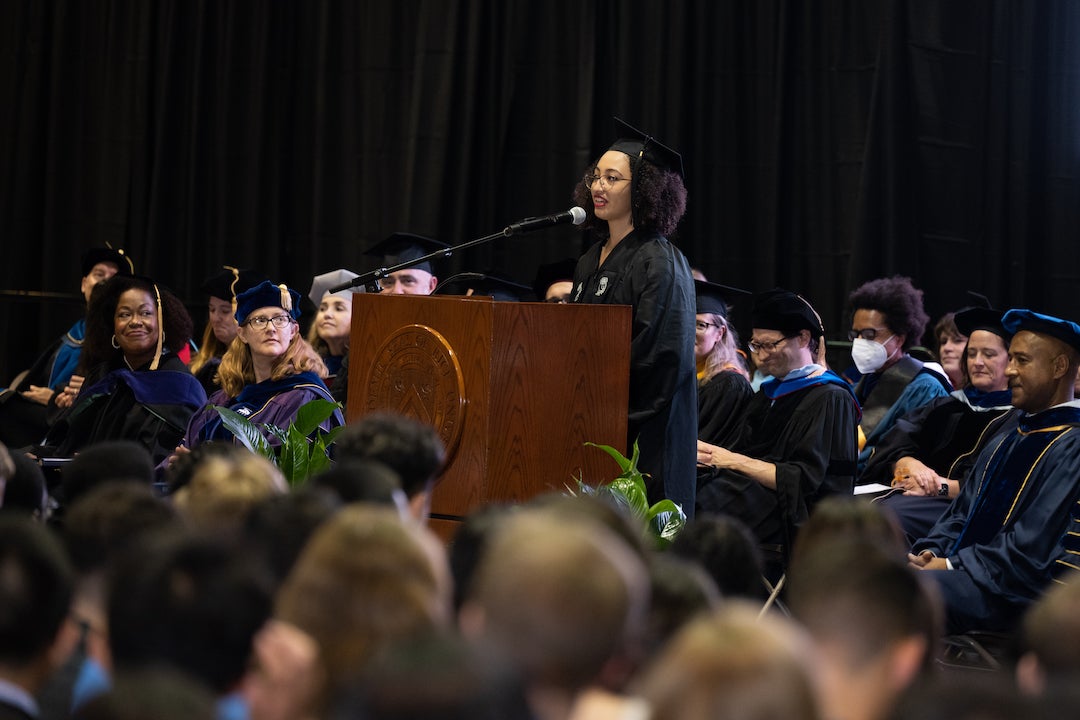 "College was more of a question than an answer for me," said Franklin, hearkening to her background as a first generation, low-income student of color. When she told her mother Rice was one of her dream schools, her mom, afraid of seeing her daughter's dreams shattered, warned that her family couldn't afford the university.
As she hustled for every scholarship opportunity she could find, desperate to make her dream reality, she was still doubtful. Once Franklin was matched with Rice and given an offer to attend the university through the prestigious Questbridge scholarship program, on her 18th birthday no less, it seemed too good to be true.
"It seemed so ridiculous that I thought I was the victim of a horrible prank," Franklin admitted. Even after she'd arrived on campus for move-in, when a simple typo made by a COVID-19 testing technician during her pre-O-Week screening test left her waiting for over an hour, she was convinced it couldn't have been just a simple snafu. "I was so sure that my worst fears had come true," she said, expecting to receive an email any second saying the university had admitted her in error.
Of course, it was just a simple typo that kept Franklin's test results from turning up sooner, but not before her O-Week group at Brown was starting to wonder if she was ever going to show up at her college. Once she arrived, though, her fellow students comforted her by sharing instances when they'd felt imposter syndrome in their own lives. "Each had some experience like mine, and they were still here," she said.
"College is an amazing experience, but it's also a challenging one. There will be times when you will feel out of place and don't meet your expectations," Franklin said, but she added that despite those fears, "I felt that Rice was a supportive community.
"You will never be alone," she promised.
'We are all invested'
Toya Cirica Bell '87 — president of the Association of Rice Alumni (ARA) and a retired attorney with over two decades of experience — took the stage to share a key bit of advice shared by her mother: "Embrace this time in your life to learn about as many things as you can. Be curious, and pursue knowledge."
Taking that advice didn't just lead Bell to eventually earn a law degree from the College of William & Mary, but set her on the path toward a truly interdisciplinary education at Rice. "I studied architecture for non-architects because I love the art in architecture. I learned how to view art and film critically after taking literature in the visual arts. I love Paris, and so of course I took French," Bell said. "I am intrigued by and appreciate the power of science, and I took courses for non-science majors. And when for the first time we had several African American professors visiting Rice, I studied African American women's studies."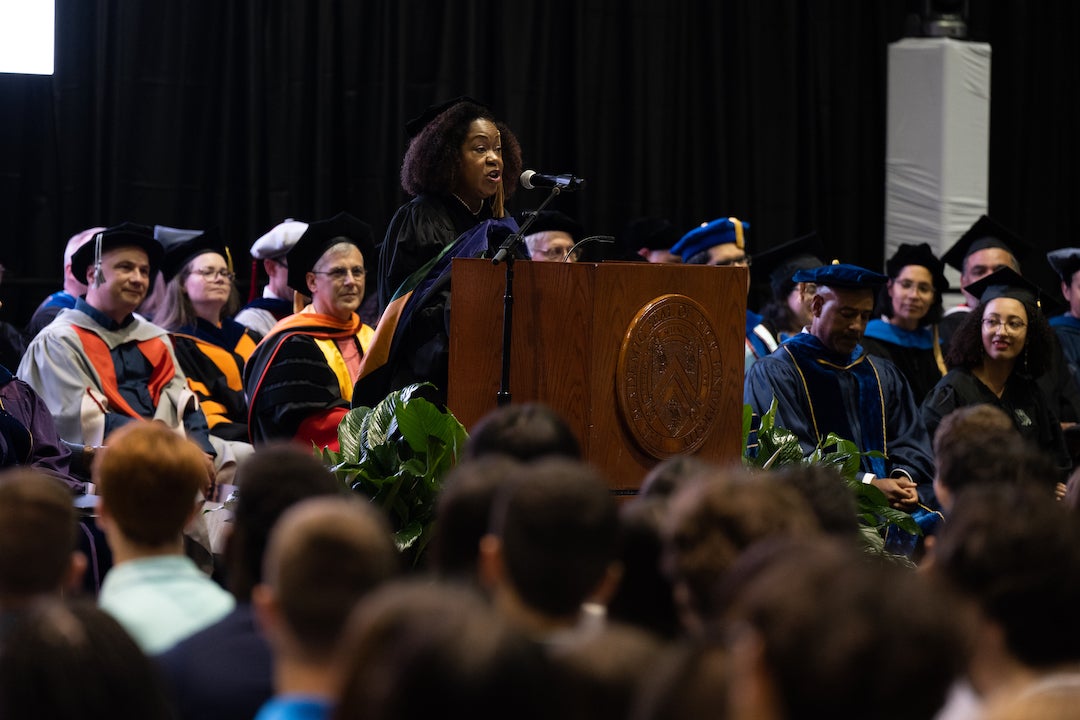 Bell also warmly welcomed the incoming students into the Rice family, assuring them that alumni would always have their backs. "As a community, we are all invested in your success, your well-being and your happiness. … You are shining examples of all that we are and the promise for all that we can be."
Earlier in the evening, DesRoches concluded his remarks with a quote from former President John F. Kennedy, whose famed Rice Stadium speech asserting the nation's commitment to put men on the moon will be celebrated in a 60th anniversary event in September.
"Be strong and of good courage; be not afraid, neither be thou dismayed," the quote read.
"Move forward with strength and courage," DesRoches said, "and never, ever be afraid, because you are not alone. You can ask for help. At Rice, you are part of a family that is invested in you and your future."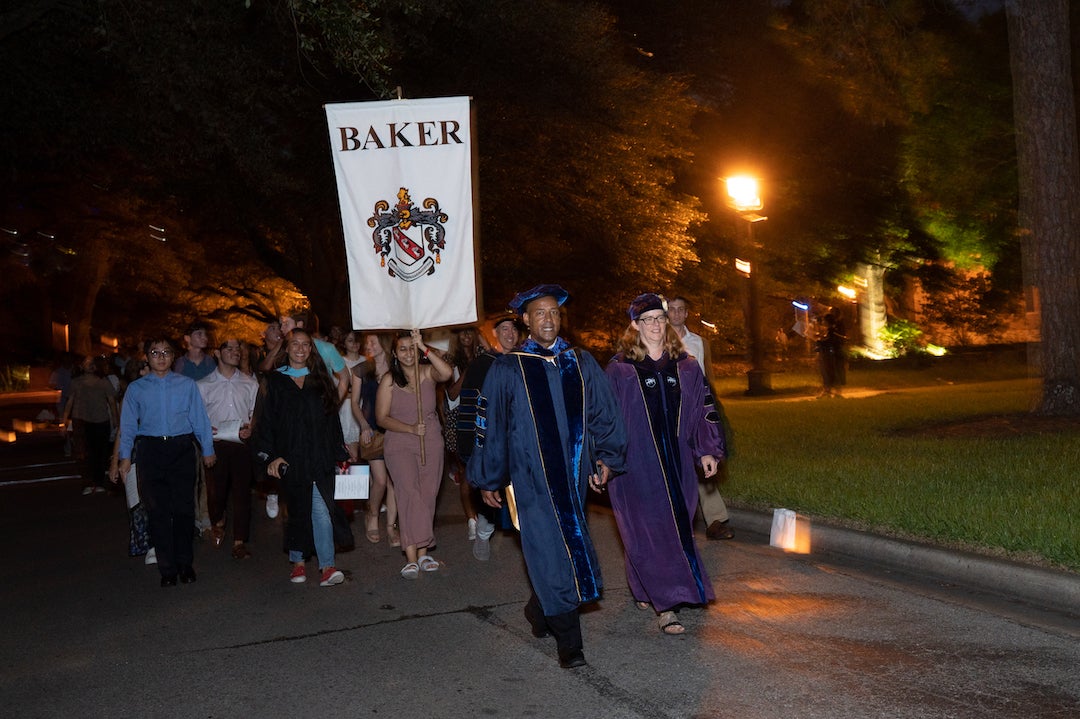 The family welcome to both Rice and to each new student's residential college culminated Sunday night with a time-honored tradition — the march through Lovett Hall's Sallyport.

Each new student walked through with all of the other newly minted members of their residential college. As each college made the ceremonial march through the towering archway — as always, in the order of their founding — the young Owls were surrounded by their cheering upperclassman advisers, the support network that has been preparing for months to welcome their future friends and neighbors into the fold.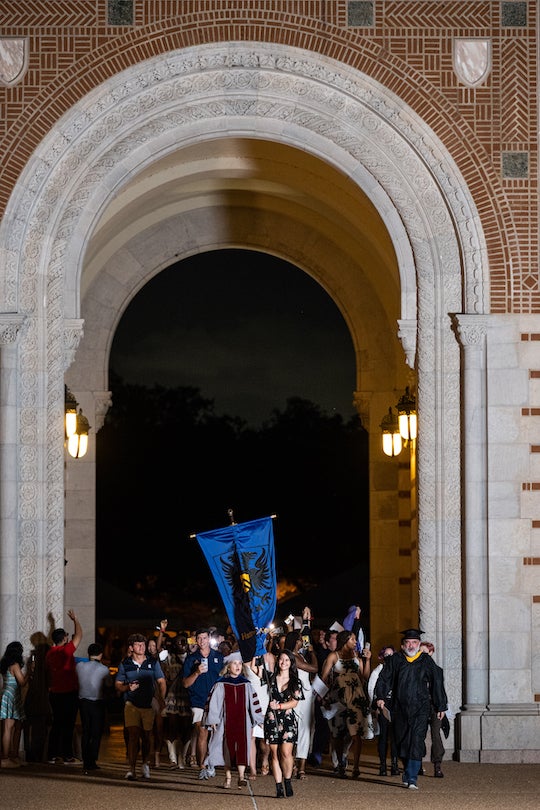 As fireworks lit up the humid Houston night, a feeling of hope wafted through the air. A feeling that for these bright-eyed scholars, no challenge would prove too daunting, no theorem too tough to crack, no setback too daunting to press through.
A feeling that for these Owls, there is no upper limit to the heights to which they may soar.