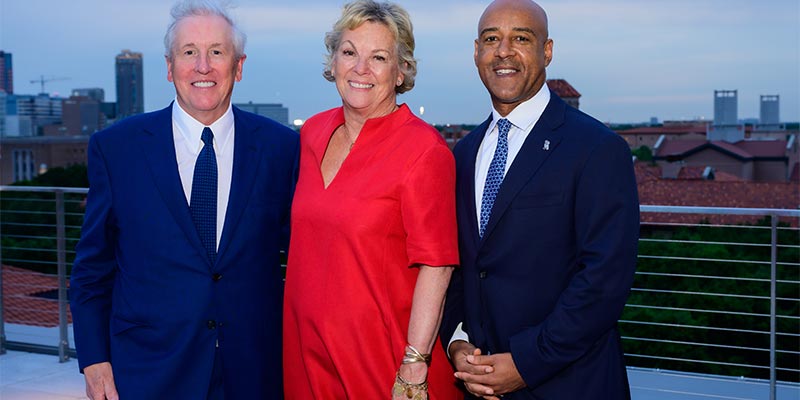 President Reginald DesRoches joined family members and friends of the late Rice Trustee Emeritus Ralph O'Connor for a recent dinner and preview of the landmark new science and engineering building named in his honor.
The Ralph S. O'Connor Building for Engineering and Science will feature five floors of state-of-the-art research laboratories, classrooms, seminar rooms and a makerspace. The common areas feature a lobby and a welcoming café and the top level boasts a reception suite and outdoor terrace.
O'Connor "was a true leader offering his profound warmth and compassion to everyone lucky enough to be in his sphere," DesRoches wrote in a tweet after the event. "It was a privilege to honor him and his contributions to Rice with his family and friends."
O'Connor was a graduate of Johns Hopkins University who never attended Rice. But after he moved to Houston to pursue a career in the energy industry, he fell in love with the Rice campus, became deeply involved with the university and ultimately became one of the most generous donors in its history.
Rice has received $57 million from the estate of O'Connor, who died in December 2018. It is the largest donation from an estate in the university's history, and it is expected ultimately grow to more than $60 million. When added to his previous gifts, O'Connor's donations to Rice total $85 million.