Tina Villard, senior associate athletic director of recreation, was named this year's winner of the Elizabeth Gillis Award for Exemplary Service at President Reginald DesRoches' event celebrating staff accomplishments April 21.
The most prestigious prize given to university staff each year, the award is named after the wife of former Rice President Malcom Gillis. It is presented to staff who demonstrate exemplary commitment and service to the university, just as Elizabeth Gillis did during her years of service.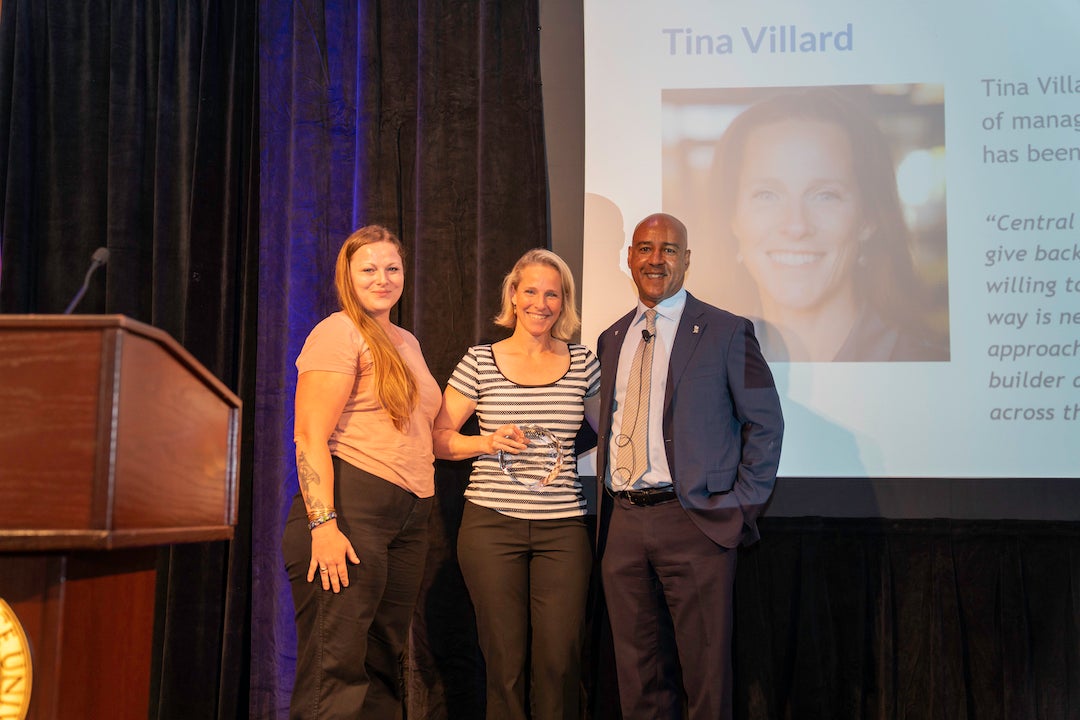 Rice President Reginald DesRoches took the stage to discuss the significance of the award before introducing Gillis' granddaughter, Jessica Keithan, who presented Villard with the award.
Villard has worked at Rice for nearly 23 years. In her current role, she is in charge of managing the Gibbs Recreation and Wellness Center. She also serves as the sports administrator for the Rice women's swim team, operations section chief for Rice's Crisis Management Team and as an executive coach for Rice Human Resources. Originally from Toronto, Tina earned her bachelor's degree in recreation and leisure studies from Brock University and a master's degree in health, physical education, recreation and safety from Middle Tennessee State University.
In her nomination letter, Villard was commended for her leadership during the COVID-19 pandemic.
"The standard of excellence for an employee is showing up, doing good work, being collaborative, being kind, but it is a whole separate universe when you can embody responsibility, integrity, community and excellence under the most extreme conditions that Rice, the state of Texas and the world have ever experienced. … Tina Villard stepped forward and volunteered to help lead the Crisis Management Team and the university through one of the most complicated and difficult situations the university has ever faced."
"The Elizabeth Gillis award is one that has historically represented all that is the best about Rice University, staff members who have dedicated years of service to the university who have gone above and beyond for their colleagues, students and the university community. Tina Villard is not only one of these individuals, we believe that she is one of the best of these individuals."