Team OR Lights captured the top prize at this year's Huff OEDK Engineering Design Showcase, presented annually by Rice University's George R. Brown School of Engineering and Oshman Engineering Design Kitchen (OEDK).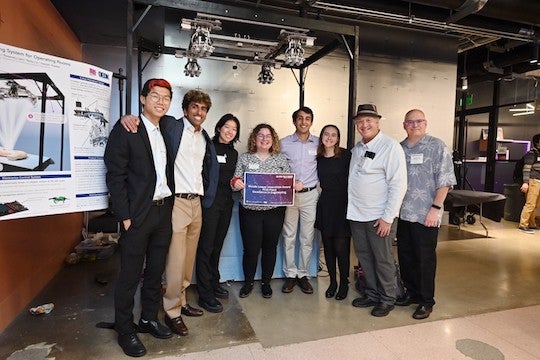 OR Lights won the Woods-Leazar Innovation Award for Excellence in Engineering — which comes with a $5,000 cash prize — for its innovative automated, tunable operating room lighting system that allows surgeons to better illuminate their working area without having to handle equipment or wear headlamps.
"It's an amazing feeling," said team member Bryn Gerwin, a mechanical engineering major, during the April 13 ceremony that concluded the competition. "We've been working on it for a whole year. … We've had such amazing feedback from everyone we talked to today, and I think everyone really enjoyed the interactive part of our project."
Gerwin said that "all the hours spent working with such incredible people to build such a cool project" will be a lasting memory. Her fellow team members were Ellice Gao, Justin Guilak, Rosemary Lach, Renly Liu and Hemish Thakkar.
"The most memorable thing was the moment when we first turned on the lights," said Guilak, an electrical engineering major. "We had this vision of it working all semester and then when the lights actually turned on and lined up where we told them to, it almost didn't feel real."
The showcase — formerly known as the George R. Brown Engineering Design Showcase but renamed this year in honor of longtime supporters Harrell Huff and his late wife, alumna Carolyn Huff — is a long-standing tradition for Rice engineering students. It celebrates the hard work and hours spent designing and assembling their projects at the OEDK.
The showcase was held for the first time at the Ion innovation hub in Houston's Midtown neighborhood. There were 69 teams competing in the event this year. Judges were industry and medical professionals, many of them Rice engineering alums. Winning teams took home a combined total of over $19,000 in cash prizes.
Director Maria Oden noted that the OEDK supported the work of over 900 students this academic year, with at least 25 courses representing all nine departments in the Brown School of Engineering as well as departments throughout the entire university.
"In many ways, just being here tonight and showing off the amazing work that you've done is a big award and prize," Oden said to the showcase competitors.

Top-level awards:
Excellence in Freshman Engineering Award ($1,000): ReadyLegsGo
Excellence in Underclassman, Multi-year or Club Engineering Award ($1,000): Club Suas
Excellence in Graduate Engineering Design Award ($500): Under Pressure
Excellence in Capstone Engineering Award ($1,000): Alive
Excellence in Capstone Engineering Award ($1,000): StimuSock (For a Rice News story featuring this project, follow this link.)

Category awards:
Best Aerospace or Transportation Technology Award ($500): G.N.C. (Garbage Neutralization Crew)
Best Conceptual or Computational Engineering Design Award ($500): VAQWM
Best Energy-Related Engineering Design Award ($500): Jet fuel made EASZly
Best Environment and Sustainability Engineering Design Award ($500): Drain Brain
Best Gaming, Creative or Innovative Technology Award ($500) A Low-Power AR Device
Best Medical Device Technology Award ($500): Humidifeye
Best Medical Device Technology Award ($500): Preslicely
Best Technology for Low-Resource Settings Award ($500): Colosto-ME
Best Interdisciplinary Engineering Design Award ($750): Test TSH
People's Choice Award ($500): YoungWoods

Willy Revolution Awards for Outstanding Innovation:
1st place ($3,500): YoungWoods
2nd place ($1,500): Automotive Electronics Retrofit Team
Read about all of the participating teams at https://oedk.rice.edu/showcase. For more stories on other participating projects, click here and here.
Image download:

https://news-network.rice.edu/news/files/2023/04/ORLights_SiVo_2023Showcase_1.jpg

CAPTION: Team OR Lights members (from left) Renly Liu, Hemish Thakkar, Ellice Gao, Bryn Gerwin, Justin Guilak and Rosemary Lach pose with mentors David Trevas and Gary Woods. (Photo by Si Vo)