Improving lighting in the operating room could cut the duration of some surgeries by as much as 25%, according to Dr. Munish Gupta, an orthopedic spine surgeon at Washington University in St. Louis.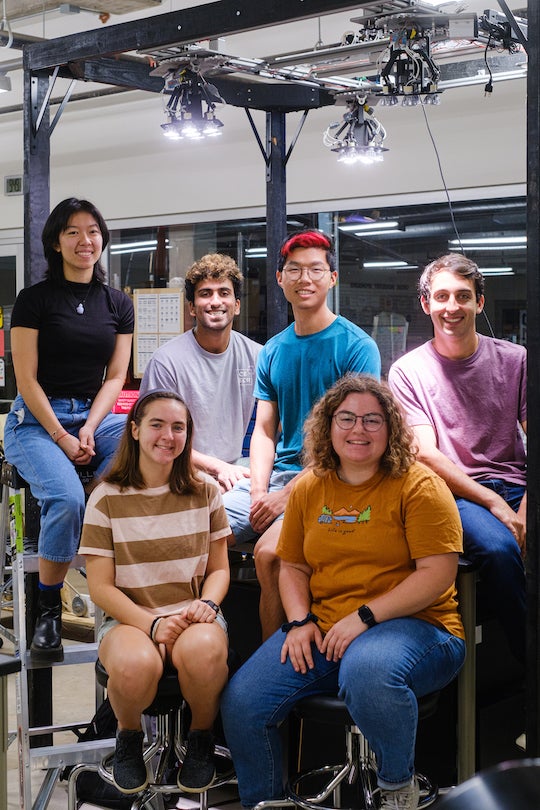 With that in mind, he tasked Rice University engineering students on the OR Lights team — Ellice Gao, Bryn Gerwin, Justin Guilak, Rosemary Lach, Renly Liu and Hemish Thakkar — with building a tunable lighting system that allows surgeons to better illuminate their working area without having to handle equipment or wear headlamps.

The project will be featured in the annual Oshman Engineering Design Kitchen showcase and competition, which will be held April 13 at the Ion. 69 teams are competing in this year's event, which is open to the public.
"The basic gist is that we're trying to create a system where surgeons can press buttons on a touchscreen, and it'll point lights at a target area in the operating room," Guilak said. "With current lighting, they have to adjust it manually, and often it's hard to light up an exact spot at the right intensity and without shadows."
"Our client performs spine surgery and spends an inordinate amount of time adjusting lights," said David Trevas, a Rice mechanical engineering lecturer and team mentor.
Conventional surgical lights are mounted on overhead booms that need to be adjusted manually, which Gupta estimated can take up as much as a quarter of the time spent in surgery.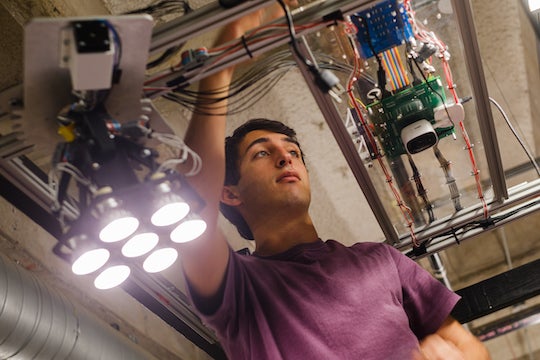 Headlamps were thought to help, but they require surgeons to keep their heads perfectly still as they work, which can cause neck strain. Headlamps can also get in the way when multiple surgeons are working together in close proximity.
"Our system has four separate light clusters mounted on an overhead frame," Guilak said. "The goal is to have the lights turn and point where they are needed."
Each light cluster is mounted onto a 3D-printed circular base that can adjust both its position and the angle of the lightbulbs.

"This allows us to aim our spotlight anywhere on a 2D plane and adjust the size of the spotlight we're creating," Gerwin said.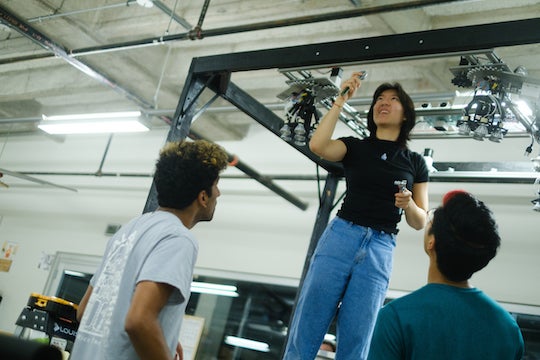 In addition to the lights, a lightweight camera is mounted onto the frame.
"We're working on an app that is going to have a video feed of the operating table," Gerwin said. "And then the surgeon can click and drag a circle on top of the video feed, and that's the spot the lights would focus on."
The app would allow surgeons to adjust the position, size and intensity of the spotlight with minimal effort.
"There already are touchscreens being used in the operating room, so covers, etc., for sterilization already exist," added Gao.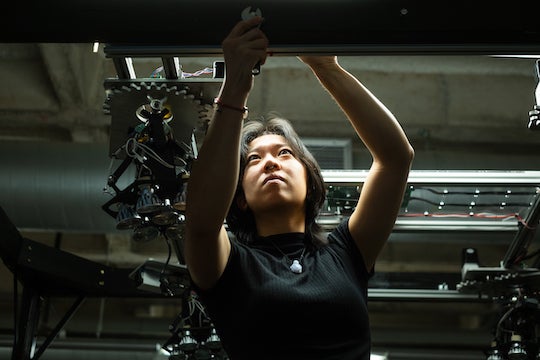 Operating room lighting requirements are very specific. Brightness, color, power source, sterilization protocols and even the noise levels emitted by lighting devices are all geared to maximize focus and reduce distraction. The team weighed all these factors carefully in its design.
Avoiding casting shadows presented a significant challenge.
"Our client described how stadium lights get rid of shadows well, but don't focus on a specific area," Guilak said. "We tested a bunch of different bulbs: We'd go into a room, turn off all the lights and test their luminosity, point them in different directions, etc. Our design is what we think will work best."

In addition to Trevas, Gary Woods, a professor in the practice of electrical and computer engineering, was also a team mentor.

Video URL:

https://youtu.be/O3xTjyZWrzg

(Credit: Video by Brandon Martin/Rice University)

Image downloads:

https://news-network.rice.edu/news/files/2023/04/230404_OR_LG1.jpg
CAPTION: (Top row, from left) Ellice Gao, Hemish Thakkar, Renly Liu, Justin Guilak, (bottom row, from left) Rosemary Lach and Bryn Gerwin make up the OR Lights team. (Photo by Jeff Fitlow/Rice University)

https://news-network.rice.edu/news/files/2023/04/230404_OR_LG2.jpg
CAPTION: OR Lights team member Justin Guilak adjusts the operating room lighting system. (Photo by Jeff Fitlow/Rice University)

https://news-network.rice.edu/news/files/2023/04/230404_OR_LG3.jpg
CAPTION: OR Lights team members Hemish Thakkar, Ellice Gao and Renly Liu tinker with their lighting system. (Photo by Jeff Fitlow/Rice University)

https://news-network.rice.edu/news/files/2023/04/230404_OR_LG4.jpg
CAPTION: Ellice Gao makes an adjustment. (Photo by Jeff Fitlow/Rice University)
Links:

Oshman Engineering Design Kitchen: http://oedk.rice.edu

George R. Brown School of Engineering: https://engineering.rice.edu

About Rice:

Located on a 300-acre forested campus in Houston, Rice University is consistently ranked among the nation's top 20 universities by U.S. News & World Report. Rice has highly respected schools of Architecture, Business, Continuing Studies, Engineering, Humanities, Music, Natural Sciences and Social Sciences and is home to the Baker Institute for Public Policy. With 4,552 undergraduates and 3,998 graduate students, Rice's undergraduate student-to-faculty ratio is just under 6-to-1. Its residential college system builds close-knit communities and lifelong friendships, just one reason why Rice is ranked No. 1 for lots of race/class interaction and No. 1 for quality of life by the Princeton Review. Rice is also rated as a best value among private universities by Kiplinger's Personal Finance.