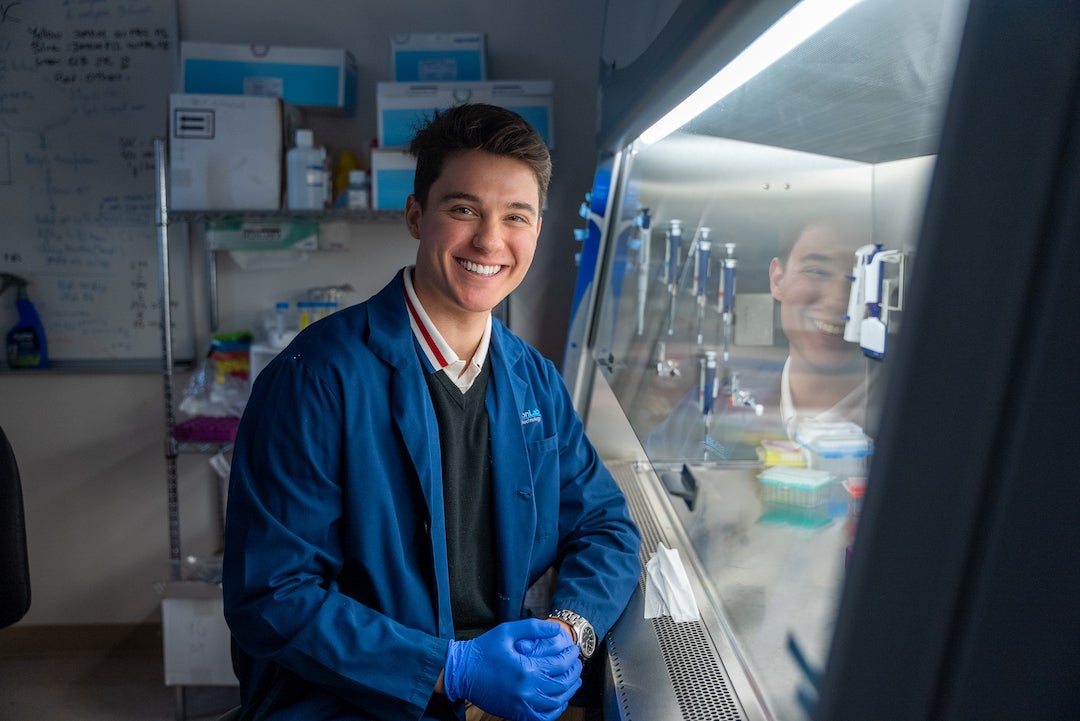 Moments after a post-finals session of piano practice at home during winter break in Austin, Rice senior and electrical engineering and neuroscience student Joseph Asfouri learned he'd be packing his bags for England come fall 2023, as he'd been named one of a select few American students to be awarded the prestigious Churchill Scholarship at the University of Cambridge.

Established at the behest of former British Prime Minister Winston Churchill in 1959, the scholarship is awarded to 18 graduating U.S. college students annually, who then go on to study for one year at Churchill College in Cambridge — whose college system was one of the inspirations for Rice's residential colleges — to earn specialized master's degrees. Asfouri is only the second Rice student in nearly three decades to receive the honor; Alex Hwang '19 was named a Churchill Scholar in 2019.
Asfouri is eager to use his year at Cambridge to build upon the neuroengineering research he's conducted in the labs of Jacob Robinson of Rice's BioScience Research Collaborative, Amy Orsborn at the University of Washington, Kristen Pleil at Weill Cornell Medicine and Sameer Sheth at Baylor College of Medicine. He's especially looking forward to learning from George Malliaras, the Cambridge biotechnologist whose work developing minimally invasive brain-implant technologies Asfouri considers a fascinating corollary to the work he's done with Sheth at BCM investigating personalized therapies to treat neuropsychiatric disorders like depression through deep-brain stimulation.
"I hope this can be not a recognition of me in particular, but of the team who's gotten me here," Asfouri said. He credited his parents and friends for their support through the years, and highlighted his professors and lab mentors who inspire him to pursue his dreams of pursuing ethically grounded bioengineering research that could hopefully one day change the world.
"Despite COVID, despite every challenge throughout the past four years, I still felt the passion that my professors had for the subjects they were teaching, what they were advising or what they were giving feedback on in the lab," Asfouri said. "The way I was able to engage with them was extremely valuable to me, not just to soak up knowledge — I could do that with a textbook — but to become so excited by the material and its powerful applications."
Asfouri was also quick to credit the support he received from Rice's Center for Civic Leadership (CCL), whose staff he explained were invaluable advisers throughout the application process for both his Goldwater and Churchill scholarships.
"We all admire his passion and thoughtfulness about his research and his ability to communicate complicated scientific concepts in ways that made us excited about his work, too," said Danika Brown, director of curriculum and fellowships for the CCL. "We were all thrilled (though not surprised) that the Churchill Foundation recognized Joseph's accomplishments and potential and named him a scholar.
"Joseph approached the application process open to feedback and enthusiastic to engage with the CCL advisers and with the faculty who interviewed him," Brown continued. "Joseph's outstanding academic and research accomplishments were complemented by his clear commitment to doing that work with integrity and high ethical standards."
That commitment to ethical research underpins all of Asfouri's academic pursuits, as he hopes to one day follow the lead of one of his scientific inspirations, Jennifer Doudna, who in addition to earning a Nobel Prize for her work co-developing the CRISPR gene-editing platform has devoted her energy toward creating socially conscious, ethical frameworks for how to carry out genetic research.

Beyond the ethical concerns around conducting research, Asfouri is also keenly interested in learning more about the entrepreneurial side of bioengineering research from a European perspective, and how to build neurotech companies that don't put profits over accessibility and positive social impact. The fact that the region around Cambridge has such a bustling biotechnology industry that works closely with university faculty to answer these very questions is yet another reason Asfouri can't wait to head to England to begin his studies this fall.
"The fact that this master's program will be taught by people who are undertaking those kinds of industry collaborations in practice is pretty exciting," he said.
Asfouri is also looking forward to continuing one of his favorite extracurricular pursuits across the pond: rowing crew. President of Rice's student-led club team, Asfouri took up the sport upon arriving at Rice and can't wait to lend his oar to Churchill College's team.
Getting the chance to walk the same halls and conduct research on the same campus where modern scientific titans Charles Darwin, James Clerk Maxwell, James Watson and Francis Crick made their world-changing contributions in the fields of evolutionary biology, electromagnetism and genetics is more than a dream come true for Asfouri.
"This will be something of a pilgrimage for me," he said grinning.