Rice experts presented their expertise to the crowds at CERAWeek during panels that highlighted hydrogen hubs, examined how the COVID-19 pandemic has affected the economic future and debated how the private sector will contribute to solving climate change, among other topics.
The March 6-10 event is the energy industry's biggest, drawing thousands of innovators, leaders and others from around the world to Houston. Rice was represented by speakers each day of the conference.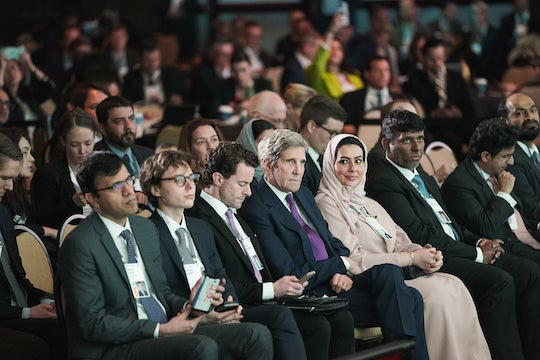 Rachel Meidl, a fellow in energy and environment at the Baker Institute for Public Policy, gave a presentation on how waste — a common denominator at every stage of a product's life cycle across the entire supply chain — plays into the energy transition. Without a waste management policy, the energy transition will be hindered, she argued.
Ramamoorthy Ramesh, Rice's vice president for research, participated in a standing-room-only panel that focused on the technologies necessary to get to "net zero," the concept of negating all greenhouse gases and absorbing carbon dioxide. He explained that policy, science and technology have to work together to accomplish the goal.
Ramesh also participated in a panel discussion titled "What's New at Rice?"— along with Vice President for Innovation Paul Cherukuri and former Ambassador David Satterfield, director of the Baker Institute — that highlighted the university's goals under DesRoches. (Read more here.)
President Reginald DesRoches participated in a moderated discussion about his life and his view on Rice's contributions to energy and innovation. He spoke of his vision for the evolution of the university and its contributions to Houston, widely known as the "energy capital of the world."
"It's important, that concept of providing affordable, reliable energy while minimizing the impact of the environment," DesRoches said. "I think it's going to be the most challenging, most important topic for this generation and certainly something that's critical to Rice. If you look at the work that we do across the board, every school does work in this space — from the humanities to engineering and sciences, our Baker Institute — this is going to be one topic where we will make significant investments in people and programs and infrastructure. We're putting up a new building that will open up this fall that's going to be focused on advanced materials. So this is going to be an area where we're making investments and we need to be a leader.
"We have great partnerships with energy companies here in Houston. We work closely with them," he continued. "I'd like to take that to the next level, but I think we have a unique advantage that doesn't exist on the West Coast or the East Coast, in terms of the ability to do things that nobody else can."