Rice University representatives discussed the vision guiding the university's research agenda during a panel discussion at CERAWeek, the leading annual energy conference taking place in Houston this week.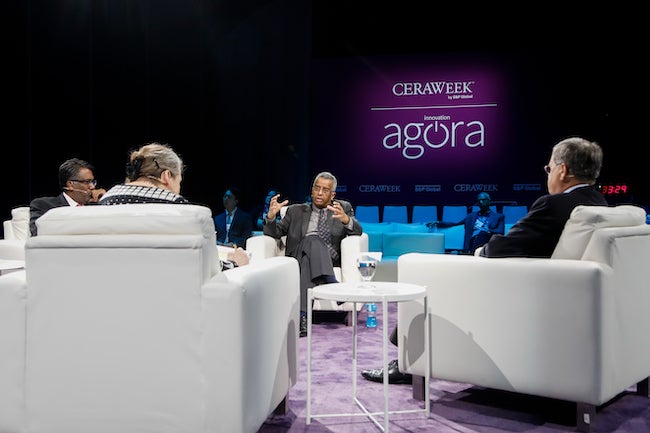 Titled " What's New at Rice," the March 6 panel at the George R. Brown Convention Center brought together Vice President for Research Ramamoorthy Ramesh, Vice President for Innovation Paul Cherukuri and former Ambassador David Satterfield, the director of the Baker Institute for Public Policy. The moderator was Susan Kish, strategy director at Synthesis Design + Strategy.
"Rice is under new leadership," Ramesh said, referring to first-year President Reginald DesRoches. "We are looking forward to being in the upper echelons of research globally."
Ramesh outlined three focus areas: energy, health care sciences and computing sciences. While highlighting the Ken Kennedy Institute, Ramesh pointed out that Rice is one of the founding sites of artificial intelligence and machine learning research.
"What we're trying to do now is to build the entire ecosystem, all the way down to my level of condensed matter physics," said Ramesh, a distinguished physicist with a long track record of leadership in national-level energy initiatives.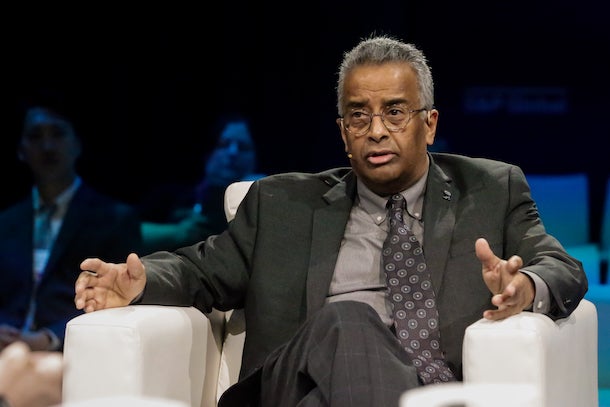 "Why do this? The reason, again, goes back to energy. By 2030, 25% of global energy consumption will be in computing. That's a mind-boggling number. AI, machine learning, the Internet of Things — all these are going to contribute to a huge energy consumption."
Pointing out that high computing-energy demand is also a national security issue, Ramesh mentioned the Microelectronics Commons, a collaboration with the U.S. Department of Defense to spearhead pathways to commercialization for U.S. microelectronics.
"If you want to create the next energy-efficient chip, we need a place to do that," he said. "The commons would be a place where we in the United States can innovate so that we create jobs, startup companies, etc. For us here in Texas … UT Austin, UT Dallas, Texas A&M University and Rice are equal partners for bringing together the entire ecosystem, hence the name 'commons.'"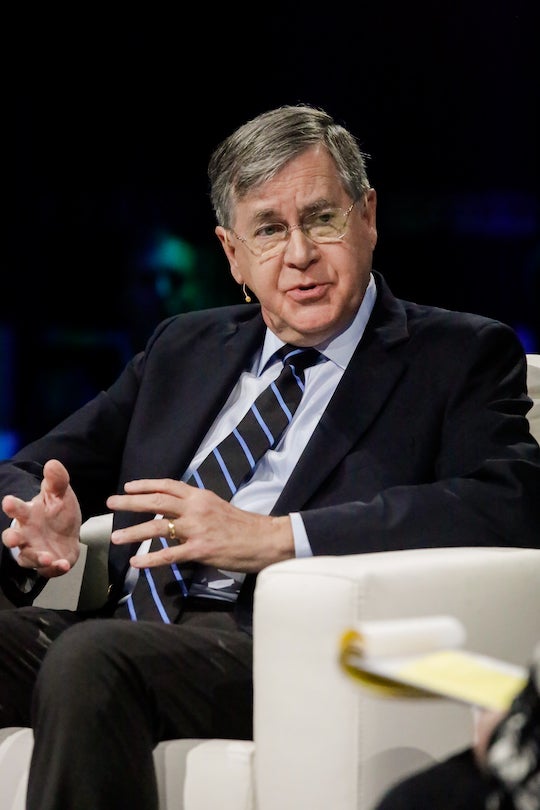 In response to a question about a recent report from the Baker Institute on the potential of the hydrogen market in Texas, Satterfield highlighted the state's strategic position on the Gulf Coast as an ideal site for a future hydrogen port for the U.S. and North America more broadly. He also pointed out that the market for hydrogen is not yet in place and that infrastructure limitations on development need to be overcome.
"To investors and to energy developers, hydrogen is still a potential, not an accomplished real energy source. But the attractiveness of both green and pink, or nuclear-derived, hydrogen is extraordinary in terms of energy efficiency, safety and carbon net benefits," he said. "But, again, we speak to the real world: we know the limits of technology, we know the lags. But we also know what can be done and what shouldn't be done if there's a market to support development, and that's what our recommendations are based on. We do see a very important future for Texas as well as the nation in the evolution of hydrogen."
Cherukuri spoke about the Ion as a catalyst for innovation not only for Houston, but for the U.S. and globally.
"We're doing innovation at scale," he said. "How do we bring our startups and technology out of the lab and into the real world? That has been our focal point that born out of Rice, but something that enriches the community broadly."
Cherukuri highlighted Jan Odegard, the Ion's executive director, mentioning his work creating new programs for the community and bringing established companies as well as startups into the Midtown incubator.
"For Rice, what we want to be able to do is take the research out of the labs — these fundamental discoveries — and drive them into technology, which is the innovation house, and develop them to a point where you can then put it into the market," Cherukuri said. "In order to do that in an accelerated fashion, especially when we're focused on energy transition or any of the issues facing the planet, we've got to get them to scale quickly.
"The acceleration is driven by the issues that we're facing both in terms of climate change and energy independence. The idea of national security interests is behind a lot of what we do and why we're working with the Department of Defense to push this technology forward. Energy is the critical national security issue we face. We must have our own capabilities to create not only green energy, but just energy that we can create and manufacture here."

-30-
Image downloads:

https://news-network.rice.edu/news/files/2023/03/Whats-New-at-Rice-Agora-Studio-panel.jpg
CAPTION: Rice's Paul Cherukuri (clockwise, from left), Ramamoorthy Ramesh and David Satterfield conduct a CERAWeek panel discussion moderated by Susan Kish of Synthesis Design + Strategy March 6 at Houston's George R. Brown Convention Center. (Photo courtesy of CERAWeek)

https://news-network.rice.edu/news/files/2023/03/Ramamoorthy-Ramesh-Vice-President-for-Research-Rice-University-3.jpg
CAPTION: Ramamoorthy Ramesh (Photo courtesy of CERAWeek)

https://news-network.rice.edu/news/files/2023/03/Amb.-David-Satterfield-Director-Baker-Institute-for-Public-Policy-Rice-University-2.jpg
CAPTION: David Satterfield (Photo courtesy of CERAWeek)

https://news-network.rice.edu/news/files/2023/03/Paul-Cherukuri-Vice-President-of-Innovation-Rice-University-3.jpg
CAPTION: Paul Cherukuri (Photo courtesy of CERAWeek)

Related stories:

Accordion content 2.Rice U. experts to be featured at CERAWeek 2023:
https://news.rice.edu/news/2023/rice-u-experts-be-featured-ceraweek-2023

Texas in position to lead hydrogen energy economy, new report says:
https://news.rice.edu/news/2023/texas-position-lead-hydrogen-energy-economy-new-report-says

Rice University among 14 to join $32.7M Center for Heterogeneous Integration of Micro Electronic Systems:
https://eceweb.rice.edu/news/rice-university-among-14-join-327m-center-heterogeneous-integration-micro-electronic-systems
Links:

The Ion: https://www.ionhouston.com/

Ken Kennedy Institute: https://kenkennedy.rice.edu/

About Rice:

Located on a 300-acre forested campus in Houston, Rice University is consistently ranked among the nation's top 20 universities by U.S. News & World Report. Rice has highly respected schools of Architecture, Business, Continuing Studies, Engineering, Humanities, Music, Natural Sciences and Social Sciences and is home to the Baker Institute for Public Policy. With 4,552 undergraduates and 3,998 graduate students, Rice's undergraduate student-to-faculty ratio is just under 6-to-1. Its residential college system builds close-knit communities and lifelong friendships, just one reason why Rice is ranked No. 1 for lots of race/class interaction and No. 1 for quality of life by the Princeton Review. Rice is also rated as a best value among private universities by Kiplinger's Personal Finance.