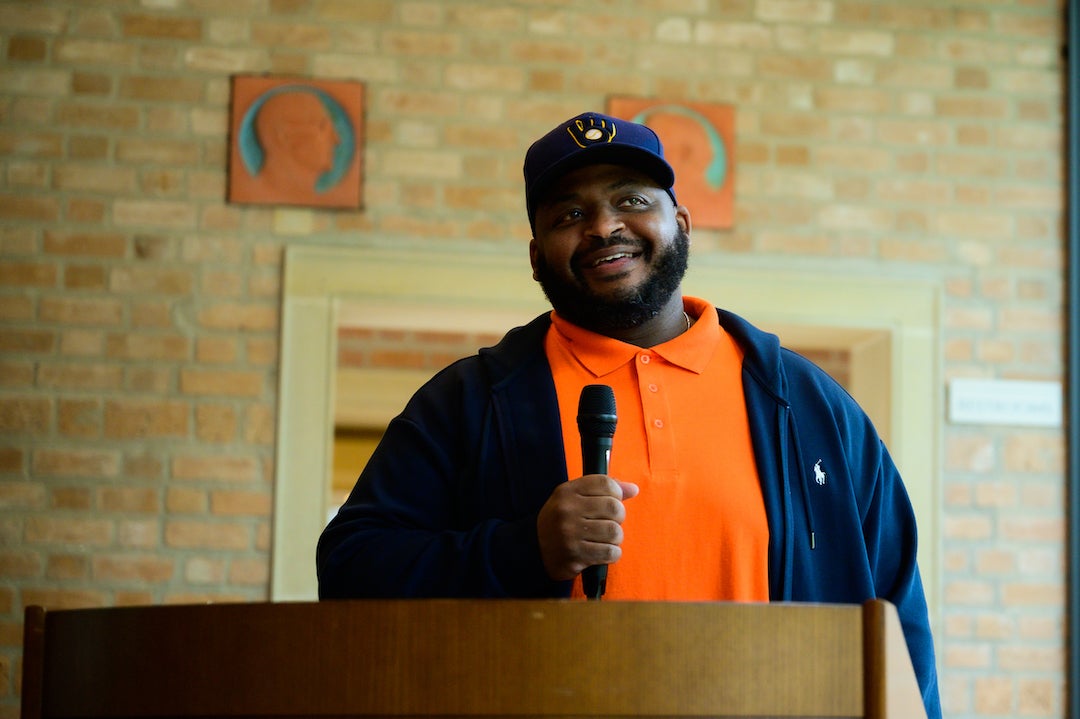 In an afternoon reception at Cohen House April 10, Kiese Laymon — Rice's Libbie Shearn Moody Professor of Creative Writing and English — was joined by his students, family, friends and colleagues alongside Rice President Reginald DesRoches and leaders from across campus to celebrate the esteemed author in light of his recent MacArthur Fellowship, popularly known as the "genius grant."

Dean of Humanities Kathleen Canning, the Andrew W. Mellon Professor of History, welcomed those who came out to honor Laymon, praising how his writing across the genres of fiction, essay and memoir "is grounded in radical honesty and his perspective as a Black Southern man" from Jackson, Mississippi.
Laymon's writing has been characterized as "bearing witness to the myriad forms of violence that mark the Black experience," but Canning recounted how his work grapples with much more than violence alone. "Indeed, he's grappling with joy," she said. "He's grappling with family, with intimacy, with memory and with all of the complexities and paradoxes of those experiences."
DesRoches, too, praised Laymon for the deep emotional connections his work elicits, describing his experience taking in the award-winning audiobook of Laymon's lauded 2018 memoir "Heavy," narrated by Laymon himself.
"I've spoken a lot lately about the benefits of our students being exposed to and taught by people who come from different backgrounds, belief systems, ethnicities, genders and experiences. And why is that important? Because it creates connections that can open up doors to learning, can develop new and fruitful relationships that will help students grow, and it can foster an environment of inclusivity and equity," DesRoches said. "Having scholars like you at Rice — people who can tell their story so freely, truthfully and powerfully — creates more empathetic, well-rounded individuals who are better equipped to tackle the world's many challenges."
Provost Amy Dittmar echoed her colleagues in thanking Laymon for the gift of his writing and for his decision to join Rice's faculty in January 2022, describing the "tremendous impact on students" he's made, "helping them enrich their own understanding of themselves and the community."
"I cannot wait to see everything you accomplish in the future," Dittmar said. "We are so thrilled that you are here, a part of Rice, a part of the School of Humanities, and to recognize your talent."
"Kiese is a brilliant writer, as you've already heard. He's also an incredibly generous colleague, and an incredibly humble colleague" said Kirsten Ostherr, chair of Rice's Department of English and the Gladys Louise Professor of English. "He is a truly boundary-breaking artist."
Highlighting his skill as a teacher, Ostherr quoted an enthusiastic student evaluation of one of Laymon's courses: "Kiese really values and appreciates student engagement, and treats students with genuine compassion, like equals."
Lacy Johnson — associate professor of creative writing and director of undergraduate studies in English — called her friend and colleague "a writer who insists — whether he's working in fiction, nonfiction, essays, screenplay or, now, poetry — on animating in language what has become calcified and frozen, on interrogating systems that imperil his own vulnerability and dignity as well as others', and celebrating joy and abundance in a world that sometimes feels reluctant to yield it."
Humbly taking to the podium, with his father and students smiling in the audience, Laymon thanked all in attendance for so warmly embracing him as a member of the Rice community and vowed to continue giving all he can to his work, his co-workers and his students.
"I hope that I can be the colleague, and most importantly, the teacher that y'all described. I would love for you to give me a little time to become that, but that is what I'm going to do here," Laymon said, "because I come from people who say, 'Don't stop until you become that thing you want to be.'"