HOUSTON – (Oct. 12, 2022) – Rice University English professor and acclaimed author Kiese Laymon has been awarded a MacArthur Fellowship, the prestigious honor popularly known as the "genius grant."
A Black Southern writer from Jackson, Mississippi, Laymon's work bears witness to the forms of violence that mark the Black experience. His writing across multiple forms — including essays, memoirs and fiction — is rooted in his perspective as a Black Southern man.
"I'm not big into awards and recognition, but this one feels special," Laymon said of the fellowship. "Revision and Mississippi did this. I'm just thankful. Some really incredible people thought my work was OK. That's a big deal to me."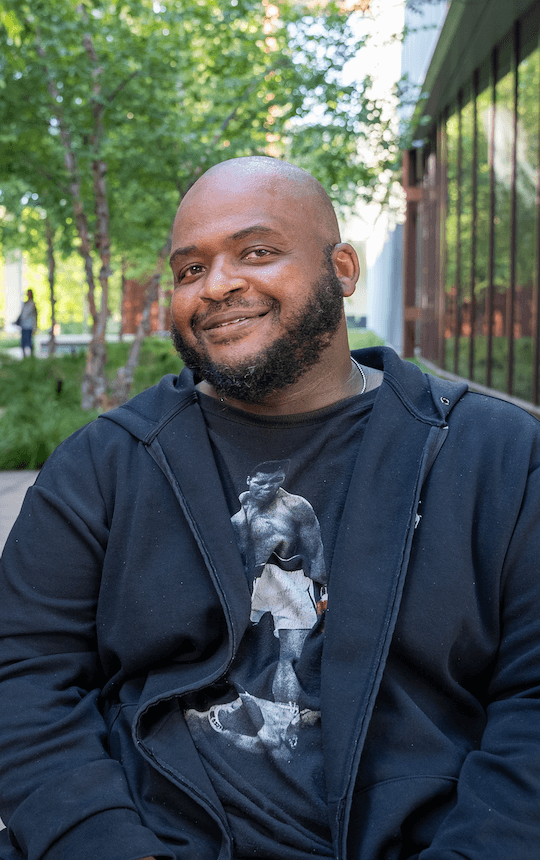 Laymon has taught creative writing at Rice since he joined the School of Humanities in January as the Libbie Shearn Moody Professor of Creative Writing and English.
Laymon's first two books, the novel " Long Division " and the essay collection " How to Slowly Kill Yourself and Others in America ," were originally published in 2013. Years later, he acquired the rights to both works and published revised editions in 2020 and 2021. Laymon's bestselling " Heavy: An American Memoir " was published in 2018. His writing has also appeared in The New York Times, The Washington Post, Vanity Fair and ESPN.com among other publications.
Each of the 2022 cohort of MacArthur Fellows will receive an $800,000 stipend, bestowed with no conditions, that awardees can use as they see fit. Awarded annually by the MacArthur Foundation since 1981, the so-called "genius grants" are typically received by upwards of 20 people each year who have shown exceptional originality in and dedication to their creative pursuits. All of them are nominated anonymously by leaders in their fields and considered by an anonymous selection committee.
"This is a huge win for Kiese, for Rice's School of Humanities and for the university as a whole," said President Reginald DesRoches. "Any time one of our professors' work is recognized by a prestigious organization such as the MacArthur Foundation, it shines a light on the extremely high-caliber faculty at Rice and the impact of their research, scholarship and creative pursuits."
Laymon is the first member of the School of Humanities to be named a MacArthur Fellow and the second Rice faculty member to be selected for the award in the school's history. He joins Rebecca Richards-Kortum, the Malcolm Gillis University Professor of Bioengineering and director of the Rice 360° Institute for Global Health, who received the honor in 2016.
"Kiese has only been with Rice a short time and has already had a profound impact on our students and our School of Humanities," said Provost Amy Dittmar. "We are thrilled he is a part of our Rice community. This award is a well-earned acknowledgement of his outstanding talent and future contributions to his field."
Laymon's work has previously been recognized with a number of prestigious honors. "Long Division" received the NAACP Image Award, and "How to Slowly Kill Yourself and Others in America" was named a New York Times notable book. "Heavy: An American Memoir" won the 2019 Andrew Carnegie Medal for Excellence in Nonfiction. Laymon's memoir was also named one of Time magazine's 25 Greatest Works of the Black Renaissance, as well as one of The New York Times' 50 Best Memoirs of the Past 50 Years.
"I am thrilled that the MacArthur Foundation recognized Kiese Laymon's extraordinary voice and accomplishments as a writer, artist and humanist," said Kathleen Canning, Rice's dean of humanities and the Andrew W. Mellon Professor of History. "As I have observed in only his first two semesters at Rice, he is a writer whose texts and teaching literally change the world, empowering students by the way he reads them, engages their stories and inspires them to write their worlds and their experiences. His arrival at Rice in January 2022 is one of the hallmarks of our school's investment in creative writing and the visual arts at Rice. He has joined a truly illustrious faculty of creative writers in the English department and his colleagues and I are excited to join in the celebration of this award."
Laymon earned his bachelor's degree from Oberlin College and a master's in fine arts from Indiana University. Before joining Rice, he was a member of the faculty at Vassar College and the University of Mississippi. In his native Mississippi, Laymon founded the Catherine Coleman Literary Arts and Justice Initiative, which seeks to inspire youth and their parents to read, write and share their life stories.
"I'm really happy that this happened while I'm at Rice," Laymon said. "The MacArthur means a ton to my Jackson family, especially now. I hope it might mean a lot to Rice and Houston."
Laymon said he plans to use some of the grant money "to work on artful connections between middle school students in Houston and Jackson."
"I'm really thankful my mama encouraged me to keep making daring — or she would say, 'excellent' — art, no matter what," Laymon said.
More information is available at:
MacArthur Foundation home page: http://macfound.org
MacArthur Fellows home page: https://www.macfound.org/programs/fellows/
Related news from Rice:
English professor Laymon converses with rapt crowd at reading, welcome reception - Sept. 26, 2022
https://news.rice.edu/news/2022/english-professor-laymon-converses-rapt-crowd-reading-welcome-reception
Award-winning writer Kiese Laymon joining English faculty - May 5, 2021
https://news.rice.edu/news/2021/award-winning-writer-kiese-laymon-joining-english-faculty
Video footage available upon request.
This news release can be found online at news.rice.edu.
Follow Rice News and Media Relations on Twitter @RiceUNews.
Located on a 300-acre forested campus in Houston, Rice University is consistently ranked among the nation's top 20 universities by U.S. News & World Report. Rice has highly respected schools of Architecture, Business, Continuing Studies, Engineering, Humanities, Music, Natural Sciences and Social Sciences and is home to the Baker Institute for Public Policy. With 4,240 undergraduates and 3,972 graduate students, Rice's undergraduate student-to-faculty ratio is just under 6-to-1. Its residential college system builds close-knit communities and lifelong friendships, just one reason why Rice is ranked No. 1 for lots of race/class interaction and No. 1 for quality of life by the Princeton Review. Rice is also rated as a best value among private universities by Kiplinger's Personal Finance.