HOUSTON – (Sept. 25, 2023) – Rice University President Reginald DesRoches announced the creation of a $1 million scholarship named after Ruth Simmons, a President's Distinguished Fellow and higher education trailblazer.
Established by the Rice Board of Trustees to acknowledge Simmons' career and to reconfirm Rice's commitment to the community, the scholarship fund will support students who otherwise might not be able to attend the university.
"Some of these students will undoubtedly come from Dr. Simmons' childhood neighborhood, the Fifth Ward," DesRoches said.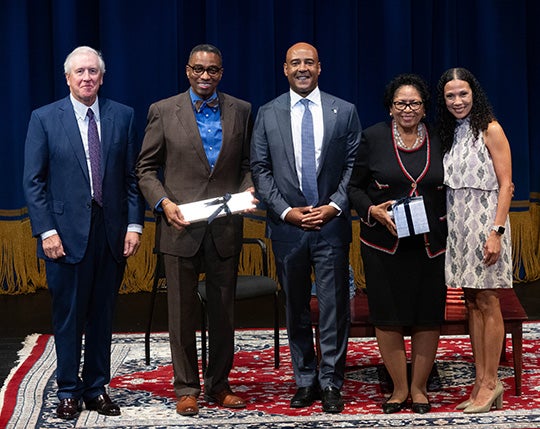 The announcement took place during a public gathering to honor Simmons' new memoir "Up Home: One Girl's Journey," a New York Times bestseller now in its third printing.
During the event, KPRC-TV meteorologist and "Houston Newsmakers" host Khambrel Marshall and Simmons spent an hour on stage at the Shepherd School of Music's Brockman Hall Sept. 22 exploring various milestones and themes in the book.
The memoir chronicles Simmons' life from growing up on farmland in East Texas to Houston's Fifth Ward to New Orleans at the dawn of the Civil Rights Movement. She depicts a bygone era that's a legacy for inequality that lives on today. It is both an origin story set in the segregated South and the chronicle of a girl whose intellect, grace and curiosity guide her as she creates a place for herself in the world.
Simmons said she wrote the book for her students as a reminder that life is constructed through enduring difficult choices, hardships and even periods of unhappiness.
"You know, people make too much of happiness, I think," Simmons said. "You're on a path, and if you can just see beyond the next hurdle, it could be something so glorious, right?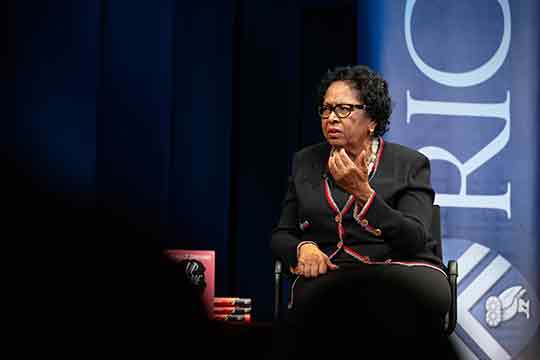 "I am the person I am because of the difficulties that I endured, as well as the successes that I enjoyed, so I want them to understand how being challenged is another element of growth. Overcoming difficulties is one of the most important dimensions of becoming the person you want to be and that it isn't an interminable pain that you experience, because you find your way out of the most difficult experiences."
Simmons used one word to describe her life: "unremarkable." Her history, however, has proven to be the opposite.
Simmons became the first black president of an Ivy League school when she took over at Brown University in 2001. She also served as president of Prairie View A&M University and Smith College and was the provost at Spelman College and vice provost at Princeton University. Additionally, Simmons is a Rice trustee emerita, serving on the board from 2014-18.
View and download video of the surprise announcement here.