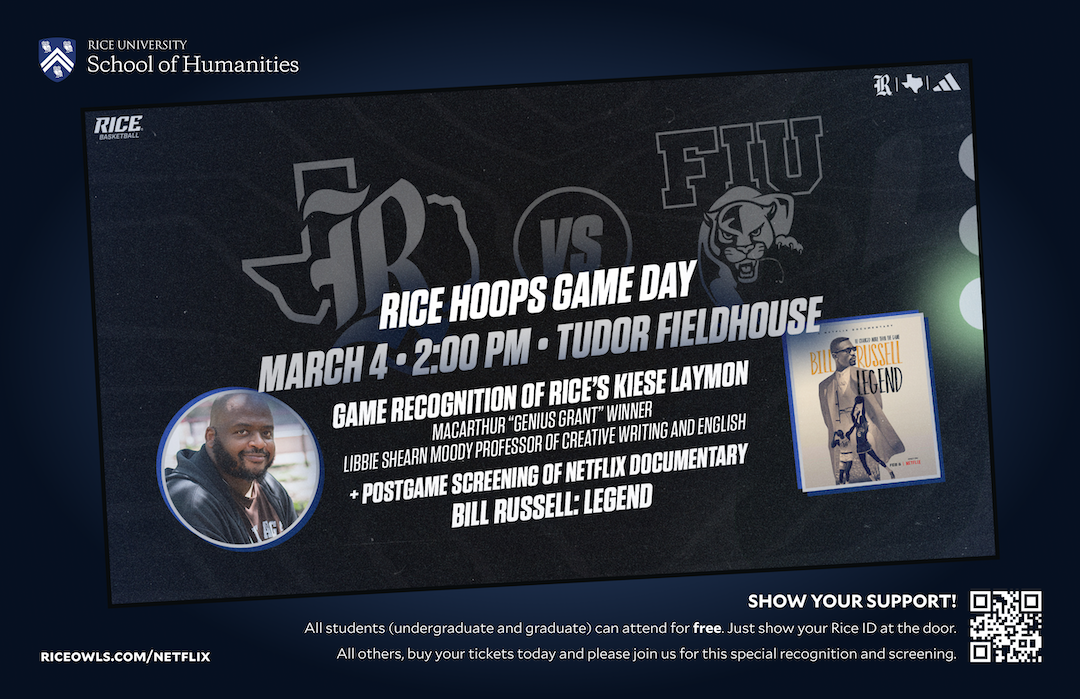 Rice Professor Kiese Laymon, acclaimed author and 2022 MacArthur Foundation "genius grant" awardee , is set to be recognized by Rice Athletics during the final men's basketball game of the season March 4 against the Florida International University Panthers at 2 p.m. in Tudor Fieldhouse.

Following the game, attendees will be treated to a free screening of "Bill Russell: Legend" — the new Netflix documentary on the late Boston Celtics star and civil rights icon — featuring narration written by Laymon, the Libbie Shearn Moody Professor of Creative Writing and English in the School of Humanities. The game and film screening are both free to attend for all Rice students, and tickets for the special event are available at RiceOwls.com/Netflix.
Laymon's award-winning writing spanning essay, memoir and fiction is deeply rooted in his perspective as a Black Southern man from Jackson, Mississippi. That he was part of the team that brought "Legend" to life was no coincidence; in addition to admiring Russell's activism throughout the 11-time NBA champion's life, Laymon is an avid basketball fan who himself played in college and worked as an assistant coach for three years during his time at Vassar College.
"At the tail end helping craft the narration of the Bill Russell documentary, I started watching both Rice basketball teams and it's pretty factual to me that both play with a style, rigor and collectivity that Bill would have absolutely adored," Laymon said.
"We're thrilled to partner with the School of Humanities to bring a unique experience to campus with a screening of the Bill Russell Netflix documentary," said David Pillen, Rice's associate athletic director for external relations. "What a way to wrap up the 2023 hoops season while recognizing those like Kiese who make our campus community such a vibrant and welcoming community to be a part of! Bring everyone you know to Tudor Fieldhouse on March 4 to help us celebrate our senior class, Professor Laymon and Bill Russell by watching 'Legend' together following the game."
Admission to the March 4 Rice men's basketball game and film screening is free for all current Rice undergraduate and graduate students. Tickets can be purchased at RiceOwls.com/Netflix. Bill Russell: Legend" is now streaming on Netflix.