Rice University is the only place in North America where you can find an authentic, functional replica of the star-wheel copper-plate rolling press that famous Romantic poet and artist William Blake used to produce his masterworks.
Fondren Library 's recent acquisition of the press built by printmaker Michael Phillips was facilitated by Alexander Regier, professor of English and of modern and classical literatures and cultures in the School of Humanities, as well as Vice Provost and University Librarian Sara Lowman and generously funded by Fondren's Hobby Family Fund. It will be located in the Woodson Research Center, just inside the West entrance to Fondren, and will be unveiled to the public March 1.
The press will complement the library's extensive holdings on Blake, including print and plate replicas recreated by Phillips that were accessioned about a year ago.
"I mean, it's an extraordinary thing," Phillips said. "The only place in North America one can not only see, but see working, a replica of a copper-plate rolling press will be in Houston in the Fondren Library at Rice."
Blake (1757-1827) was largely unrecognized during his lifetime, for either his poetry or paintings. In 1863, with the publication of Alexander Gilchrist's "Life of William Blake, 'Pictor Ingots,'" he gained prominence as one of the first artists to combine poetry with illustrations. He was also the first to invent a method of relief etching that made it possible to produce his works of word and image in a one-stop shop, using the rolling press.
"For 400 years, conventionally, the printing of an illustrated book required two completely different kinds of printing workshops, each one having numbers of specialists for each stage of the process," Phillips said. "Blake's invention brought all of that into one — not only for writing the poems and drawing the design, but from the method of reproducing them.
"Apart from the copper plate and the paper, Blake was responsible for every stage in the creation and reproduction of his works — even stitching the leaves into paper wrappers and selling them to his customers."
A renowned Blake scholar, Phillips has researched the materials and methods used in producing his illuminated books for more than 30 years. Using the rolling press he constructed with the help of craftsman Josh Howard-Saunders, along with original relief-etched copper plates (Blake's original copper plates were lost in the 19th century), ink and papers, he has dedicated countless hours to recreating historically accurate replicas .
Exhibitions of Phillips' replica prints and plates have been held at the Rollins Museum of Art at Rollins College, the Iris and B. Gerald Cantor Art Gallery at the College of the Holy Cross, and Gallery 1516 in Omaha, Nebraska. Phillips was also guest curator of the major exhibitions of Blake at the Tate Britain in London, the Metropolitan Museum of Art in New York, the Petit Palais in Paris and, most recently, the Ashmolean Museum in Oxford, England, for which he produced the acclaimed exhibition catalog "William Blake Apprentice & Master."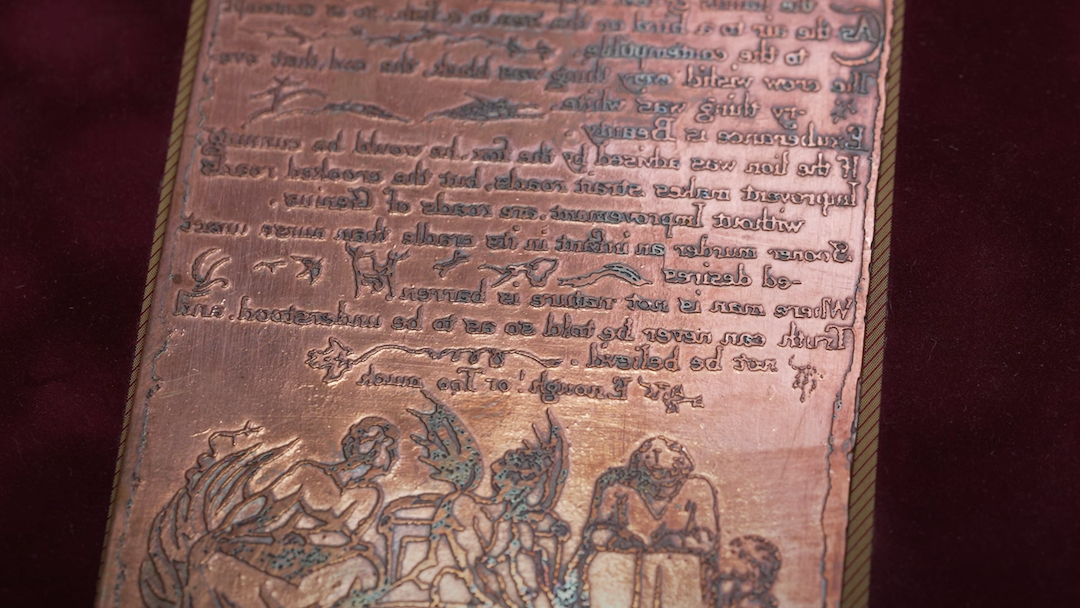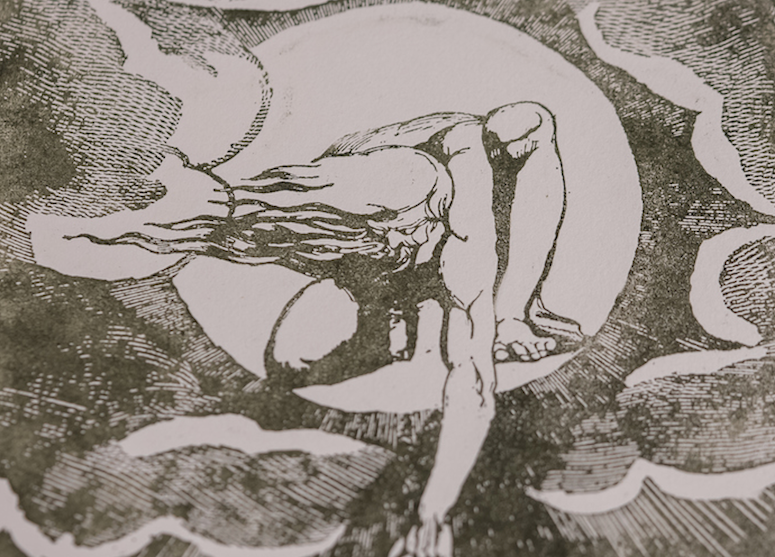 Rice became a leading candidate to house the press thanks to a connection between Phillips and Regier, who has taught English literature at Rice since 2009 and has written books about Blake .
Regier contacted Phillips a few years ago and they arranged to meet in Oxford to go over the printing process. After that visit, Phillips alerted him that the press needed to be moved from Christ Church in Oxford.
"He responded immediately and said, 'Give me 24 hours.' And it went from there," Phillips said.
Regier, who teaches Blake's works regularly in his classes at Rice, hopes the press can be a great research and teaching tool for the public.
"The press has a really broad appeal," Regier said. "It makes real and tangible many things that you often only hear about in theory in the classroom. The press is a huge addition not just for specialist Blake scholars, visiting academics or Romanticists, but also for all students of literature, art history, history and material culture more generally. It'll be one of the most interactive and unique objects to study these topics at Rice."
The unveiling and open house for the star-wheel press will be held from 10 a.m. to noon and 2 p.m. to 4 p.m.
"It is incredible to have Michael Phillips' recreations of Blake's masterworks, both in print and plate formats. To now also have the very same press used for their printing is an amazing teaching opportunity hardly even seen in a rare book library," said Amanda Focke, head of special collections at the Woodson Research Center.