Rice University mechanical engineer Daniel Preston, three graduate students and a postdoctoral fellow from his department have won a 2023 Ig Nobel Prize in honor of their "necrobotic" design for a robot arm that incorporated a dead spider as a gripper.
Awarded annually by the scientific humor magazine Annals of Improbable Research, Ig Nobel Prizes celebrate unusual scientific research and "honor achievements that first make people laugh and then make them think."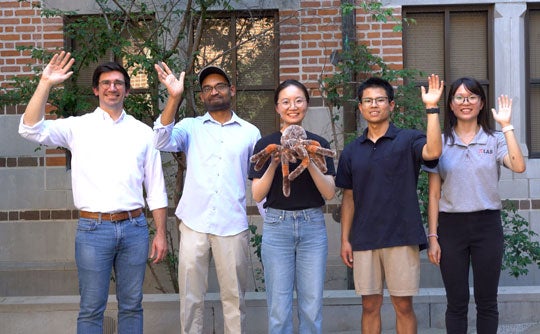 The award to Preston, an assistant professor of mechanical engineering, graduate students Faye Yap, Zhen Liu and Trevor Shimokusu and postdoctoral researcher Anoop Rajappan was one of 10 presented online in the magazine's "33rd First Annual Ig Nobel Prize Ceremony." The five were recognized for co-authoring the July 2022 study "Necrobotics: Biotic Materials as Ready-to-Use Actuators" in the peer-reviewed journal Advanced Science. In keeping with the evening's tongue-in-cheek theme, they accepted the prize "live" via a pre-recorded segment.
"We love the Ig Nobel Prizes for highlighting creative new approaches to science and engineering, and we're honored to have been selected for this work," Preston said.
In the study, he and his research team pointed to the potential environmental, cost and performance benefits of using dead arachnids and other freely available, biotic materials as robotic components. They dubbed the new field necrobotics, and both the name and study garnered widespread media attention, including a hilarious send-up on The Late Show with Stephen Colbert.
"The typical reaction from the general public has been a brief period of surprise, followed by an 'aha' moment where things click and they grasp the underlying mechanism and potential applications," Preston said.
While Preston said he and the others appreciate the humorous aspects of the work, they have also capitalized on the comedic draw to raise awareness about the serious questions the study addresses. Mechanical grippers, the grasping devices that the dead spiders replaced, typically have a lot of moving parts, which can make them both prone to failure and tedious to work with. Preston says using dead spiders as grippers has the potential to bypass those issues while also reducing electronic waste, which is an issue of growing concern in robotics.
"The research has sparked conversations about how we can respectfully and sustainably source and use biotic materials, and we hope it will continue to generate new ideas for sustainable robotics," he said.
Yap, the lead author of the 2022 study, said it "opened a lot of people's eyes to the possibilities of necrobotics," and she and others in Preston's lab are conducting followup research.
"We've learned a lot more in the past year," Yap said. For instance, in the original study the team found they could stick a needle in a spider's body, apply a puff of compressed air and cause all eight of the spider's legs to extend outward. Releasing the pressure allowed the legs to close and grasp objects.
"Building on that, we found we could actuate one of the legs rather than all eight," Yap said. "Actuating individual legs has allowed us to better understand how each of the leg joints behave during actuation.
"Robotics often takes inspiration from the natural world," she said. "There are robots that swim like fish and crawl like inchworms. Studying spider locomotion in greater detail could also inspire the design of more efficient robots."
Video

Image download

Related stories

Links