Researchers at Rice University and the Baylor College of Medicine have won a $3.9 million grant over five years from the National Institutes of Health's Office of Research Infrastructure Programs to establish the Baylor/Rice Genome Editing Testing Center (GETC). The new center will assist investigators from across the country with somatic cell genome editing experiments in mouse models.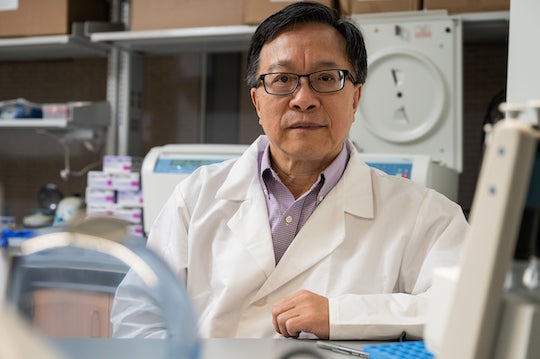 Genome editing, the ability to edit DNA within the body's cells, is a promising new method for treating some of the most severe human diseases. Over the last decade, significant effort has gone into developing more effective genome editing systems and in vivo delivery methods to specific cells and organs. However, these new technologies need to be validated using animal models to ensure their efficacy and safety before being used in humans.
Rice's Gang Bao, department chair and Foyt Family Professor of Bioengineering, professor of chemistry, mechanical engineering and materials science and nanoengineering and a Cancer Prevention and Research Institute of Texas (CPRIT) Scholar, will lead the efforts in the GETC to determine the efficiency, specificity and safety of genome editing systems in disease models.
"We are very excited to work with Baylor colleagues in the GETC to help researchers test their gene editing approaches," Bao said. "My lab is well equipped with the tools to analyze gene editing outcomes, including on- and off-target editing in the target tissue, large deletions, vector genome insertions and chromosomal translocations.
"To help individual labs in the gene editing field and effectively develop gene editing tools ⎯ including new editors and delivery vehicles that could translate into future therapies ⎯ it is critical to have a core facility with the expertise and infrastructure such as well-established animal models and comprehensive analysis tools."
Jason Heaney, contact principal investigator (PI) and associate professor of molecular and human genetics at Baylor, said the center will serve as a resource for "researchers who are developing new genome editing and delivery technologies but need assistance with conducting preclinical animal studies."
"Our goal is to help generate the animal model data needed to demonstrate the therapeutic potential of these cutting-edge technologies," Heaney said.
William Lagor, co-PI and professor of integrative physiology at Baylor, said "the aim is to accelerate the clinical translation of new delivery technologies and gene editing systems to treat disease."
"We are thrilled to have this opportunity to serve the broader scientific community interested in somatic genome editing. Our goal is to provide a 'one-stop shop' for testing in a relevant small animal model. This will allow researchers to answer critical questions about the biodistribution, efficiency, specificity and efficacy of their tools," Lagor added.
The new center will leverage the multidisciplinary expertise and resources of Baylor's current NIH-funded projects centered on animal models, such as the Knockout Mouse Project and the Center for Precision Medicine Models. The GETC will offer paid services to investigators across the country, including the use of somatic genome editing testing pipelines and mouse models for in vivo testing.
"We expect the GETC will make a broad and sustained impact by supporting the development of new genome editing technologies and accelerating their safe and effective deployment to the clinic," said Christopher Walkey, co-PI and instructor of integrative physiology at Baylor.
The research team in the Bao lab includes Julie Park, assistant research professor of bioengineering, and Mingming Cao, a bioengineering Ph.D. student.

Image downloads:

https://news-network.rice.edu/news/files/2023/09/220921_Bao_Lab_Fitlow_320-21.jpg
CAPTION: Gang Bao is department chair and Foyt Family Professor of Bioengineering, a professor of chemistry, mechanical engineering and materials science and nanoengineering and a CPRIT Scholar.

Related stories:

NIH grant backs Rice lab's sickle cell disease research:
https://news.rice.edu/news/2023/nih-grant-backs-rice-u-labs-sickle-cell-disease-research

Even good gene edits can go bad:
https://news.rice.edu/news/2022/even-good-gene-edits-can-go-bad

Rice, Baylor part of research effort to advance genome editing:
https://news.rice.edu/news/2021/rice-baylor-part-research-effort-advance-genome-editing
Links:

Rice Department of Bioengineering: https://bioengineering.rice.edu

George R. Brown School of Engineering: https://engineering.rice.edu

About Rice:

Located on a 300-acre forested campus in Houston, Rice University is consistently ranked among the nation's top 20 universities by U.S. News & World Report. Rice has highly respected schools of Architecture, Business, Continuing Studies, Engineering, Humanities, Music, Natural Sciences and Social Sciences and is home to the Baker Institute for Public Policy. With 4,552 undergraduates and 3,998 graduate students, Rice's undergraduate student-to-faculty ratio is just under 6-to-1. Its residential college system builds close-knit communities and lifelong friendships, just one reason why Rice is ranked No. 1 for lots of race/class interaction and No. 4 for quality of life by the Princeton Review. Rice is also rated as a best value among private universities by Kiplinger's Personal Finance.