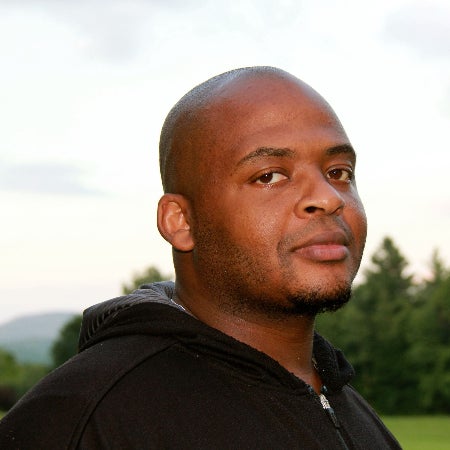 Kiese Laymon, a critically acclaimed memoirist and essayist, is joining the faculty at Rice in the Department of English as the Libbie Shearn Moody Professor of Creative Writing and English, starting Jan. 1, 2022.
Laymon's bestselling memoir, "Heavy," won the 2019 Andrew Carnegie Medal for Excellence in Nonfiction among many other awards. The New York Times named that book, which details his childhood in Mississippi during the 1980s one of the 50 best memoirs of the past 50 years. Laymon himself read the audiobook version, which was named Audible's 2018 Audiobook of the Year.
"As a young person growing up in Jackson, Mississippi, Houston was artistically seen as a holy place," Laymon said. "All my family says I'm ironically getting closer to home by working in Houston."
Since 2015, Laymon has been the Hubert H. McAlexander Chair and Professor of English the University of Mississippi, where he also founded the Catherine Coleman Literary Arts and Justice Program, aimed at making children and parents in Mississippi more comfortable with reading, writing and sharing their stories. Previously, Laymon was associate professor of English and Africana Studies at Vassar College.
Laymon is also author of the genre-bending novel "Long Division" and the newly reissued essay collection "How to Slowly Kill Yourself and Others in America." He has written for The New York Times, Paris Review, Esquire, The Los Angeles Times, The Guardian, Ebony, NPR, ColorLines, Guernica, Fader, Travel & Leisure, Literary Hub and many other publications.
Kirsten Ostherr, the Gladys Louise Fox Professor of English and department chair, called Laymon's "Mississippi: A Poem, in Days," published last summer in Vanity Fair, "a powerful and defining reflection on the COVID-19 pandemic."
"Kiese Laymon is one of the most accomplished and influential writers in American letters, and he is an artist of immeasurable creativity and humanity," Ostherr said. "We welcome him to Rice."
As a young person growing up in Jackson, Mississippi, Houston was artistically seen as a holy place.
In addition to teaching creative writing in the English department, Laymon will bring his talents to Rice's Center for African and African American Studies (CAAAS).
"There are so many possibilities through the arts at Rice for me to grow as an artist, server and teacher," Laymon said. "I really respect the work of my future colleagues and look forward to teaching and learning with students hungry to create and revise, revise, revise."
Dean of Humanities Kathleen Canning emphasized the school's enthusiasm for Laymon's appointment, noting that it fulfills a strategic priority of advancing the creative arts as a vital dimension of the humanities at Rice. Courses in the Creative Writing program are in continuously rising demand, she said, and most have long waitlists.
"We are thrilled that our Rice students will now have the chance to work with a writer of the caliber of Kiese Laymon," Canning said.
Laymon joins Bryan Washington, Rice's Scholar-in Residence for Racial Justice, in forging crucial links between CAAAS and the Creative Writing program, which provides students with keen interest in the struggle for social and racial justice a chance to explore those themes in writing.
"Kiese Laymon has a deep commitment to engaging local publics and communities, including K-12 students, which is one of the visions and priorities of Rice's Vision for the Second Century, Second Decade," Canning said. "We look forward to his energizing presence at Rice and in Houston."
"Kiese Laymon writes indispensable stories and essays that interrogate and pay tribute to the triumph and agony of catharsis, the emotional complexities and dangers of growing up Black in the American South, and the urgency of art as a form of redemption and salvation," said Amber Dermont, the Gladys Louise Fox Associate Professor of English.
Assistant Professor of Creative Writing Lacy Johnson joined Dermont in praising their new colleague, describing Laymon as "a singular writer — one who is dedicated to truth-telling, to celebrating the revolutionary power of joy and abundance, to defending his own dignity and vulnerability, and others'. Simply put: He is a genius. And he is also one of the kindest, most generous people you will ever meet."