Federal regulators have approved the first human clinical trial of cancer-killing "drug factory" implants created in the laboratory of Rice University bioengineer Omid Veiseh.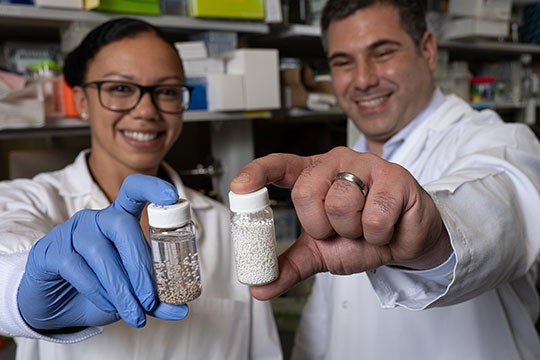 In a study published in March, Veiseh and collaborators from Rice, the University of Texas MD Anderson Cancer Center, the University of Virginia and others showed they could use the implants to eradicate advanced-stage ovarian and colorectal cancer in mice in as little as six days.
Avenge Bio, a Massachusetts-based startup that is developing the technology for the clinical market, announced Wednesday that it plans to begin a human clinical trial for ovarian cancer later this year following regulatory approval from the Food and Drug Administration. The company offered no details about the location or start date of the trial, which would be the first test of the drug factory technology in humans.
Each of the bead-shaped implants used in the March cancer study measured about 1.5 millimeters and was loaded with cells engineered to produce interleukin-2, a natural compound that activates white blood cells to fight cancer. In the study, researchers showed they could deliver concentrated doses of interleukin-2 directly to tumors in animals using minimally invasive surgery to place drug-producing beads beside tumors and within the peritoneum.
Veiseh, who joined Rice 2016 thanks to a recruitment grant from the Cancer Prevention and Research Institute of Texas (CPRIT), is collaborating with other researchers to develop versions of the immunotherapy platform technology for the treatment of heart attacks and Type 1 diabetes.