A team of Rice University students, faculty and staff at the Varner-Hogg Plantation Historic Site are in the midst of project to study newly discovered and long forgotten artifacts of slavery. Now their work is the subject of a five-part video series documenting their activities at the plantation located outside West Columbia in Brazoria County.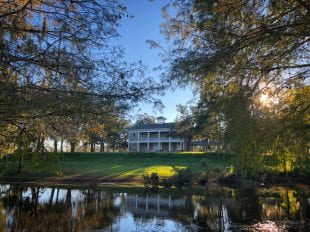 Rice News first documented the Department of Anthropology's work at Varner-Hogg in a November 2020 feature story that detailed the work to help raise awareness about the institution of slavery in the Atlantic world. The newly produced video series entitled "A Community Archaeology Project at Varner-Hogg Plantation State Historic Site" can be viewed at the links below.
"With this video series, we hope to introduce the community-based approach and collaborative work between Rice and the Texas Historical Commission to local communities in Brazoria County," said Molly Morgan, a lecturer in anthropology at Rice. "The hope is that this introduction will lead to more local engagement in Rice's archaeological work at the site and a deeper impact from the efforts Rice is making to contribute to public history and heritage in Texas that highlights the lives of overlooked people in the state's past."

"To me, this video series is, above all else, about connecting with the local community and emphasizing that this is a history that belongs to them," said Emily Lampert, a graduate student in history at Rice. "We want to make it clear that they are welcome at every stage of the process, and we hope the video series works to demystify the historical and archaeological process a bit. Our overall goal is that community members and descendants will become increasingly aware of and involved in the work being done at Varner-Hogg."
For more information on the Varner-Hogg Plantation, visit https://www.thc.texas.gov/historic-sites/varner-hogg-plantation-state-historic-site .
This video introduces the history of the plantation, key members at Varner-Hogg and ongoing projects focusing on re-centering and expanding the narratives presented at the site.
This video focuses on community-based archaeology. Traditionally, archaeologists and the institutions they come from plan, execute and complete excavations of various sites on their own, but the Varner-Hogg project involves and accounts for the opinions and decisions of the local community at the site.
This video explores community involvement in the ongoing process of expanding narratives, including those of enslaved persons, presented at Varner-Hogg Plantation State Historic Site.
This video provides an overview of the Rice Archaeology Project at Varner-Hogg Plantation State Historic Site.
This video focuses on the transition from field excavation to lab analysis of artifacts, showcasing the archaeological laboratory at Rice University.