Fondren Library's Access Services team, a group of 19 people, has won the 2022 Shapiro Library Staff Innovation Award.
The award honors members of the Fondren staff who have developed innovative library services programs or shown exemplary service to the Rice community. The award comes from an endowed fund created by the estate of former University Librarian Beth Shapiro, who was renowned for encouraging staff development and investing in electronic resources and other innovative technologies during her years of service. This is the second straight year that a group, as opposed to an individual, has received the award.
The Access Services team was honored for keeping the library's materials and services usable during COVID-19 interruptions and remote work by adapting offerings to meet the needs of faculty and students.
"I'm quite proud of the three (Access Services) teams — Interlibrary Loan, Circulation and Course Reserves, and Stacks and Building Services — that come together and work seamlessly to provide our patrons and our fellow co-workers with phenomenal service," said Sue Garrison, director of Access Services, during the team's acceptance speech.
The award ceremony was back in person in Fondren July 19 after two years of virtual celebrations amid the COVID-19 pandemic.
"It gives us a chance to honor and recognize the achievements of our own people and gives them the chance to celebrate and come together, which I think we've all really come to appreciate since the pandemic — how important it is to actually see people and talk to people in person," said Sara Lowman, vice provost and university librarian.
"It's a wonderful experience, especially for (the committee) to include the entire team and to honor them and recognize them for going through a really tough time and providing the most amazing services for the university," Garrison said.
In March 2020, after COVID-19 forced the transition to online learning, Access Services' Interlibrary Loan staff continued to provide research support virtually, and within weeks the  team was once again providing services in person.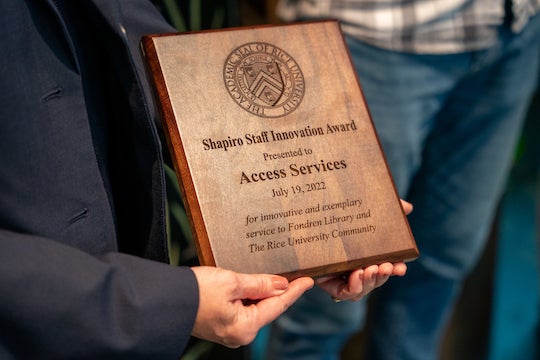 The team created a curbside pickup service and continually shipped materials to patrons outside of Houston, ramped up scanning activities for research article and book chapter requests, and fast-tracked a module that facilitated using digital resources in place of print. It also provided consistent and timely information to the university's administration and crisis management team.
The pandemic joins hurricanes, tropical storms and a statewide freeze as examples of critical incidents in which Access Services has stepped up to become "the library's first responders," according to Sandi Edwards, assistant university librarian for research services.
"For this group of library staff, we recognize the exemplary service, and we recognize the innovation," she said. "During this period of great change and uncertainty, they continued to innovate with their services."
This year's selection committee included faculty representative Uriah Kriegel, graduate student Jay Bethea and Fondren staff members Anna Xiong, Lauren DuBois and Lisa Spiro.