Readers the world over know they can count on The New Yorker's Masha Gessen for prescient, thought-provoking analysis on the writer's native Russia, on authoritarianism there and in the United States, on LGBTQ rights in authoritarian settings and, most recently, on the war in Ukraine.
Thanks to the School of Humanities-sponsored Campbell Lecture Series , members of the Rice community, Houston residents and others will soon be able to hear from Gessen firsthand about two of today's most pressing issues — Ukraine, and what the United States can learn about protecting its democracy from Russia's experience with autocracy.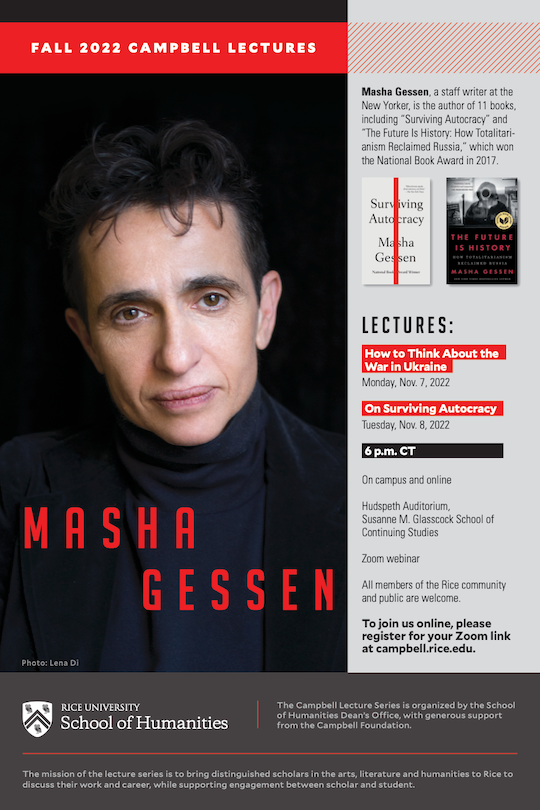 Gessen will be on campus in November to deliver two lectures as part of the annual series: "How to Think About the War in Ukraine" on Nov. 7 and "On Surviving Autocracy" Nov. 8. Both lectures will be held in Hudspeth Auditorium at 6 p.m., and will be livestreamed online via Zoom.
Gessen has written 11 books, including "Surviving Autocracy" and "The Future Is History: How Totalitarianism Reclaimed Russia," the latter of which won the National Book Award in 2017. The acclaimed author spent over 20 years in Moscow as a journalist and editor before moving to New York in 2013. In 2020, Gessen began teaching at Bard College as its Distinguished Writer in Residence in the Division of Languages and Literature, and has previously taught at Oberlin College and Amherst College.
Organized by the School of Humanities Dean's Office with generous support from the Campbell Foundation, the Campbell Lecture Series aims to bring distinguished scholars in the arts, literature and humanities to Rice to support engagement between scholars and students.
"We are delighted to host Masha Gessen at Rice for this year's distinguished Campbell Lectures," said Kathleen Canning, dean of humanities and the Andrew W. Mellon Professor of History. "Gessen's distinctive and courageous voice on 'surviving autocracy' forges critical connections between Putin's Russia and the rise of authoritarian politics in Central Europe and the United States over the last decade. Gessen will deliver the Campbell Lectures as history unfolds live — in the changing fronts of the Ukraine war and the growing dissent within Russia itself about the human costs of this war."
This year's Campbell Lectures coincide with a special one-credit course and lecture series, The Russo-Ukrainian War of 2022: Institutions, Ideologies and Effects (PLST 477), taught this fall by history professors Peter "Carl" Caldwell and Sayuri Shimizu and featuring several expert guests.
"Masha Gessen's visit to Rice will give our students a unique opportunity to probe the historical and political implications of this war for Russian authoritarianism, while also engaging in discussion and debate about America's own unique forms of authoritarianism," Canning said.
The 2022 Campbell Lectures featuring Masha Gessen will take place Nov. 7 and Nov. 8 at 6 p.m. in Hudspeth Auditorium. For those planning to attend virtually, please visit https://humanities.rice.edu/campbell-lecture-series/masha-gessen to register and receive a Zoom link for each lecture.