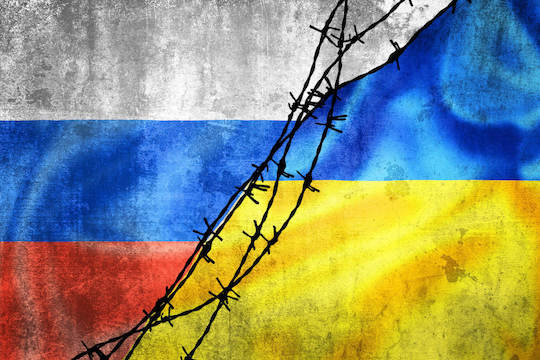 Russia shook the international order when President Vladimir Putin launched a massive military invasion of neighboring Ukraine in February 2022. This fall, nearly six months from the war's beginning, a pair of Rice history scholars along with several guest experts will guide students through the causes and consequences of the conflict.

Professors Peter "Carl" Caldwell , the Samuel G. McCann Professor of History and director of Rice's Program in Politics, Law and Social Thought (PLST), and Sayuri Shimizu , the Dunlevie Family Chair in History, have teamed up to offer The Russo-Ukrainian War of 2022: Institutions, Ideologies, and Effects (PLST 477), a one-credit short course and lecture series.
Set for a series of Thursday evenings, the class will delve into the factors that set the stage for the still-unfolding war, including the legacy of the Soviet Union and conflicts within its former territories, international relations regarding the creation and expansion of NATO, how Western nations and Russian allies such as China have influenced the Putin regime, and how Putin's particular brand of authoritarian political philosophy has made erasing and denying the identity of Ukraine as a sovereign nation key to his geopolitical aims.
"Sayuri and I both agree — this isn't an academic exercise," Caldwell said. "We want it to kind of be kind of in-your-face: What are the big arguments? What are the conflicts here? Why are we at this place with two sides, neither of which seems likely to give up?"
Caldwell and Shimizu hope the course will introduce students to the complex web of global economies, political movements and philosophies that have developed over the past several decades, leading to a war with repercussions that spill over oceans and borders in ways the uninitiated may not expect.
For example, "China has a lot to do with Putin and his political calculus," Shimizu explained, "and there's also an interesting historical analogy between what Putin is getting away with vis-à-vis Ukraine and what China might try to get away with vis-à-vis Taiwan and Hong Kong. There are all kinds of interesting historical parallels that I would like to highlight."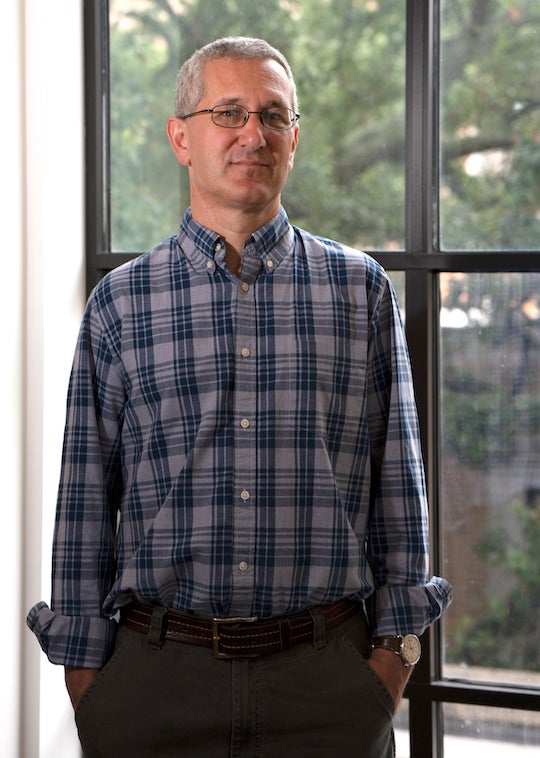 Caldwell's scholarly work primarily focuses on Germany in the pre- and post-World War II eras, including the Cold War, while Shimizu is keenly interested in United States-East Asian relations since the mid-19th century. But it's the two professors' intimate knowledge of the social, cultural and political tides that have shaped both Europe and Asia in the post-Cold War era that make them uniquely suited to teach such a broad-ranging course.

Students in the class will also learn from three other scholars who specialize in other realms of history and political science salient to the war. These three guest lecturers are Hope Harrison, professor of history and international affairs at George Washington University and an expert on Germany, Russia, and the Cold War; Francine Hirsch , professor of history at the University of Wisconsin-Madison and a specialist on modern Russia and the Soviet Union; and Sergiy Kudelia , associate professor of political science at Baylor University, a Ukrainian academic whose work touches on authoritarianism, regime change and terrorism who has served as an adviser to the United States government on Ukrainian politics.
The Harrison, Hirsch and Kudelia lectures will be held Oct. 13, Oct. 20 and Nov. 3, respectively, and will be open to members of the Rice community. More details about these lectures will be available in the weeks ahead.
The idea for this course sprung from an invitation Shimizu and Caldwell received from Baker College Magister Luis Duno-Gottberg, professor of Caribbean and film studies in the Department of Modern and Classical Literatures and Cultures, to address a group of Baker students about the war in Ukraine several weeks after its onset. After students gave them a warm reception and expressed great interest, Caldwell and Shimizu began discussing how they could expand the one-night lecture into a one-credit short course, a format in which students would have more opportunities to dig deeper into the conflict without the time commitment of a traditional three-hour course.
But the starting point for Caldwell and Shimizu's collaboration actually dates back much further than their spring lecture at Baker College.
"We've known each other, really, since 1987," Caldwell said, explaining the two professors have been friends since their time as graduate students at Cornell University, separated by just one academic year.
"This really gave us an ideal platform to really bring our respective expertise to bear and collaborate in a really interesting way," Shimizu said.
Given the breadth of subject areas this course will cover, as well as the plan for students to cap off the class by creating posters in groups based on research conducted throughout the semester, it's clearly no accident the class is being offered under the interdisciplinary PLST banner, a program sponsored by the School of Humanities and the School of Social Sciences.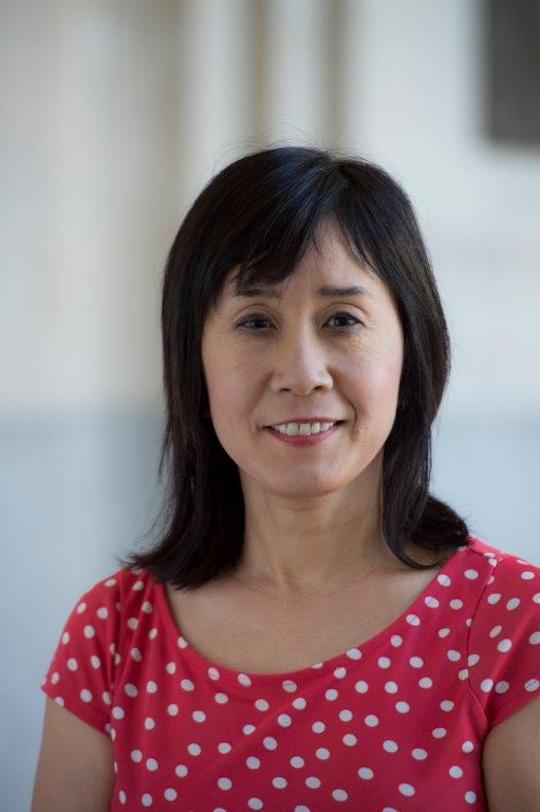 Caldwell in 2014 helped co-found the PLST program, which has evolved into its own minor. Although he's keenly aware of the value of diving deep and investigating topics of academic interest through the focused lens of one particular discipline, Caldwell also realizes that an examination of a complicated phenomenon like the Russo-Ukrainian war benefits from an interdisciplinary approach.
"Anyone who's serious about understanding something like the Ukraine conflict, for example, they better know about economics," Caldwell said. "They better know about political science, they better know about history, they probably ought to know something about psychology, and guess what? They probably ought to know something about science and engineering with the nuclear stuff that's going on, and the incredible environmental degradation that's resulting from what's happening in this ongoing war."
"It's not just about politics and history. It's also about law, and we'll be talking a lot about international law," Shimizu said, as well as international organizations like NATO and the United Nations and the roles they've played in the crisis.
"We will also be talking about international economic sanctions against Russia, too," a complex topic that can only be fully examined through an interdisciplinary approach, Shimizu said. "It's not just military or political. … Starting an international sanction is easy, but to sustain it over an extended period, that's where the rubber meets the road. There are all kinds of surprising, unexpected elements that I would like to bring into the course, and push students to learn how to make connections with all these disparate pieces of the international order."
Shimizu and Caldwell also hope their class will help teach students that academic research isn't just the purview of engineers and natural scientists.
"We want people to know that we do research," Caldwell said. "I think students come out of both social science and humanities and they think, 'Oh, I'm not really doing research,' and they look over at the other side of campus. No — we're reading, we're figuring out what's going on, we're organizing, we're presenting it. That's what research is."