HOUSTON – (April 4, 2022) – Rice University researchers will lead a Department of Defense-funded project to improve communications between microelectronics and microorganisms, an advance that would make living sense-and-respond systems possible.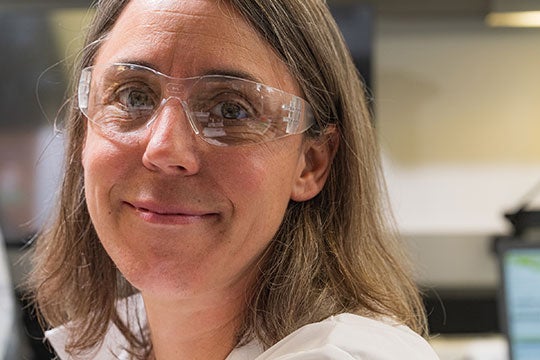 The five-year, $6.25 million grant, to be administered by Rice and shared with collaborators at Tufts University and Virginia Tech University, is one of 28 newly announced Multidisciplinary University Research Initiative (MURI) awards for basic research on emerging technologies.
The Rice project leaders — principal investigator Caroline Ajo-Franklin and co-principal investigators Jonathan Silberg and Rafael Verduzco — are developing electrobiology techniques that promise to make connections between electronics and cells faster and more efficient. They expect that will enable applications like living sensors that quickly detect when water or soil are contaminated and respond to neutralize that contamination.
Developing the first project — an electrobiology system that senses and degrades environmental pollutants in real time — will involve multiple disciplines, Ajo-Franklin said. She will apply her expertise in synthetic biology while others will contribute protein engineering (Silberg), soft materials (Verduzco), small molecule chemistry (Emily Mevers of Virginia Tech), microsystems integration (Sameer Sonkusale of Tufts) and machine learning (Soha Hassoun of Tufts).
"This work will provide foundational knowledge and capabilities to create microelectronics interfaced with microorganisms that neutralize threats to humans or the environment in real time," Ajo-Franklin said.
The team will use several strategies to speed multichannel communications. One inspired by nature is allosteric regulation, which cells use to manage protein dynamics. The researchers will use it to regulate newly engineered electron-transfer proteins. A second strategy is to facilitate parallel communication channels by selectively activating enzymes via links to electron acceptors (or anodes). Finally, the team will use machine learning to enable the co-design of paired molecules and proteins that act as communication channels.
"Today, state-of-the-art biosensors can detect a single pollutant in about five minutes," Ajo-Franklin said. "This project will develop capabilities to simultaneously detect hundreds of molecules and inactivate any that are harmful."
George Bennett, Rice's E. Dell Butcher Professor Emeritus, will help develop the essential machine learning techniques, she said.
Ajo-Franklin is a professor of biosciences and a CPRIT Scholar in Cancer Research. Silberg is the Stewart Memorial Professor of BioSciences and director of the Systems, Synthetic and Physical Biology Ph.D. Program. Verduzco is a professor of chemical and biomolecular engineering and of materials science and nanoengineering.
Image downloads

CAPTION: Caroline Ajo-Franklin (Photo by Jeff Fitlow/Rice University)

https://news-network.rice.edu/news/files/2022/04/0404_MURI-caf-540.jpg

Related links and stories

About Rice

Located on a 300-acre forested campus in Houston, Rice University is consistently ranked among the nation's top 20 universities by U.S. News & World Report. Rice has highly respected schools of Architecture, Business, Continuing Studies, Engineering, Humanities, Music, Natural Sciences and Social Sciences and is home to the Baker Institute for Public Policy. With 4,052 undergraduates and 3,484 graduate students, Rice's undergraduate student-to-faculty ratio is just under 6-to-1. Its residential college system builds close-knit communities and lifelong friendships, just one reason why Rice is ranked No. 1 for lots of race/class interaction and No. 1 for quality of life by the Princeton Review. Rice is also rated as a best value among private universities by Kiplinger's Personal Finance.