Alexander Hernández didn't speak a word of English when he arrived in Houston from Venezuela seeking political asylum. 
But when he started working in the kitchen of the Rice Faculty Club, his co-workers helped him sign up for English as a Second Language classes at the Susanne M. Glasscock School of Continuing Studies. Now, less than four years later, he has a master's degree from Rice in global affairs.
That's the kind of story leaders of the Glasscock School feel exemplifies what Continuing Studies has meant to Houston. And it's one of the stories they remembered during a Sept. 22 party at the Anderson-Clarke Center celebrating the school's 55th anniversary.
"We exist to extend the excellence of Rice to every corner of Houston and beyond," said Robert Bruce, dean of the Glasscock School, as guests enjoyed beverages and light bites. "We exist to meet the moment. We do not measure ourselves by the years that have passed. We measure ourselves in the progress we have made."
Originally envisioned in 1967 as a program to help engineers continue their research, the school now offers classes and programs in arts, management, philanthropy, legal studies, data science and more.
The Glasscock School's language learning programs, which have grown along with Houston and have served thousands of students across the decades, are an example of meeting the moment in a city home to at least 145 spoken languages.
"I like to say that one of the greatest assets is our connection to and relationship with the city, and the Glasscock School is instrumental in forging that connection," said Rice President Reginald DesRoches.
Founding dean Mary McIntire and school namesake Susanne Glasscock both spoke about how the school has evolved from its small beginnings and continues to adapt to a changing world.
In 1986, McIntire was named dean of the School of Continuing Studies, making her the first female dean in the history of Rice. In 2006, the school was renamed the Susanne M. Glasscock School of Continuing Studies, making it the only school at Rice named exclusively for a woman.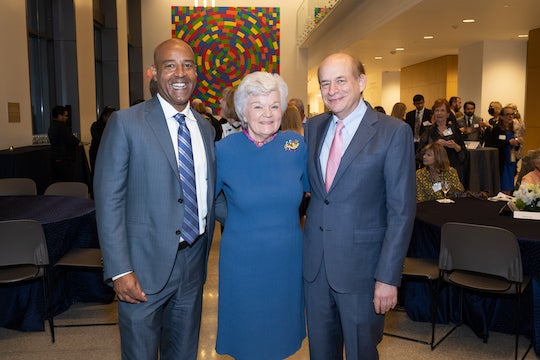 "We were so proud to have a woman's name on the school, especially this woman," McIntire said in a recorded speech. "Very early on, Susie also saw the real need for a space on campus expressing the importance of the school and providing the best experience for students. And Susie can be very persuasive, as Rice leaders know. Without her persistence, this building would have never happened."
However, Glasscock will tell you that when someone thanks her for their experience at the school, she defers to the teachers and staff.
"Me? No, it's so many people," she said.
Today, Glasscock's Center for Education is working to address the ongoing teacher shortage in Texas. Its teacher preparation programs have received Texas Education Agency awards every year since 2018, and the center has produced a Rookie Teacher of the Year every year since 2013.
"These teachers leave our program prepared for the rigor of public education, and immediately make a careerlong difference as leaders on their campuses," Bruce said. "We firmly believe that Rice-trained teachers and administrators will change the face of education from the inside out. We're already seeing our impact and the next step is simply doing more of what we know works."
The school prides itself on its adaptability. When Houston was passed over as a potential home to a new Amazon headquarters, the Glasscock School launched tech boot camps for in-demand tech skills. When the COVID-19 pandemic sent people to their home offices, the school launched OPENRice, which hosts free webinars on pressing issues.
DesRoches thanked Bruce for his dedication to extending Rice's commitment to educational equity and access "through offering lifelong and life-changing personal and professional development programs to the community." He also spoke about how the Glasscock School will be critical in developing new programs that can cope with future changes.
"I've been impressed with the school's ability — particularly recently — to pivot to what the community needs," DesRoches said. "Rob mentioned the boot camps and OPENRice, great examples of continued flexibility and the ability to meet people where they are, not where we think they need to be. Focusing our efforts on the issues where we make the biggest impact and where we excel the most is one of my top goals as Rice's eighth president."