When Alexander Hernández set foot on the Rice campus in 2018, the 27-year-old spoke no English. His first job in America had been working long hours in the kitchen of a fast-food chain but he knew it would only be temporary; Hernández dreamed big.
Less than four years later, the 30-year-old Hernández is now close to completing his Master of Global Affairs degree as a graduate student at a university he's found incredibly supportive in entirely unexpected ways.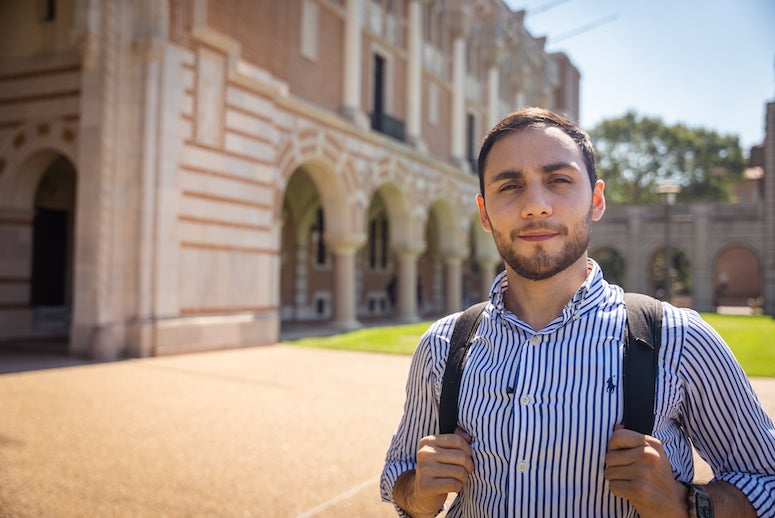 Hernández arrived in Houston seeking political asylum from his home country, Venezuela, where he'd earned a bachelor's degree in theology. He'd been helping to run the family business back home as well as his own nonprofit foundation doing work in low-income communities when the socioeconomic crisis in Venezuela grew so intense that he and his entire family were forced to flee the country. Hernández ended up in Houston completely alone.
"I had to start from the bottom here," he said. "It was a painful process."
It wasn't long, however, before the charismatic young man found friends. Determined to learn English and continue his education now that he was in the United States, Hernández came to Rice on a day off and made his first friend on campus when he couldn't quite figure out how to work the parking meters.
"When I first visited, I didn't know anything," Hernández said, laughing.
That's how he met Wondimu Aka, a parking enforcement officer with the Rice University Police Department who spoke enough Spanish for the two of them to communicate. The same day, Hernández met Frank Layton, a brickmason and roofer with Facilities, Engineering and Planning, who also spoke Spanish and gave Hernández a ride in his golf cart — a quick tour of campus that dovetailed with what Aka told Hernández about the university while they chatted. In short: If Hernández wanted to learn, he'd come to the right place.
"When I arrived here, I said, 'Oh my gosh, this is like the movies,'" Hernández said, recalling the first time he stepped through the Sallyport and into the academic quad.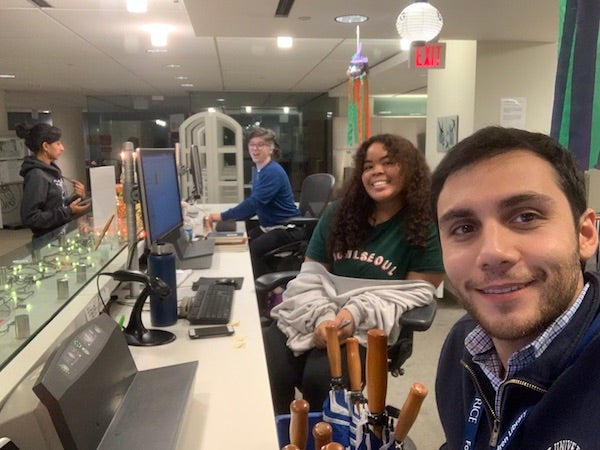 Get a job here at Rice, his new friends had encouraged him. That was one way to learn English, for sure, and Hernández figured that the more friendly faces he met like Aka and Layton, the better chance he'd have of applying for admission one day.
Soon, Hernández parlayed his prior kitchen experience into working in the faculty club at the Cohen House, where he said the entire Housing & Dining staff took him under their wings. They helped him sign up for English as a Second Language classes through Rice's Glasscock School of Continuing Studies and, as his fluency increased, placed him in public-facing positions where Hernández took advantage of the opportunity to interact with faculty and campus leaders.
"For me it was like one big door that led to a lot of other doors," Hernández said. "I met a lot of people."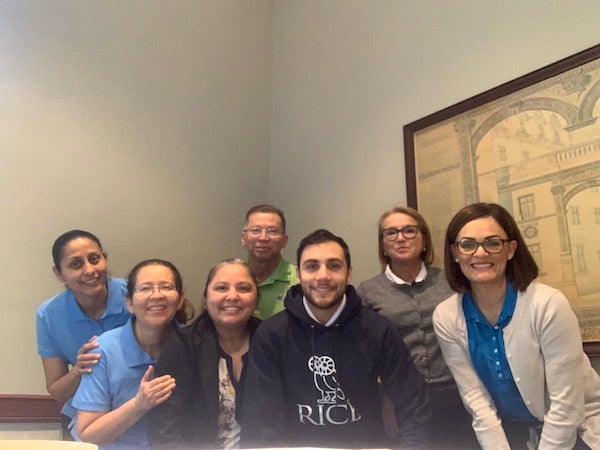 He also took a weekend job waiting tables at the River Oaks Country Club and then a third job working nights at Fondren Library, all the while making more friends across campus. Adria Baker, the associate vice provost for international education, and her staff at the Office of International Scholars and Students helped Hernández apply for the master's degree program he'd identified as his path at Rice, while his colleagues at the Cohen House and the library cheered him on.
"It was a miracle," Hernández said of his 2020 acceptance into the Master of Global Affairs program, a degree that's co-sponsored between the Baker Institute for Public Policy and the School of Social Sciences and provides graduate students high standards of scholarship and practical training for careers in government, the private sector and international organizations — the kind of work Hernández hopes to get back to doing once he graduates in 2022.
"I wanted to come to Rice to expand my knowledge in order to improve the world," Hernández said. "No small goal."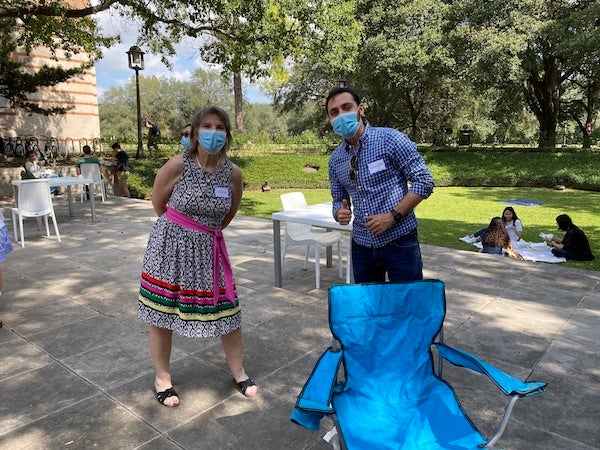 Since starting his master's degree studies, Hernández has become even more involved at Rice. In 2020, he took advantage of the Doerr Institute for New Leaders' leadership development program and a summer internship at the Baker Institute.
That internship went so well, he was offered a full-time position as a research analyst at the Baker Institute's McNair Center for Entrepreneurship and Economic Growth. There he's focusing on public policy research around applying blockchain technology to the perpetual problem of access to capital for small businesses and entrepreneurs.
And he's no longer alone: In addition to a campus full of new friends, he met his girlfriend at Rice. And now, Hernández's sister Irina has joined him in the U.S., where they've found a close-knit Venezuelan expat community in west Houston.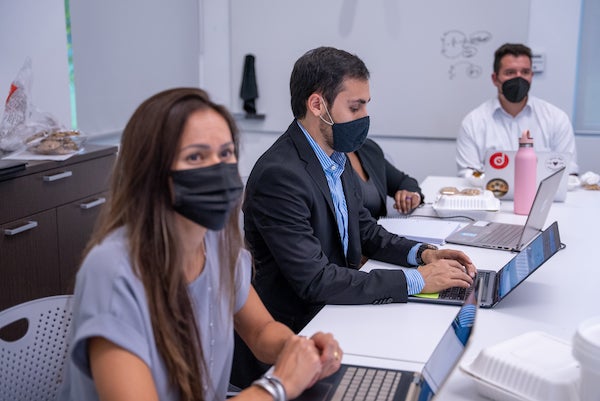 "He's very persistent and he's a visionary," said Irina, who's watched her brother strive for both self-improvement and improvement of the world around them ever since they were young. "He's unique."
Hernández attributes his successes so far to hard work as well as recognizing the value of the community around you and engaging deeply with it. And after graduation next year, Hernández wants to pick up where he left off, assisting others and paying it forward.
"If I can help, with my story, to inspire others, I feel that's part of my mission in this world," he said. "I came from a country where you have a lot of limitations, but here your only limitation is yourself — and when you have the will, you do whatever you have to."
Hernández's story has already inspired others, in fact, including the very first person he met at Rice back in 2018: a man he's remained friends with to this day.
"Alex is, for me, super smart and he's using all the opportunities … all the chances," said Aka, who cited Hernández as his motivation to go back to school.
"The guy who does not speak a single English word — he became a master's student, why not me?" Wondimu said. "Everybody needs to learn from him that nothing in the world is impossible."