Dogtrot dwellings are a Texas classic, but this one has a thoroughly modern bent.
Rice University architecture students have introduced their Auxiliary ADU, a curvy accessory dwelling unit in Houston's First Ward. The project, underway for three years, is ready for prime time.
Finally.
"There was no pause at all," said Andrew Colopy, an associate professor at Rice Architecture and co-director of Construct, the school's design-build program. "COVID certainly slowed things, and this semester has been very slow to reach conclusion, just getting the electrical and plumbing contractors to finish, but we never stopped working on it."
The ADU was designed by now-alumna Kati Gullick and Madeleine Pelzel as part of Colopy's Totalization studio, supported by Rice's Center for Energy and Environmental Research in the Human Sciences and the owner, the community development organization Avenue.
"As a company that has spent more than 30 years developing and preserving affordable housing, it was our priority to create another opportunity for affordable living, while also gently adding density to a lot with three other affordable single-family dwellings," said Mary Lawler, chief executive office of Avenue. "We applaud the efforts of Rice and its students to see this project through to completion."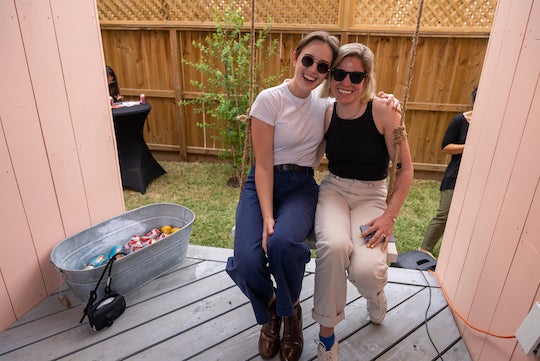 The solar-powered structure introduced at an open house this month is only 640 square feet, but every foot counts. That space is split by an outside breezeway (the dogtrot), with a living room and kitchen on one side and a bedroom and bathroom on the other.
Though Construct and its predecessor, the Rice Building Workshop (RBW), have completed many projects in and around Houston, none had to struggle with the restrictions of a global pandemic.
Danny Samuels, a professor in the practice of architecture and longtime RBW and Construct co-director, noted insulation and cladding materials had to be subbed due to supply chain issues that continue to affect construction everywhere. Foam replaced mineral wool as the primary insulation, while pine became the exterior look, stressing the budget. Those changes forced the team to get new permits from the city, another time-consuming process.
Colopy said 63 students worked on the project over the years, starting with a design process greatly helped by Rice Architecture's McGregor Computer and Gensler Fabrication labs. Another help was having a 3-axis computer numerically controlled mill in house that let the team "print" plywood plates to connect the roof and walls at precise angles. These facilitated the unique roof structure, a gently tilting surface that gave the home's solar panels maximum possible exposure to the sun.
"The roof is tilted in two directions, and optimized for its orientation on the site, which you wouldn't necessarily be able to do through conventional framing," Colopy said.
Sponsors also supplied the batteries fed by solar panels that make the house net-positive for energy, based on the complex model students developed to predict usage. Once the building is occupied and real-world data becomes available, they'll revisit the model to see how well it performed.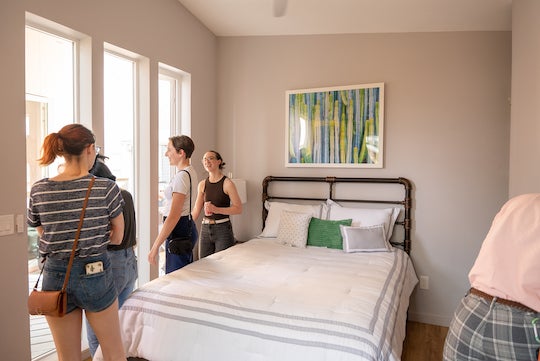 Samuels noted the building is part of a complex with three other standalone rental units. All were occupied by the same tenants during construction. "We all got to know them pretty well," Samuels said. "One of them is a songwriter, and got one of the students (Ivan Dye) to sing backup on a song."
Early in the pandemic, 18 rebar piers were "tied" together under a tent at Rice and then moved to the site for installation. The 20-foot rebar units were sunk 16 feet deep around the ADU's perimeter.
That done, construction fully moved to the First Ward site, which also served as an outdoor classroom.
"It was interesting during the initial stages of COVID, when everybody was isolating and doing class by Zoom," Samuels said. "We got special permission to have on-site classes, as long as we had masks and followed university protocol. That was great, because we're always encouraging them to wear masks anyway (during construction). So this was just further encouragement."
The open house served as a good introduction to Rice Architecture's long history of community engagement for Igor Marjanović, the William Ward Watkin Dean of the school, who joined the university last summer. He noted Construct is unique "in the broad landscape of architecture schools worldwide."
"It is both a design-build program and a research arm of Rice Architecture, integrating cutting-edge scholarship in digital fabrication with the delivery of socially minded building prototypes to our Houston communities — in this case, housing, which is so deeply needed in our city," he said.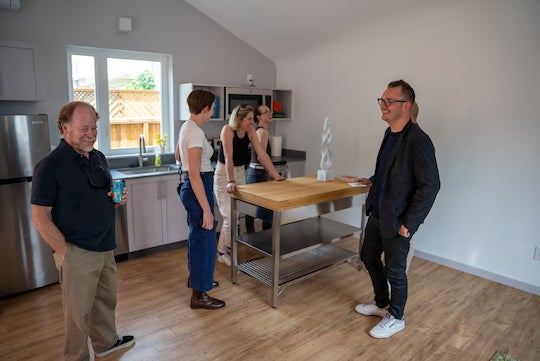 "I am immensely grateful to all our students who worked on this project and to our dedicated faculty members," Marjanović said. "Their collaboration has resulted in a truly beautiful accessory dwelling unit, which we are delighted to transfer to our Houston partners with a great sense of pride and accomplishment."
What's next? The Construct team is looking at building another ADU, possibly an award-winning design by students Siobhan Finlay and Adam Berman. The plans for that ADU, which won a City of Houston design competition in 2021, will eventually be available to the public for free and preapproved for construction with minimal permitting.
Collaborators on the latest project included structural engineer Silman Associates; industry partners Joey Romano and Joe Meppelink; mechanical, electrical and plumbing engineer Wylie Engineering; and general contractor Russell Hruska of Box Prefab. PearlX and Freedom Solar donated solar and battery units and installation, Daltile donated tile and kitchen counters, Tarkett donated flooring and Dixieply donated subfloor decking.
Video

Video produced by Brandon Martin/Rice University

Images for download

https://news-network.rice.edu/news/files/2022/04/0502_HOUSE-1-WEB.jpg

Rice University alumni and Auxiliary ADU designers Kati Gullick, left, and Madeleine Pelzel stand with the complex frame for the now-completed structure. Curved plywood plates were printed at Rice Architecture to create the precise joins between the walls and roof, which is optimized for solar energy. (Credit: Construct/Rice Architecture)

https://news-network.rice.edu/news/files/2022/05/0502_HOUSE-2-WEB.jpg

Rice University alumni and Auxiliary ADU designers Madeleine Pelzel, left, and Kati Gullick in the finished structure's dogtrot at the April 26 open house. (Credit: Brandon Martin/Rice University)

https://news-network.rice.edu/news/files/2022/05/0502_HOUSE-3-WEB.jpg

Rice Architecture Construct hosted an open house for its Auxiliary ADU, an energy-efficient accessory dwelling unit in Houston's First Ward, on April 26. (Credit: Brandon Martin/Rice University)

https://news-network.rice.edu/news/files/2022/05/0502_HOUSE-4-WEB.jpg

The bedroom at Rice Architecture Construct's Auxiliary ADU is separated from the main living space by a traditional dogtrot, a breezeway through the center of the house that helps keep it cool in the summer. (Credit: Brandon Martin/Rice University)

https://news-network.rice.edu/news/files/2022/05/0502_HOUSE-5-WEB.jpg

Rice Construct co-directors Danny Samuels, left, and Andrew Colopy, right, check out the kitchen at the Auxiliary ADU open house. (Credit: Brandon Martin/Rice University)
Related links

Construct: https://arch.rice.edu/facets/construct

Rice Architecture: https://arch.rice.edu

About Rice

Located on a 300-acre forested campus in Houston, Rice University is consistently ranked among the nation's top 20 universities by U.S. News & World Report. Rice has highly respected schools of Architecture, Business, Continuing Studies, Engineering, Humanities, Music, Natural Sciences and Social Sciences and is home to the Baker Institute for Public Policy. With 4,052 undergraduates and 3,484 graduate students, Rice's undergraduate student-to-faculty ratio is just under 6-to-1. Its residential college system builds close-knit communities and lifelong friendships, just one reason why Rice is ranked No. 1 for lots of race/class interaction and No. 1 for quality of life by the Princeton Review. Rice is also rated as a best value among private universities by Kiplinger's Personal Finance.