By Jennifer Hunter
Special to the Rice News
Rice University doctoral graduate Natsumi Komatsu remembers exactly how she felt when she got the news that she would be awarded a prestigious Schmidt Science Fellowship.
"I was freaking out," she said. "My fingers and knees were shaking. And I felt so grateful to everyone who gave me this opportunity."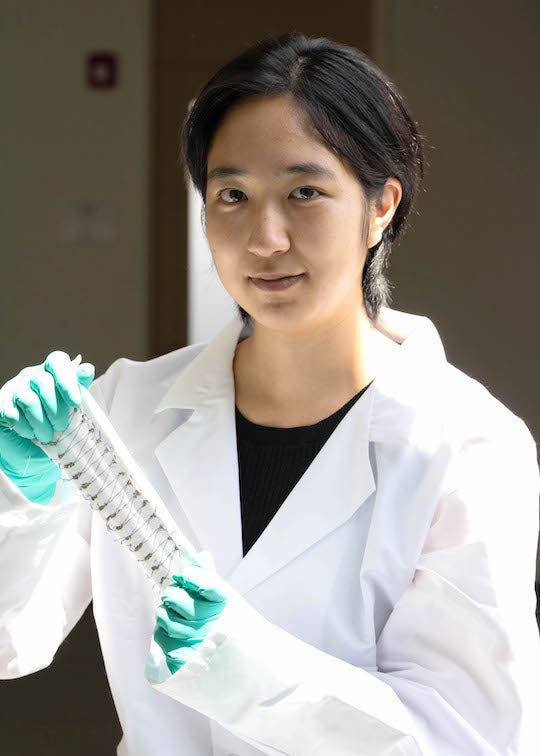 The Schmidt Science Fellowship is a highly competitive, ultraselective postdoctoral award delivered in partnership with the Rhodes Trust and granted to some of the brightest minds in natural science and engineering. Students are nominated by their institutions and go through a rigorous interview and selection process. Fellows are awarded $100,000 and mentorship while undertaking a yearlong postdoctoral placement.
Komatsu, a 2022 graduate of Rice's Electrical and Computer Engineering (ECE) program, will join the lab of quantum engineer Clarice Aiello, an assistant professor of ECE at the University of California, Los Angeles, on July 1.
She said the enormity of the award initially overwhelmed her. "I study in a male-dominated field, and sometimes I don't think I look like what a scientist should look like," she explained. 
But ultimately, her work with the TOMODACHI-STEM Women's Leadership and Research Program at Rice and Lehigh University reminded her of her goals. Through TOMODACHI, female undergraduate students from Japan who are majoring in STEM visit Rice for a research internship. 
Komatsu, who earned her undergraduate degree at Keio University in Tokyo, first came to Rice as an exchange student in 2015 and interned in the lab of Junichiro Kono, the Karl F. Hasselmann Professor in Engineering and a professor of electrical and computer engineering, physics and astronomy, and materials science and nanoengineering. She returned in 2017 as a TOMODACHI participant, and again as a graduate student in Kono's lab. While there, she was a student assistant and mentor to visiting TOMODACHI cohorts from 2018 to 2022.
"One great thing about the TOMODACHI program is that we still keep in touch with all our participants," said Komatsu, who shared her story at the U.S.-Japan Council annual conference in 2019. (See the video here). "It amazes me that every time I achieve something — from a paper publication to graduating from Rice with my Ph.D. — I get messages from my mentees saying, 'You inspire me to keep going and move forward with my own dream.' These experiences made me think that if I accept this fellowship I may be able to inspire the next generation."
Komatsu's graduate work in the Kono lab focused on improving the efficiency of carbon nanotubes for applications. She is the lead or co-author of 16 publications by the lab.
"Carbon nanotubes are what some engineers call a dream material," she said. "On a nanometer-scale level, we know they are great. However, sometimes the nanotubes can become tangled when put into macroscopic assemblies, and then everything great about them is often lost. My work has focused on how to better align nanotubes to improve their properties on macroscale."
In one study detailed in Rice News, Komatsu discovered that simple grooved filter membrane paper could be used to force the alignment of carbon nanotubes in making 2D films. In another study, she sewed nanotube fibers into fabrics, turning them into thermoelectric generators that convert heat from the sun or other sources into energy.
"Natsumi is an ideal model graduate student, always thinking creatively, always capable of carrying out work in the most systematic manner, and always willing to perform the extra work that is often so needed to complete a project," Kono said. "She is also one of the most talented and skilled presenters that I have had in my laboratory in the last 20 years."
Komatsu is already looking in new directions, whether they involve nanotubes or not.
"I'm really interested in how the brain works, and I would like to explore research in neuroscience," she said. "My expertise is in materials and devices, so I'd like to work on neural sensors or devices in this new field. It's the ultimate goal."
Komatsu reiterated her gratitude to those who helped her prepare for the award and believed in her potential.
"I am so grateful to ECE and the Office of Graduate and Postdoctoral Studies for nominating me and coaching me through the application process," she said. "Before joining Rice I didn't know how great a small school could be. After five years, I am convinced. Because it is a small community, you get to know almost everyone. As a student, I've been amazed at how close I have become to professors and the Rice administration. Rice has invested in my success and has done everything they can to support me, and I am very grateful." 
Jennifer Hunter is director of visibility strategy in Rice's Office of Graduate and Postdoctoral Studies.