A new $50 million grant from the Kinder Foundation will empower Rice University's Kinder Institute for Urban Research as it focuses on a bold vision for "inclusive prosperity" — ensuring that everyone can contribute to Houston's success and share in its opportunities.
Ruth López Turley, director of the Kinder Institute, called the endowment grant "a gift to all of Houston" as the institute works to improve lives through data, research, engagement and action.

"Inclusive prosperity doesn't just happen spontaneously," she said. "It requires an explicit effort informed by research. Lots of organizations are working hard to make things better, but most of them have very limited research capacity, and that's what the Kinder Institute is primed to do."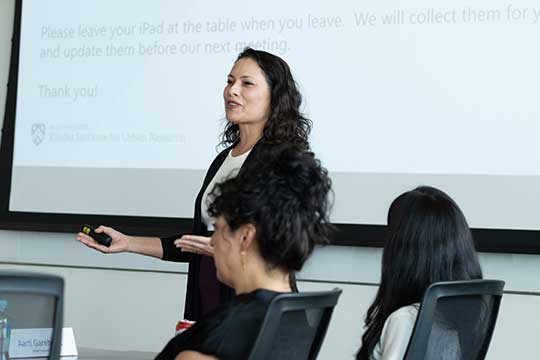 "Over the past decade, the Kinder Institute has played an integral role in shaping Houston," said Rich Kinder, chairman of the Kinder Foundation. "However, we can do more to inform and more directly address the challenges our communities face, particularly in the areas of housing, education, economic mobility, health and population research."
"The Kinder Foundation is widely respected for their transformative gifts, and their philanthropic leadership inspires others to support worthy causes," Turley said. "Their continued support means so much to us all."
The contribution to the Kinder Institute's endowment not only ensures its longevity but also equips the institute to work with partners regardless of whether they can afford to pay for research, Turley said. It also allows the institute to respond to community research needs quickly during times of crisis — such as a catastrophic storm or pandemic — when there isn't time to raise funds first.
Turley noted that the Kinder Institute will continue raising funds for longer-term research projects, but this boost to its endowment will greatly increase its capacity to engage in responsive research.

"Timely research is the answer to addressing so many of society's biggest issues," said Rice President Reginald DesRoches. "The Kinder Institute has done a remarkable job in supporting Houston and cities across the Sun Belt with its transformative work, and thanks to the Kinder Foundation 's continued support, they're only getting started."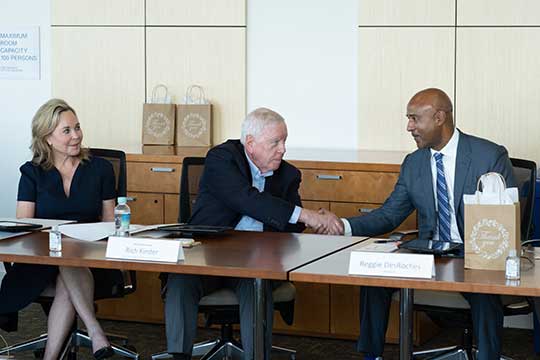 The Kinder Foundation's support will also allow the institute to build on existing partnerships with organizations and government entities across the city and conduct research to improve outcomes, develop solutions and make systemic change. The new grant is in addition to the approximately $30 million previously given by the Kinder Foundation to Rice on behalf of the Kinder Institute and its affiliates and to facilitate the building where it is housed.
"The Kinder Institute has been a critical community partner in helping us tackle some of Greater Houston's most complex challenges for families working to land on their feet and stay there," said United Way of Greater Houston President and CEO Amanda McMillian. "This visionary gift from the Kinder Foundation will transform the Kinder Institute's ability to leverage data and research with community partners to create lasting change in our community."
Since its founding in 2010, the institute has become known for its research, data and policy analysis of critical issues, including housing, transportation and education. It's also home to the long-running Kinder Houston Area Survey, which has documented significant changes in the way area residents perceive and understand Houston's ongoing challenges and opportunities.
"I am thrilled to see this continued support for the Kinder Institute, which has become a leader in urban research," said Rice Provost Amy Dittmar. "This gift ensures that their important work will have a lasting and deeply engaging impact on many of the most pressing issues in Houston and serve as an exemplar for other urban research."

The institute recently announced plans to double the size of its staff in the next five years . Under Turley's leadership, it will focus its efforts on surveys, education, housing, economic mobility and public health. These initiatives will be organized under research centers, including the Houston Education Research Consortium and the Houston Population Research Center. New centers will be established to focus on other urban issues while collaborating with external partners and sharing resources within Rice.
"Working together, I know we can make inclusive prosperity a reality for Houston," Turley said.
More information on the Kinder Institute is available online at https://kinder.rice.edu/ .