Offices in the Rice Memorial Center (RMC) were transformed into a giant arcade Oct. 27 for the final Halloween celebration in the building before it's demolished to make way for the new Moody Center for Student Life and Opportunity.
The annual trick-or-treat tradition typically features a buildingwide theme and creative interpretations by the Student Center, the Center for Civic Leadership (CCL) and offices of Multicultural Affairs, Academic Advising and Study Abroad, which stock up on candy and other fun giveaways for the yearly event. But to bid farewell to the RMC in fashion, the departments went all out for this year's "Game On" theme.
Inside the CCL, director Caroline Quenemoen's team created a life-size Pac-Mac game within the hallways of their upstairs offices. Blacked-out walls and black lights on the ceiling created a game-like maze decorated with colorful ghosts as students wound their way through in search of bowls of candy.
No detail went unnoticed in their pursuit of a full-immersion, '80s-style arcade, said Quenemoen, who sported a Pac-Man costume. At the entrance, she pointed out, CCL assistant director Shawn Reagan had set up the classic arcade games Frogger and Space Invaders for students to play, while '80s arcade-themed graphics accenting the space were painted by CCL associate director Morgan Kinney, who was wearing a Blinky the ghost costume.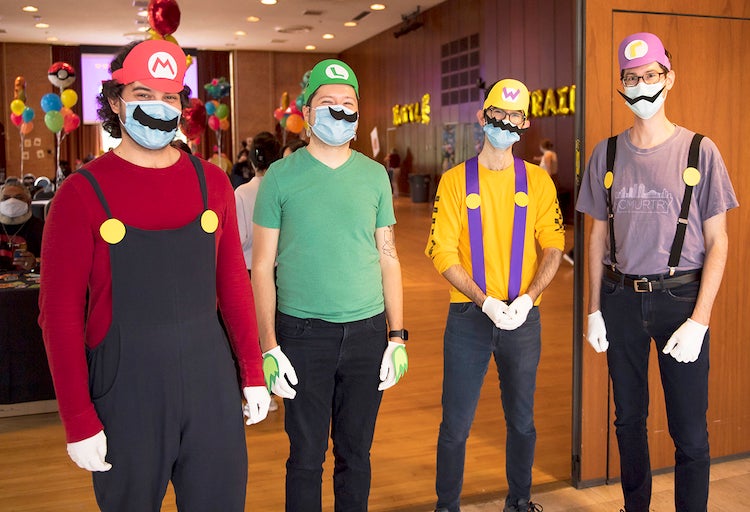 "Because each office does their own theme, the office members will dress up in that particular theme," said Student Center director Kristen Ernst.
"I've seen staff members completely decked out in Super Mario Bros. costumes," Ernst said. "It's always an incredibly impressive sight."
Downstairs in the Office of Multicultural Affairs, director Catherine Clack, assistant director Javier Carmona and office assistant Larry Garvey greeted trick-or-treaters from inside matching giant red Angry Birds costumes.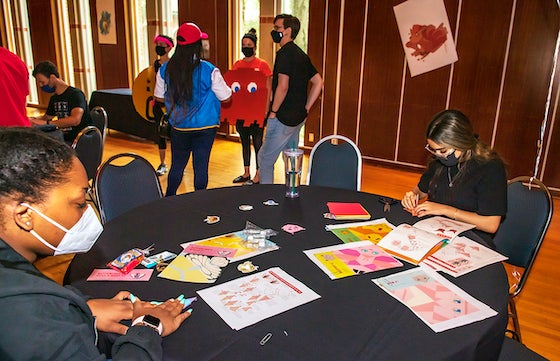 And in the Office of Academic Advising and Study Abroad, the world of Super Mario came to life as promised. The staff cheerfully posed for photos dressed as Toad, Luigi, Waluigi, King Boo, Mario and Wario while their spot-on recreations of piranha plants and coin boxes full of candy led students into their Mario-themed office suite.
In the Grand Hall, Ernst and assistant director of facilities and events Tim Abraham welcomed students to the last stop on their trick-or-treating tour, where staff dressed as Pokémon trainers and Pokéballs had set up games of air hockey and Hula-Hoop contests. A steady stream of students flowed in throughout the afternoon, fueled by the fun — and, of course, the candy.
"The Rice Student Center does Halloween like no other student center I've seen," Ernst said.