How many part-time college jobs put you smack-dab in the middle of the World Series?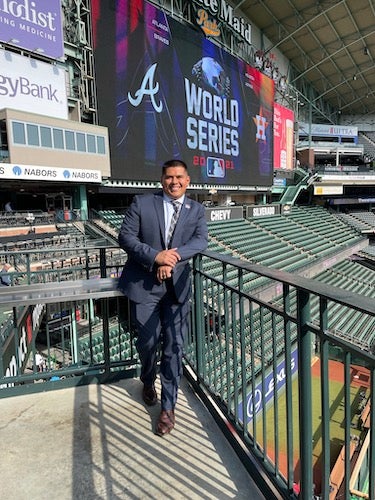 Thomas Avalos, a Lovett College junior, is working in ticket sales for the Houston Astros as they take on the Atlanta Braves in the Fall Classic — while balancing his sport management studies at Rice and being a husband and father of three. On game days at Minute Maid Park, the former Marine who transferred to Rice in the spring can be found helping fans and processing tickets.
Avalos said he's always loved sports, and some of his fondest childhood memories are of going to the ballpark with his father.
"Now as an adult watching or otherwise engaging with sports, it just fills me with joy," Avalos said. "That's the reason why I like the work that I do, helping out the customers."
Avalos landed his job with the Astros five months ago. He said he wasn't looking for employment at the time — he just wanted to make connections. Tom Stallings, a professor in the practice of sport management, encouraged him to step outside his comfort zone and contact people in the sports industry to score an internship.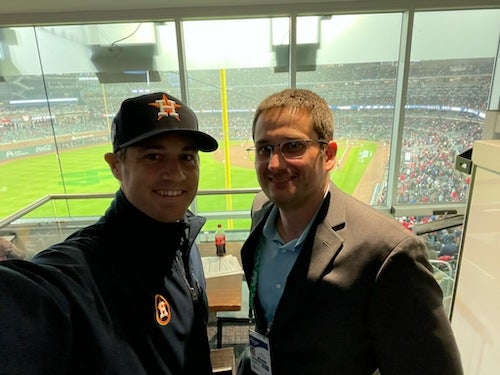 That's how he met Mariza Lerma, director of group ticket sales for the Astros. What started as a conversation about Lerma's job responsibilities ended with Avalos receiving a full-time job offer, which was scaled back to his current part-time role to accommodate his full-time studies at Rice.
Avalos said helping fans navigate the Astros' transition from paper to mostly electronic tickets is among his main responsibilities.
"It's definitely a learning curve for many people," he said.
While at Rice, Avalos plans to pursue other volunteer opportunities in the sports industry — not just baseball — and ultimately wants to get his MBA and move into a leadership role with a major sports organization.

"Ultimately, I want to work in sports because I remember all of those memories I've made watching over the years," he said. "I want to help fans make those kind of memories, too. Everyone has, like, that one moment they'll always remember, and I like being able to bring that kind of excitement and experience to somebody. These are the moments that you really cherish and really start to appreciate as you get older."