Transfer student Thomas Avalos — and family — receive a warm Rice welcome
Before he even thought about applying to Rice, new transfer student Thomas Avalos often drove past the campus to admire its live oak-lined streets.
"It's like a park," said Avalos as he walked alongside his family down College Way toward the seesaws on the lawn across from Herring Hall, pushing son Felix in a stroller as his two older daughters sprinted ahead. With a wife and three young kids, the 31-year-old Avalos knows he's an unconventional undergraduate student at Rice. And that's what excites him.
"In the Marines, it was all about fitting a mold," Avalos said. "At Rice, I get to figure out who I am."
Avalos, a Lovett College sophomore, transferred into the sport management program at Rice from Lone Star College-Tomball. Although wife Kristin always knew Avalos was smart, she said, the decade he spent serving in the United States Marine Corps provided her husband the experience and focus he needed to really stand out — which he did at Lone Star, racking up top grades and an award for math excellence.
At Rice, Avalos is looking forward to unusual courses like What Is Hate?, a Humanities Big Questions class taught by Luis Duno-Gottberg, and getting to know the students and professors in the sport management program as he embraces the campus culture.
Rice has already embraced the Avalos family, after all: When Lovett College president Chloe Oani heard Avalos was planning on celebrating his matriculation by walking through the Sallyport with his wife and kids, she quickly arranged a surprise for the new Lovetteer.
"The next morning, when I came to campus and did the walk through (the Sallyport), Chloe runs out with the Lovett College flag," Avalos said. With her were Lovett magisters Mike Gustin and Denise Klein along with a contingent of Lovetteers and other transfer students welcoming the Avalos family to campus — socially distanced and wearing masks, of course.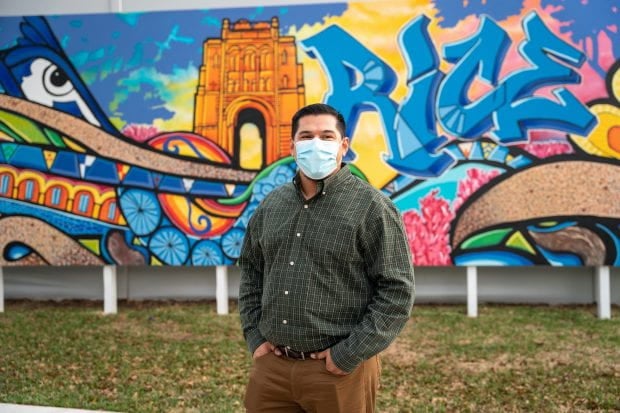 "And I was like, dang, man, you guys did not have to do this," Avalos said. "It meant so much because Chloe basically took it completely upon herself to be there."
Afterward, Oani, Gustin and Klein took the Avalos family on a tour of Lovett College and introduced them to their other new family of Owls.
"It was honestly a reception like I'd never received before," Avalos said.
"My first day in the Marine Corps, they sat me in a barber chair, cut all my hair off, made me get down to my underwear, gave me a whole brand-new set of clothes and yelled at me all day," he said, laughing. "This is very, very different. It makes me so appreciative."