HOUSTON – (May 4, 2020) – A Rice University history professor has won the Pulitzer Prize for his critically acclaimed account of a woman who twice survived enslavement and eventually triumphed in a historic court case against one of the men responsible for her captivity.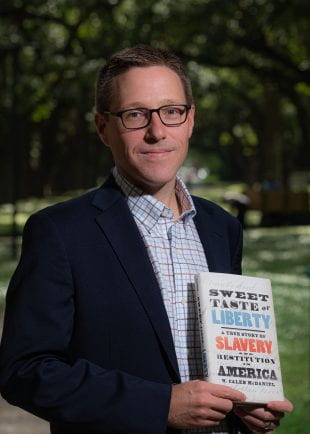 Caleb McDaniel, associate professor and incoming chair of the Department of History, won the 2020 Pulitzer Prize for History for "Sweet Taste of Liberty: A True Story of Slavery and Restitution in America." The book recounts the previously little-known story of Henrietta Wood, who survived enslavement twice and, 30 years after she was first free, won the largest known financial settlement awarded by a U.S. court in restitution for slavery.
In announcing the award, the Pulitzer board hailed McDaniel's work as "a masterfully researched meditation on reparations based on the remarkable story of a 19th-century woman who survived kidnapping and reenslavement to sue her captor."
"This is a tremendous and well-earned recognition for Caleb McDaniel and his spectacular and important book, 'Sweet Taste of Liberty,'" said Rice President David Leebron. "Caleb is not only an outstanding scholar who we're grateful to have at Rice, but also a faculty member who contributes in every possible way to the success of our students and our university."
McDaniel is the first Rice faculty member to win the Pulitzer Prize.
As the Pulitzer committee noted, McDaniel's book used Wood's story to explore the connections between slavery and the convict labor system that arose after the Civil War. Prison leasing arrangements continued to incarcerate and exploit the work of black men and women until the 1920s. McDaniel cited Wood's successful lawsuit winning $2,500 from one of the men who enslaved her as evidence that African Americans fought from the beginning for redress and reparations over their enslavement.
"When it comes to questions surrounding reparations today, there's a fair question to be asked whether any amount of money could matter or make a difference," McDaniel said. "Here's a story that shows the difference even a small amount of restitution can make in a particular person and family's life."
Wood was one of the estimated 150,000 enslaved people brought to Texas during the Civil War by planters seeking to avoid the Emancipation Proclamation. This followed a five-year period during which she had been given her freedom papers and lived as a free woman in Cincinnati — where, she later recalled, she'd had her first "sweet taste of liberty" — before being kidnapped and forcibly enslaved once again in 1853.
"It's such an amazing story and I was amazed that I had not heard of it before," McDaniel said.
-30-
This news release can be found online at news.rice.edu.
Follow Rice News and Media Relations on Twitter @RiceUNews.
Located on a 300-acre forested campus in Houston, Rice University is consistently ranked among the nation's top 20 universities by U.S. News & World Report. Rice has highly respected schools of Architecture, Business, Continuing Studies, Engineering, Humanities, Music, Natural Sciences and Social Sciences and is home to the Baker Institute for Public Policy. With 3,962 undergraduates and 3,027 graduate students, Rice's undergraduate student-to-faculty ratio is just under 6-to-1. Its residential college system builds close-knit communities and lifelong friendships, just one reason why Rice is ranked No. 1 for lots of race/class interaction and No. 4 for quality of life by the Princeton Review. Rice is also rated as a best value among private universities by Kiplinger's Personal Finance.