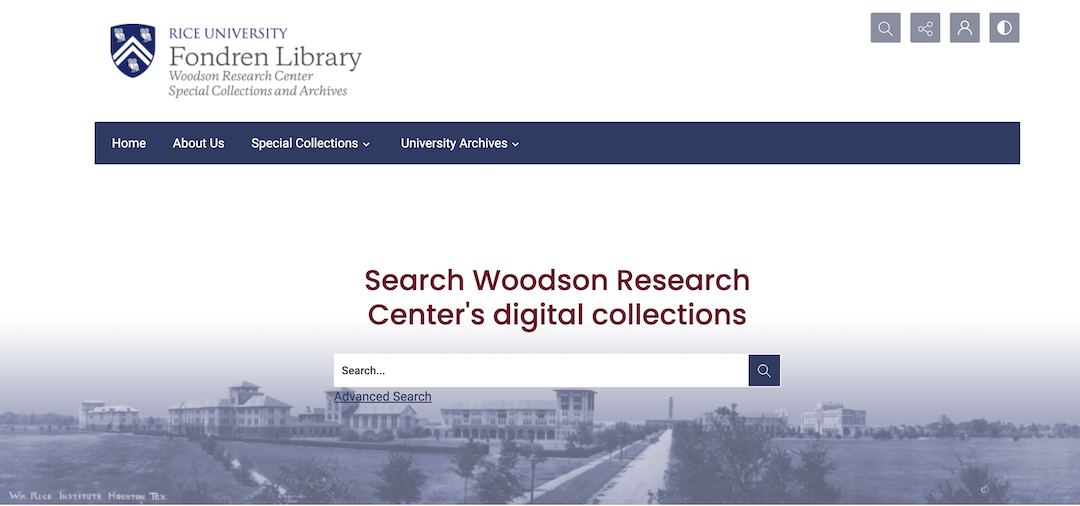 Fondren Library's Woodson Research Center recently announced it will move to a new archiving platform that will provide enhanced functionality and accessibility for its extensive digital cultural heritage materials.
Woodson is transitioning from DSpace to Quartex, a system that enables libraries and archives to showcase, share and celebrate their materials in intuitive and visually engaging ways. The new system will go live May 22.
"This new online platform is designed to provide customized access to the unique cultural heritage materials located in Fondren Library," said Amanda Focke, head of special collections at Woodson. "Our previous online home at scholarship.rice.edu was the first among Houston's archival repositories to host such materials."
Some other benefits of the new Quartex management system include the ability to:
Highlight individual items, whether it be a photograph, document, etc., with an attractive viewer.

Click on tags that cover subjects, people and organizations, or item types that will bring together materials from across collections.

Group collections together by theme.

Create online exhibits and custom web pages.

Keyword search in issues of the Rice Campanile, Rice Thresher and more.

Enhance videos with closed captioning.

Use AI to transcribe handwritten documents.
"We are very excited to expand and refine access to our very special collections with this new system dedicated to archives, and we expect there will be increased research use with the more visually engaging navigation and enhanced accessibility," Focke said. "For example, oral histories will have closed captioning in addition to full PDF transcripts, and page images of handwritten letters will have side-by-side transcription."
Fondren hopes to move all of its online exhibits into the Quartex platform this year, said Norie Guthrie , an archivist and special collections librarian in the Woodson Research Center.
"This was an epic migration for us and we're really excited to share our refreshed digital collections with faculty, staff, administration, alumni and the general public," Guthrie said. "DSpace was a good place for us for over a decade, but our materials have become too complex and would be better served by a platform that would provide us more flexibility and customization."
DSpace will still exist, but in the form of an updated version called DSpace 7, where scholarly materials such as dissertations, faculty articles, research center reports, journals and some other items will remain, Guthrie said.
To learn more, visit digitalcollections.rice.edu.