Although she's a biosciences and visual arts double-major, the project that turned Rice University senior Liliana Abramson into an overnight celebrity was entirely a labor of love.
Abramson first learned about galls ⎯ plant tissue growths caused by small parasitic wasps ⎯ in an evolutionary biology class taught by Scott Egan, associate professor of ecology and evolutionary biology whose research interests are focused on "the processes that promote or constrain the evolution of new biological species."
Egan recently tweeted a picture of Abramson's gall-covered heels that quickly grew a following on the social platform, drawing the attention of both local and international media.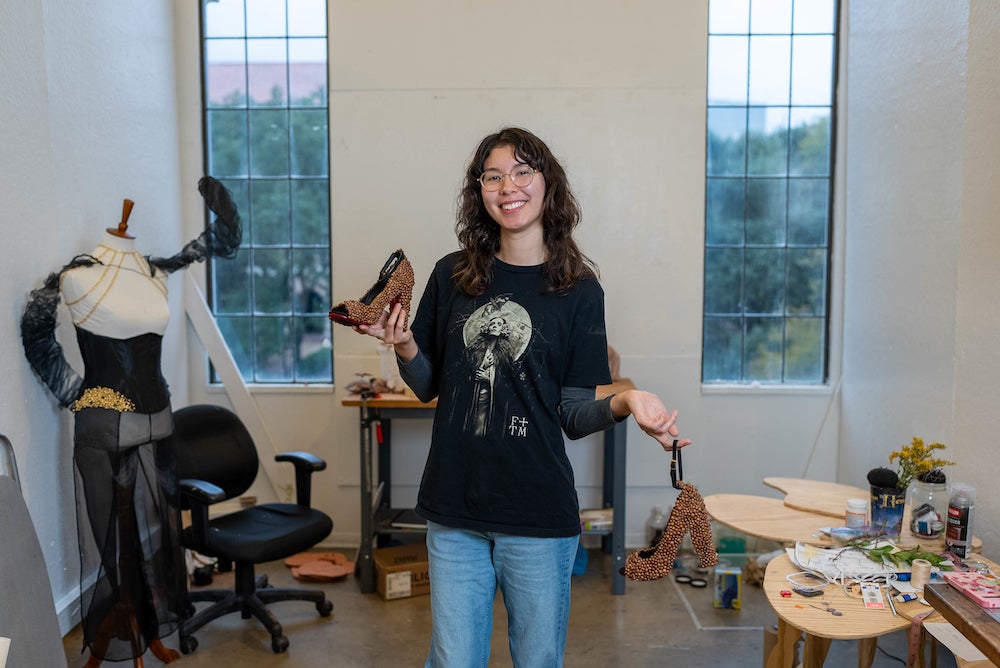 "I was really drawn to them as a material," Abramson said. "I really liked the shape of them. I liked the texture, and I thought they'd be really interesting to work with. Gall wasps lay their eggs in the trees, on branches, and the tree is induced to grow the gall structure around the egg."
When the wasps hatch, they bore a hole through the gall, leaving it behind.
"Once you know about galls, you can spot them all around campus on all the trees around here," Abramson said. "I thought it'd be really interesting to cover an everyday object in them. I was thinking about them and was like, what if I just covered a pair of heels in them? I got really stuck on that idea, and I just kind of rolled with it from there.
"They're very delicate. Some of them are pretty dense, some of them are hollow. They're kind of a pain to work with. If you drop them, they go rolling off, and I still find them on the floor around the studio, in the corners, even though I've tried cleaning up so many times. But they're also a lot of fun to work with."
Abramson considered using the galls as beads originally but realized they're too brittle to thread. As for the shoes ⎯ they, too, may be a bit brittle.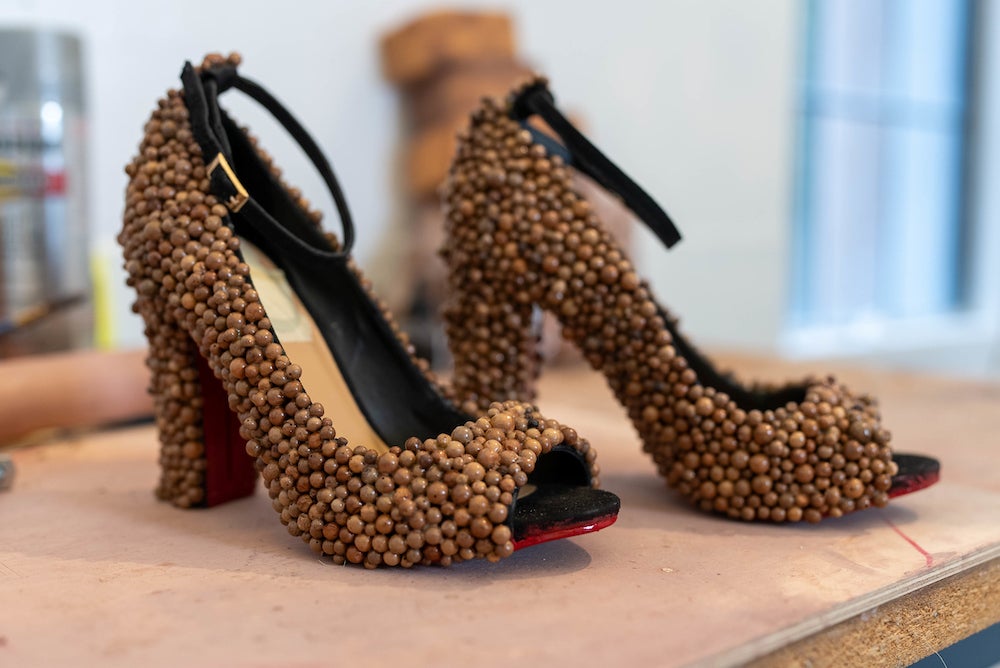 "I don't think they're exactly everyday shoes," she said. "I don't know if they're wearable even. But they're fun. I like looking at them."
Abramson's feelings toward fashion are ambivalent ⎯ she says she's more interested in wearable art. Many of her pieces draw inspiration from the natural world ⎯ a foldable moth-shaped table, a mixed media butterfly-and-crochet sculpture and her final project for her studio class this semester that uses ants.
"I'm interested in putting them on a ceramic surface and creating an ant mill," Abramson said. "It's a phenomenon where army ants become trapped in a loop."
Abramson's practice of incorporating elements from the natural world in her artwork went hand in hand with her coursework in ecology and evolutionary biology. She not only draws inspiration from the concepts and natural-world phenomena she's studying, but she was able to source some of her working materials from her professors: Egan, for instance, supplied the galls, while the ants and other insects were supplied by Matthew McCary, assistant professor of biosciences.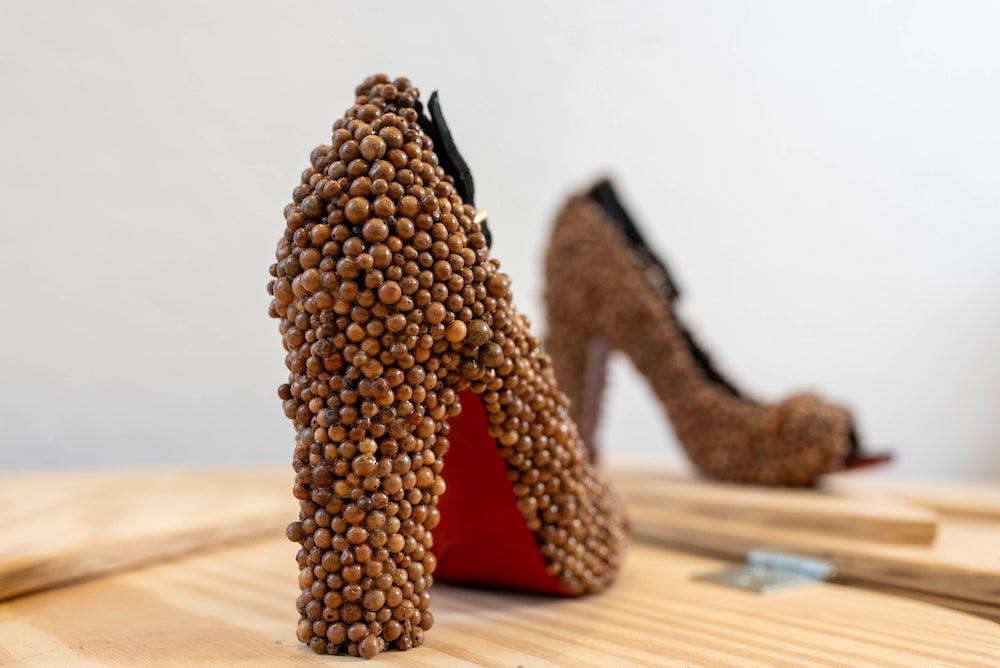 "[McCary] taught Insect Bio last year," Abramson said. "I got really interested in using bugs after taking the class and learning so much about insects. I asked him if he had any extra samples or anything, and he had a lot of insects he had collected and used for research that he was now just kind of holding on to. So I got free rein to a whole cabinet full of insects."
Abramson credits the other species involved in her creative process.
"I think that the trees did most of the work with this," she said. "I just took the materials and started gluing them together, and it became interesting, but it's nice to have the galls premade by the trees. I guess the wasps help a little bit in that process, too."
Abramson initially wanted to pursue a pre-med course track at Rice but said she soon realized she was more interested in ecology and evolutionary biology. She started taking art classes her freshman year and decided to stick with it. She says one of the draws of being an art major is getting your own studio as a senior.
"I have free rein to do whatever I want in my art studio, and it kind of feels natural to combine science and art," she said. "I think I'm going to keep doing that after I graduate."
Video is available at:

https://youtu.be/i3jH-YQJSL8
(Video by Brandon Martin/Rice University)

Image downloads:

https://news-network.rice.edu/news/files/2023/11/231114_gall-wasp-shoes_Martin-6.jpg
(Photo by Brandon Martin/Rice University)

https://news-network.rice.edu/news/files/2023/11/231114_gall-wasp-shoes_Martin-27.jpg
(Photo by Brandon Martin/Rice University)

https://news-network.rice.edu/news/files/2023/11/231114_gall-wasp-shoes_Martin-48.jpg
(Photo by Brandon Martin/Rice University)

https://news-network.rice.edu/news/files/2023/11/231114_gall-wasp-shoes_Martin-75.jpg
(Photo by Brandon Martin/Rice University)
Links:

Department of Biosciences: https://biosciences.rice.edu/undergraduate-programs

Visual and Dramatic Arts: https://arts.rice.edu/constituent/visual-and-dramatic-arts

Wiess School of Natural Sciences: https://naturalsciences.rice.edu/

About Rice:

Located on a 300-acre forested campus in Houston, Rice University is consistently ranked among the nation's top 20 universities by U.S. News & World Report. Rice has highly respected schools of architecture, business, continuing studies, engineering, humanities, music, natural sciences and social sciences and is home to the Baker Institute for Public Policy. With 4,574 undergraduates and 3,982 graduate students, Rice's undergraduate student-to-faculty ratio is just under 6-to-1. Its residential college system builds close-knit communities and lifelong friendships, just one reason why Rice is ranked No. 1 for lots of race/class interaction, No. 2 for best-run colleges and No. 12 for quality of life by the Princeton Review. Rice is also rated as a best value among private universities by Kiplinger's Personal Finance.