Rice University's Multicultural Community Relations department will host a book presentation for Richard Tapia's "Losing The Precious Few: How America Fails to Educate Its Minorities in Science and Engineering" Feb. 22 at 4 p.m. in Anne and Charles Duncan Hall's McMurtry Auditorium.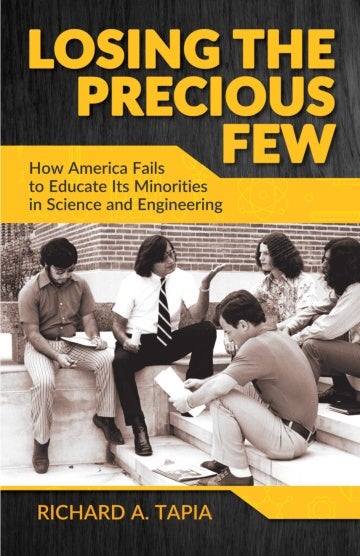 Tapia is a University Professor, the Maxfield-Oshman Chair in Engineering, a professor of computational applied mathematics and operations research, and director of the Tapia Center for Excellence and Equity. He has taught at Rice for five decades and is a National Medal of Science recipient.
In his book, Tapia asserts the nation's future depends on improving the representation of minority groups in STEM education and careers. African Americans and Latinos combine to make up 31% of the population, and he writes the country cannot maintain its economic and scientific health when such a large group is left out. In addition, he contends the United States will not achieve racial justice without educational justice, which requires underrepresented groups having equal access to higher education.
The book identifies issues that contribute to the lack of minorities in graduate STEM programs, including a dependence on standardized tests, deficiencies in K-12 education, and historic and ongoing racism. Further, as a longtime mentor, Tapia has seen firsthand that professors have lower expectations of minority students.
"The event's attendees will learn more about the severity of the situation regarding students of color in STEM and what can be done to resolve the problem," said David Medina, director of Multicultural Community Relations. "If we're not encouraging and supporting minority students, especially in STEM, this country will not be as prepared to compete at a global level."
Tapia's presentation will be followed by a reception and book signing.