The premiere of one Shepherd School of Music student's original composition was unlike most: performed by the United States Navy Band Woodwind Quintet in the nation's capital.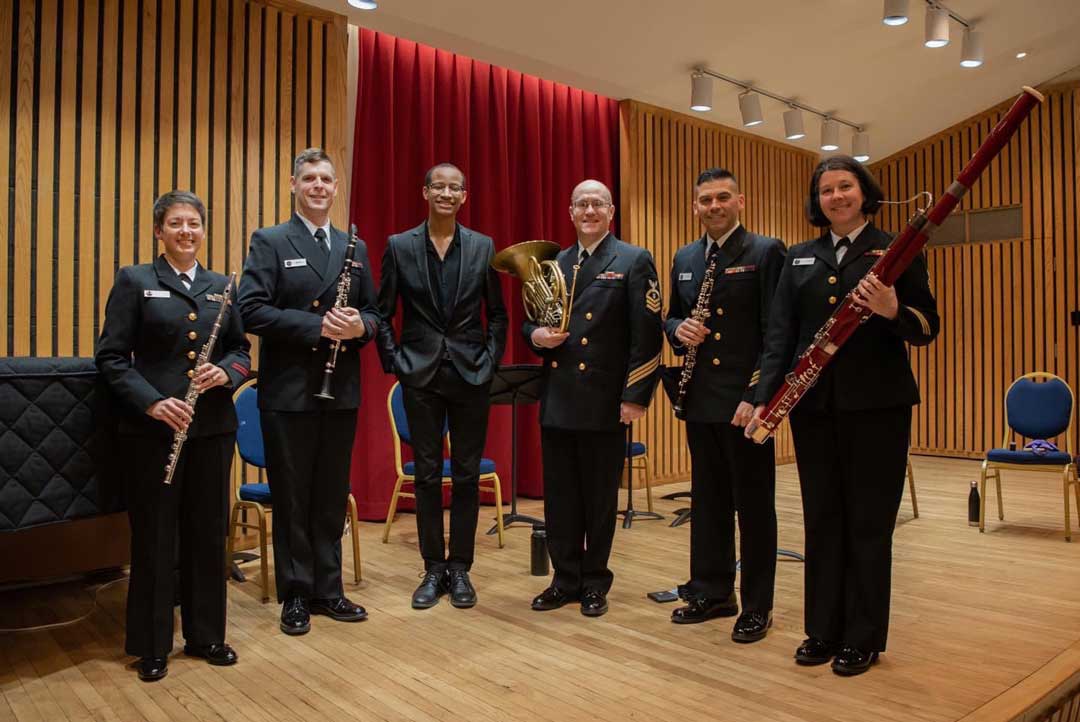 Sophomore Jaylin Vinson's "Afrophilia" earned him the inaugural Alton Augustus Adams Sr. Award for Emerging Composers, named in honor of the Navy Band's first Black bandmaster, who led what was then an all-Black band at the height of racial segregation in the United States, including in all branches of the military. The award pays tribute to the legacy of Adams' life and service, honoring his embodiment of the Navy's core values to bring about social change.
As part of the award, announced in December, the Navy quintet premiered "Afrophilia" on Feb. 9 at Howard University's Childers Recital Hall.
"I felt that my work would resonate," Vinson said of the piece he completed mere weeks before the Aug. 1 submission deadline. "It was right off the presses, and I thought it reflected the mission of the award."
He said "Afrophilia" is inspired by the love of his African descent, and it balances his classical training with his life of listening to Black music.
"For me, this piece reflects a lot of the gospel music that I grew up with in Baptist and Pentecostal churches," he said. "My dad played a lot of different types of music like soul, rhythm and blues, hip-hop and rap. Those genres are a big part of how I think about and perceive music…Through this piece, I'm expressing my love of all of that music."
The composer admitted that writing for a quintet — which includes a flute, oboe, clarinet, horn and bassoon for "Afrophilia" — can present challenges, but that is what drew him to this particular arrangement.
"Some people find it really difficult to write for a woodwind quintet because the sounds are so different, but that is what attracted me so much," Vinson said. "There are so many different types of colors that can make some unique and nuanced combinations of sounds that develop the background of the piece."
Interestingly, the music composition major plays both the violin and trumpet but acknowledged he would rather write the music than perform it.
"I hate performing, but I love music, and I knew from an early age that this was a very important part of my life. I thought about being a music teacher or a conductor, but I realized composition was always a big part of what I was interested in," he said. "It is the collaborative part of music that I enjoy so much. Composition is a way that I can create music and be in dialogue with others. That's what led to my life as a composer."