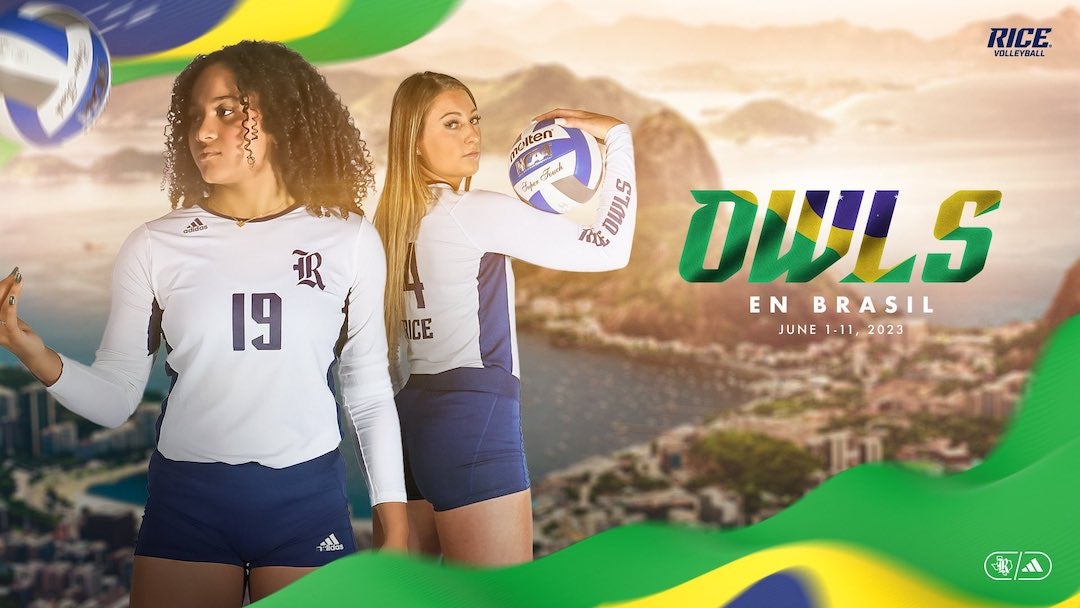 The Rice volleyball team will be taking a 10-day excursion to Brazil June 1-11, with plans to visit and compete in four cities.
The second international trip in the program's history will include stops at São Paulo, Rio De Janeiro, Saquarema and Arraial Do Cabo. The Owls will play matches against Brazilian under-19 and under-21 teams, looking to hone their skills against international competition while also developing camaraderie that could pay dividends next season, their first in the American Athletic Conference.
"I'm really hoping that it provides our newcomers with the opportunity of learning our system and developing that team chemistry because that's a huge part of the game of volleyball, just interacting with teammates in a positive way," said head coach Genny Volpe, who took her team to Italy in 2019 . "More importantly, we lost some key seniors from last year, and what I really would love to see is some players stepping into new roles as leaders."
The trip will also provide Volpe's squad with increased training opportunities, as the team is able to practice for an extra 10 days prior to the trip that typically wouldn't be allowed during the summer. Volpe said that along with the unpredictability of an international trip could be good for her team's mental toughness.
"They're so used to a structured environment where there's an itinerary of where we're going to be every second of the day," she said. "But when you go on these tours, there's just a lot of different things that are thrown at you, and the schedule gets kind of hectic, so it really does kind of show the players that it's a mental game and you can deal with a lot of different things.
"And of course, there's also the amazing cultural experience that they get, to be able to take a trip that they'll likely never get to take on their own. It's an awesome opportunity to get the team together to get to know each other a little bit."
There will also be community service opportunities, including a trip to a local school to put on a volleyball clinic for children.
"I am most excited about my team and I competing together," senior Sahara Maruska said. "I know that our team has a strong bond and it's only getting stronger with each practice. I'm excited to see how we will overcome navigating a new country and meet new competition while also creating memories that will last a lifetime."
Entering her 20th season as head coach at Rice, Volpe has established the program as a power. Under her watch, the Owls have been to seven NCAA Tournaments — the only seven appearances in Rice's history.
She's hopeful the Brazil trip can provide her team with an extra edge and level of togetherness that could help it take the next step in the upcoming season.
"For us, it's always about maximizing our potential and continuing to stretch the envelope and trying to see how far we can go, and we know what it takes," she said. "We've been to the NCAA Tournament, and we've made it to the second round. So, the next step for us is trying to get to that Sweet 16.
"Maintaining that level of success is hard enough. So with all these seniors leaving and new players coming in, and younger players learning, 'hey, I've got a bigger role this year, and I'm going to own it,' that's what I'm most excited to see."