HOUSTON – (April 24, 2023) – The Chao Center for Asian Studies — along with co-sponsors the Asia Society Texas Center, Inprint and the Taiwan Academy in Houston, an arm of the Taiwan Ministry of Culture — will host Kevin Chen, awarding-winning author of "Ghost Town," as the latest speaker in its Liu Distinguished Visitor Series April 27 at Rice's BioScience Research Collaborative.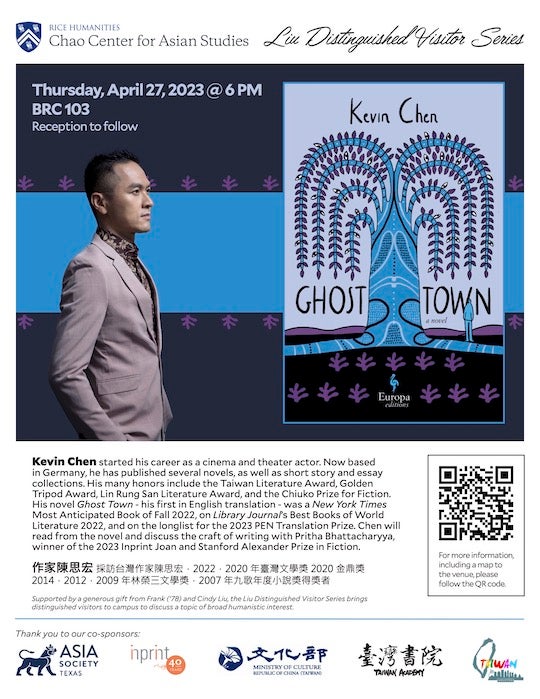 A reception will follow Chen's 6 p.m. talk. The event is free to attend, and paid parking by credit card is available at the venue.
Supported by a generous gift from Frank ('78) and Cindy Liu, the series has brought distinguished visitors to Rice's campus to discuss topics of broad humanistic interest since 2010.
Kevin Chen started his career as a cinema and theater actor. Now based in Germany, he has published several novels, as well as short story and essay collections. His many honors include the Taiwan Literature Award, the Golden Tripod Award, the Lin Rung San Literature Award and the Chiuko Prize for Fiction. His novel "Ghost Town" — his first to be translated into English — was one of the New York Times' most anticipated books of fall 2022 and made Library Journal's Best Books of World Literature 2022 list and the longlist for the 2023 PEN Translation Prize.
Chen will read from the novel and discuss the craft of writing with Pritha Bhattacharyya, winner of the 2023 Inprint Joan and Stanford Alexander Prize in Fiction.
WHAT: Kevin Chen lecture, latest in Liu Distinguished Visitor Series.
WHEN: Thursday, April 27, 6 p.m.
WHERE: BioScience Research Collaborative, Room 103, 6500 Main St., Houston
For more information, visit chaocenter.rice.edu/programs/liu-distinguished-visitor-series.
-30-