Rice University Vice President for Research Ramamoorthy Ramesh has been named a member of a new Association of American Universities (AAU) task force that will study expanding research and higher education partnerships between the United States and India.
The AAU created the task force in coordination with President Joe Biden's administration's U.S.-India initiative on Critical and Emerging Technology (iCET). The initiative seeks to grow technological and industrial collaboration between the two nations. The AAU-led task force will meet monthly to determine key focus areas for bilateral research and education cooperation, to identify existing programs that could provide blueprints for future partnerships and to formulate strategies on how best to move forward.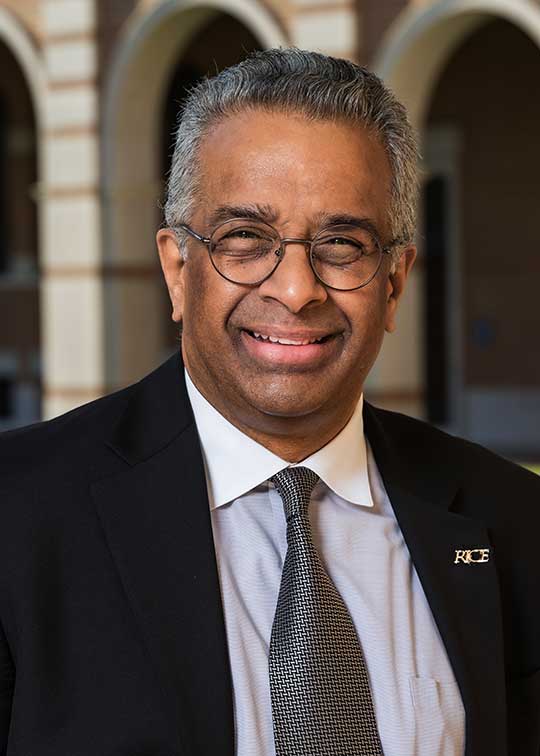 Rice is especially well-positioned for expanding partnerships because of its presence in the energy capital of the United States and close proximity to the largest medical center in the world within one of the most diverse cities in the U.S., Ramesh said.
"U.S.-based research universities have a great opportunity to partner and collaborate with their Indian peers through high-impact research, teaching and training that address global challenges," said Ramesh, who earned his bachelor's degree in chemistry from Madras University, a bachelor's degree in metallurgy from the Indian Institute of Science, Bangalore, and a master's and doctorate in materials science and engineering from the University of California, Berkeley.
Rice plans to expand its presence in India, building on its existing partnership with the Indian Institute of Technology, Kanpur, and an emerging collaboration with The Chatterjee Group-CREST in Kolkata to create a comprehensive research partnership involving several Indian universities, Ramesh added.
"Houston is rapidly expanding as an innovation hub in energy, health care and information technologies," Ramesh said. "We have been investing resources and research in the development of energy solutions, materials and sustainable technologies. I look forward to sharing what we've learned from our early successes and learning from my colleagues to build on this strong foundation."
"It is nearly impossible in today's world to make advancements in scientific research and technology without international collaboration and cooperation," said AAU President Barbara Snyder. "This is why the Association of American Universities is proud to lead this effort to strengthen relationships between leading U.S. and Indian research universities and to lay the groundwork for shared future scientific and economic success."
The co-chairs of the AAU Task Force on Expanding United States-India University Partnerships include Pennsylvania State University President Neeli Bendapudi, University of Illinois Urbana-Champaign Chancellor Robert Jones,University of California, San Diego ChancellorPradeep Khosla, University at Buffalo President Satish Tripathi, and current Johns Hopkins University Provost and Senior Vice President for Academic Affairs Sunil Kumar (who is set to become president of Tufts University on July 1).
The task force will include the following members at large:
Heidi Arola , director of global partnerships, Purdue University.
Venkataramanan "Ragu" Balakrishnan , dean of engineering, Case Western Reserve University.
Venu Govindaraju , vice president for research and economic development, University at Buffalo.
Amita Gupta , chief, Division of Infectious Diseases, Johns Hopkins School of Medicine.
Katie Hrinyak , assistant vice president for global initiatives and strategy, University of Chicago.
Pradeep Khanna , executive associate vice chancellor for corporate relations and economic development, University of Illinois Urbana-Champaign.
Pramod Khargonekar , vice chancellor for research, University of California, Irvine.
Richard Lester , associate provost for international activities, Massachusetts Institute of Technology.
Stephen D. Mull , vice provost for global affairs, University of Virginia.
Padma Raghavan , vice provost for research and innovation, Vanderbilt University.
Ramamoorthy Ramesh , vice president for research, Rice University.
Lora G. Weiss , senior vice president for research, Pennsylvania State University.
Yannis C. Yortsos , dean of engineering, University of Southern California.