Michelle Thackray has been named Rice University's associate vice president for operational excellence and engagement.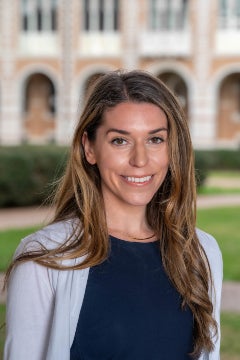 Thackray, who started in the position Feb. 20, is responsible for leading and implementing the strategic plan process and developing a culture of trust, operational excellence and accountability throughout the administration and finance team. Additionally, she will oversee communications and event-planning organizations for the division.
"I am delighted to welcome Michelle Thackray to Rice," said Kelly Fox, vice president for finance and administration. "She will be instrumental to our division as she will work to support and sustain the key initiatives within finance and administration."
With more than 10 years of experience in organizational development, Thackray previously was the director of strategy and assessment at the Georgia Institute of Technology. During her six years there, she spearheaded change management efforts for enterprises, led strategic planning efforts for the division of administration and finance, and created programs to enhance organizational culture and leadership development.
She obtained her master's and doctoral degrees in industrial organizational psychology from the Florida Institute of Technology and is certified in change management by Prosci.