This spring, Rice University is host to a women's leadership and STEM research program that welcomes students from Japan and Taiwan for an immersive five-week internship.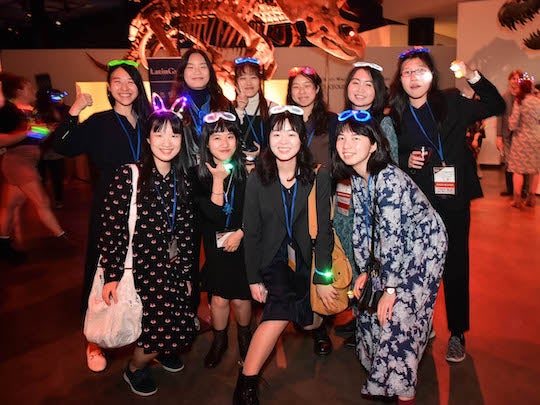 It is the second year when the program, spearheaded by Rice physicist Junichiro Kono, includes a cohort of Taiwanese students.
"Tomodachi means 'friends' in Japanese, and machi means 'friends' in Taiwanese," Kono said. The U.S.-Japan Council (USJC) started the TOMODACHI Initiative in response to the 2011 Tōhoku earthquake and tsunami. It funds a host of different programs, but our TOMODACHI program is the only one in STEM.
"The Rice TOMODACHI-STEM program started as far back as the 2016-2017 academic year. It is intended to give Japanese students an idea of graduate education in the U.S., which is very different from graduate education in Japan."
The Taipei Economic and Cultural Office (TECO) in Houston reached out to Kono through its science attachés to explore the possibility of expanding the scope of the Rice TOMODACHI-STEM program to include a cohort of Taiwanese students. Don Wang, a Houston-based businessowner, together with Rocky Lai, Sue Hsiao and Frank Liu, a Rice alum and founder of the Lilie Lab, sponsored the MACHI program.

"I want to thank Dr. Kono for opening up this opportunity for Taiwanese students," said Hsu-Ting 'Sophie' Kuo, a senior at National Taiwan University majoring in biomedical engineering. "I have been waiting for an opportunity like this for a really long time," she said.

Kuo's academic host at Rice is Tomasz Tkaczyk, a professor of bioengineering and electrical and computer engineering.
"I'm interested in developing imaging-based disease screening tools," Kuo said. "I have been working with Rice PhD students on developing lenses for biomedical applications. We're working with state-of-the-art equipment that can make transparent lenses from polymers. I think that's really cool. I'm lucky to have this experience. I got to help design and actually print a lens, which is pretty inspiring."
"This program is very unique because of its focus on women," said Sako Sunami, a junior at Tōhoku University majoring in Earth science. "There are fewer women in STEM fields generally, and I believe it's very important for us to meet other women pursuing studies in this area. I hope that programs like this one promoting women in STEM will expand in the future, so that more women know that this is an option for them and have role models to look up to and be inspired by."
At Rice, Sunami is hosted by the lab of Kirsten Siebach, an assistant professor of Earth, environmental and planetary sciences.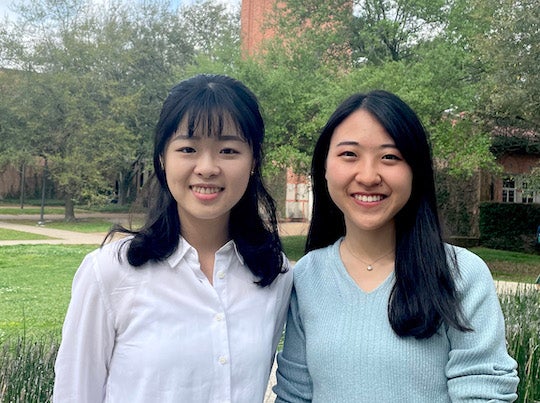 "My research focuses on the organic matter inside meteorites," Sunami said. "I'm interested in tracing the origins of life. In the lab here, we have been looking at basalt samples from Iceland, which are similar to rock formations on Mars. Icelandic volcanic samples could help us understand how sediments on Mars are formed."
Both Kuo and Sunami plan to pursue graduate studies in the U.S.

As of 2021, Rice collaborated with Lehigh University in hosting the students. Ten Japanese and five Taiwanese students are part of this year's cohort of students. The program begins with an online orientation hosted by Lehigh U. in September, followed by a five-week research internship in February and March. Each student is assigned a Rice or Lehigh professor as advisor, and a graduate student or postdoc mentor. The students have diverse backgrounds and are hosted by varying science and engineering programs at Rice and Lehigh U.
Kono has been involved in promoting international education and research exchange for nearly two decades. Last year, together with Geoff Wehmeyer and Matteo Pasquali at Rice, Kono was awarded a $1.5 million Partnership for International Research and Education (PIRE) grant funded by the National Science Foundation to build partnerships between Japanese and U.S. researchers working on carbon nanotube materials. Prior to the TOMODACHI-STEM and MACHI programs, he was the recipient of two five-year PIRE grants intended to expand international research opportunities for U.S. science and engineering students through the NanoJapan program.
"PIRE generously funds us in both research and education," Kono said. "We have been doing a lot of collaborative research internationally involving graduate student and postdocs from both sides.
"What was pretty unique about the undergraduate part of the NanoJapan program is that we selected participants in their first or second year of college. For most of the students, it was their first time to go abroad and the first time to do research. The program had an impact on these students' lives, and many went on to pursue graduate studies and careers in science."
In 2008, NanoJapan earned a Heiskell Award from the Institute of International Education for its impact on student outcomes. A total of 144 U.S. students participated in the exchange program, some of whom became science faculty at leading research universities. Rice University served as the site for the program's pre-departure orientation as well as for the re-entry program that included a research colloquium held on the Rice campus.
Rice organizers and faculty advisors for the TOMODACHI-STEM and MACHI programs are Kono and Alberto Pimpinelli, an associate research professor and executive director of the Smalley-Curl Institute. Utana Umezaki, a chemistry graduate student and a 2018 participant of the TOMODACHI-STEM program, is the program's graduate assistant, together with Chun-Ying Chao, a graduate student in the Civil and Environmental Engineering Department. The Lehigh co-PI of the USJC grant is Cheryl Matherly, the program organizer at Lehigh is Stacey Burger, director of global partnerships and strategic initiatives. Y. C. Ethan Yang, a Lehigh assistant professor in civil and environmental engineering, is the lead faculty advisor and Mary He is the program's graduate assistant.
Kono is Rice's Karl F. Hasselmann Chair in Engineering, chair of applied physics and a professor of electrical and computer engineering; physics and astronomy; materials science and nanoengineering.
-30-
Image downloads:

https://news-network.rice.edu/news/files/2023/03/230224_Night-at-the-Museum_Goosed_Fitlow-5424.jpg
CAPTION: The TOMODACHI-STEM and MACHI students at Rice's annual A Night at the Museum, an event organized by the Office of Graduate and Postdoctoral Studies and held at the Houston Museum of Natural Science. Pictured are (back row, from left) Sako Sunami, Ting-Wei 'Emily' Chang, Hung-Yu 'Iris' Lin, Lilica Tomita, Yukina Honda, Ting-Juan 'Jennifer' Liao, (front row, from left) Yurika Ryu, Yu-Wen 'Sophia' Huang, Hsu-Ting 'Sophie' Kuo and Akiho Tanaka. (Credit: Photo by Jeff Fitlow/Rice University).

https://news-network.rice.edu/news/files/2023/03/IMG-9275.jpg
CAPTION: Hsu-Ting 'Sophie' Kuo and Sako Sunami. (Credit: Photo courtesy of Rice University)

Related stories:

Rice graduate studies office throws 'Night at the Museum' bash:
https://news.rice.edu/news/2023/rice-graduate-studies-office-throws-night-museum-bash

Junichiro Kono and team receives $1.5M PIRE grant from NSF:
https://eceweb.rice.edu/news/junichiro-kono-and-team-receives-15m-pire-grant-nsf
Links:

Kono lab: http://kono.rice.edu/
Rice Global: https://global.rice.edu/

About Rice

Located on a 300-acre forested campus in Houston, Rice University is consistently ranked among the nation's top 20 universities by U.S. News & World Report. Rice has highly respected schools of Architecture, Business, Continuing Studies, Engineering, Humanities, Music, Natural Sciences and Social Sciences and is home to the Baker Institute for Public Policy. With 4,552 undergraduates and 3,998 graduate students, Rice's undergraduate student-to-faculty ratio is just under 6-to-1. Its residential college system builds close-knit communities and lifelong friendships, just one reason why Rice is ranked No. 1 for lots of race/class interaction and No. 1 for quality of life by the Princeton Review. Rice is also rated as a best value among private universities by Kiplinger's Personal Finance.