Rice University chemist Raúl Hernández Sánchez is one of 12 early-career scientists named to C&EN's 2023 Talented 12 cohort for his research in inorganic and supramolecular chemistry.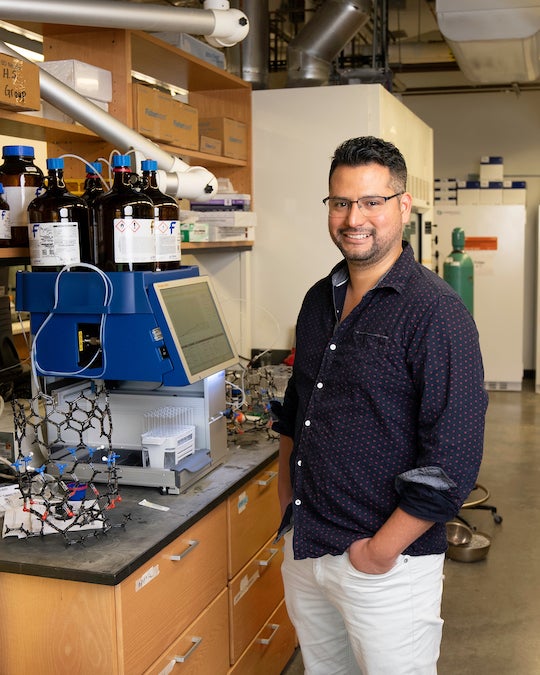 Awardees are scientists engaged in world-changing work who are at an early stage in their career – pre-tenure if working in academia and 10 years or less from the completion of their postdoctoral studies if working in industry or government. The members of this year's C&EN Talented 12 were selected from nearly 400 nominations.
"It's a great honor to get this recognition," said Hernández Sánchez, an assistant professor of chemistry. "I think it's a testament to creativity, to thinking outside the box and getting people excited about the prospects of your research."
The Hernández Sánchez research group at Rice currently focuses on three general research areas: water purification, designing molecules for nanotechnology applications and exploring molecular clusters mimicking metal cofactors in reactions that could turn inert molecules into fuels or value-added commodities.
"Water purification has long been an area of active research," Hernández Sánchez said. "There are many toxins in water that we have to remove before drinking it, and one group that's been getting more attention recently from the EPA, who changed its advisory limits on how much of these substances can be in our drinking water, are per- and polyfluoroalkyl substances or PFAS."
Due to their moisture-repellant, chemical- and thermoresistant qualities, PFAS are used in anti-stain and anti-corrosion coatings, but also in everyday items like clothing, packaging etc.
"Once ingested, they reside in the human body for anywhere from four to eight years, according to recent studies," Hernández Sánchez said. "That's a really long time, especially if you're consuming or ingesting that on a regular basis. PFAS are linked to several types of cancers and are detrimental to fetal development. I really hope we can we can start moving some of this basic science into the real world, because we need a solution as soon as possible."
The Hernández Sánchez lab works on understanding how anions bind to PFAS in order to target them and remove them from water.

"We're targeting these chemicals by essentially sequestering them in membranes that we're designing from the bottom up," Hernández Sánchez said. "We have some very promising initial results showing that we can get their concentration from environmentally relevant numbers, which are in the parts-per-billion down to single digit parts-per-trillion.
The second area that Hernández Sánchez is researching is molecule design for nanotechnology applications.
"We're essentially trying to create a structure I describe as a molecular wire," Hernández Sánchez said. "We are working on understanding and creating this structure one bond at a time. Our hypothesis is that if we take a molecular seed, we can start growing this molecular wire with exactly identical molecular units, which is different from the standard nanotube fabrication method, where you still get some variation."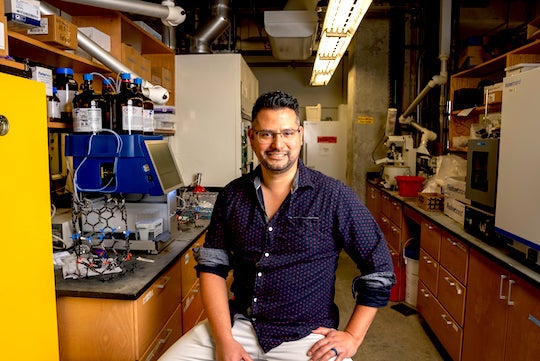 The third research focus is understanding how synthetic metal clusters can be replicated in the laboratory that can harness the reactivity of metal cofactors in enzymes. The goal is to create and investigate these metal atom systems and probe their reactivity as experimental models in novel transformations.
"Nature has found ways of creating metal clusters in proteins and enzymes that can act in very powerful and complex ways," Hernández Sánchez said. "In the basic architecture of some enzymes, for instance, you will find a metal cofactor – meaning a system consisting of several metal atoms – that performs a very specific and challenging reaction."
"Nitrogenase, for example, is an enzyme found in the roots of legumes that takes nitrogen from the atmosphere and converts it into ammonia. Why is that important? Well, because ammonia is essentially the starting point for widely-used nitrogen-containing chemicals such fertilizers and pharmaceuticals."
Breaking down nitrogen molecules in order to form ammonia is very difficult to achieve because the nitrogen-nitrogen bond is the second-strongest bond in nature.
"It's really difficult to cleave the triple bond of that nitrogen molecule, but this enzyme is able to do it in part due to this metal cluster of seven iron atoms and one molybdenum atom," Hernández Sánchez said. "This enzyme has been studied for over half a century, and yet there are still many unanswered questions in the scientific community as to how exactly nitrogenase manages to cleave this very strong bond."
"In our lab, we want to understand what role these metal cofactors play in breaking these strong bonds. Using the techniques we have at our disposal as molecular chemists, we designed a general strategy to study these processes. There are a lot of opportunities here that that we're just starting to explore."
Anatoly Kolomeisky, chemistry department chair and a professor of chemistry, said that "the department of chemistry is very excited about Raúl's accomplishments, especially given the recent efforts at Rice University to advance materials sciences."
"Although Raúl came to Rice only one year ago, he was able to accomplish a lot of productive research during this time. Many of his studies have received significant federal and private funding, which really speaks to the quality and promise of his research efforts. We are looking forward to further achievements from Dr. Hernández Sánchez."
Feature link:

Image downloads:

https://news-network.rice.edu/news/files/2023/05/230426_Raul-Sanchez_1_LG.jpg
CAPTION: Raúl Hernández Sánchez has been names to Chemical & Engineering News' Talented 12 list of early-career scientists engaged in world-changing work. (Photo by Gustavo Raskosky/Rice University)

https://news-network.rice.edu/news/files/2023/05/230426_Raul-Sanchez_2_LG.jpg
CAPTION: Raúl Hernández Sánchez, an assistant professor of chemistry, is one of 12 early-career scientists named to C&EN's 2023 Talented 12 cohort for his research in inorganic and supramolecular chemistry. (Photo by Gustavo Raskosky/Rice University)
Links:

Hernández Sánchez lab: http://www.hernandezsanchezgroup.org/

Chemistry department: https://chemistry.rice.edu/

Wiess School of Natural Sciences: https://naturalsciences.rice.edu/

About Rice:

Located on a 300-acre forested campus in Houston, Rice University is consistently ranked among the nation's top 20 universities by U.S. News & World Report. Rice has highly respected schools of Architecture, Business, Continuing Studies, Engineering, Humanities, Music, Natural Sciences and Social Sciences and is home to the Baker Institute for Public Policy. With 4,552 undergraduates and 3,998 graduate students, Rice's undergraduate student-to-faculty ratio is just under 6-to-1. Its residential college system builds close-knit communities and lifelong friendships, just one reason why Rice is ranked No. 1 for lots of race/class interaction and No. 4 for quality of life by the Princeton Review. Rice is also rated as a best value among private universities by Kiplinger's Personal Finance.