Rice University doctoral alum Joshua Chen has won a prestigious Schmidt Science Fellowship that will support his goal of building new technologies to address pressing health care challenges by drawing on his interdisciplinary skill set in bioelectronics and synthetic biology.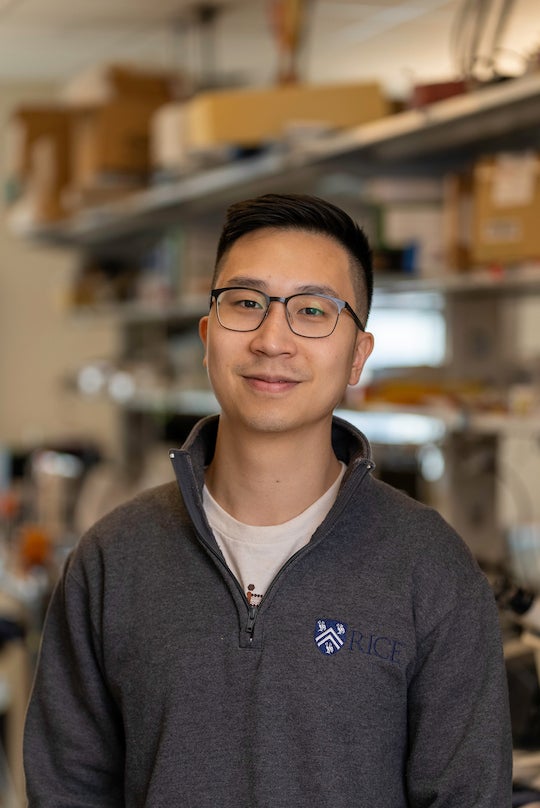 "I'm incredibly grateful for this opportunity," Chen said. "The Schmidt Science Fellows program drives graduating Ph.D.s to think about what they can do to pivot their science toward having a greater real-world impact. It promotes a new way of thinking and doing research that enables you to really accelerate your own science and solve challenging interdisciplinary problems."
The Schmidt Science Fellowship is a highly competitive postdoctoral award presented by Schmidt Futures in partnership with the Rhodes Trust that "provides the world's best emerging scientists with new skills and perspectives to develop novel solutions to society's challenges, become scientific and societal thought leaders, and accelerate ground-breaking discoveries," according to the program website.
Schmidt fellows undergo a rigorous selection process that involves a nomination from their home institution, an academic review by discipline-specific panels of senior researchers and an interview with a panel of leading figures in academia, business and society. The one- to two-year fellowship comes with a yearly $100,000 stipend and a postdoctoral placement "with world-leading scientific leaders and internationally renowned labs."
"I want to take some of the knowledge that I have with wireless power transfer and work towards addressing the challenge of neurodegeneration," said Chen, who earned his doctorate in bioengineering this spring. Neurodegenerative disease poses an increasing burden on health care systems worldwide as the pace of population aging is expected to pick up over the next few decades.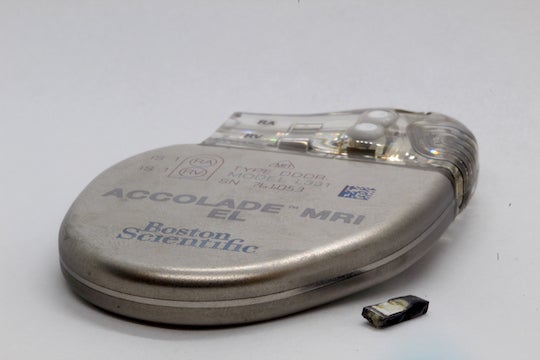 "I think there's so much room to explore what we can do with engineering and controlling biology. The goal is to build towards wirelessly programmable cell therapies for neurodegenerative diseases, which is why I want to pivot into synthetic biology. The Schmidt Fellowship makes this feasible and gives me the freedom to pursue this dramatic shift in my science."
Chen's doctoral research focused on engineering magnetoelectric materials — which can convert magnetic fields into electric fields — for biomedical applications.
"A lot of signals in our body are electric," Chen said. "Harnessing that for therapeutic purposes is a really powerful approach. One specific application that I work on is neuromodulation, which is used to treat conditions that are oftentimes not responsive to traditional pharmaceuticals, like Parkinson's disease, chronic depression, etc."
One of the challenges with neuromodulation and battery-powered implantable medical devices such as pacemakers and smart stents is that the size and lifespan of the battery entails more extensive and more frequent surgical intervention, increasing the risks and costs associated with these therapies.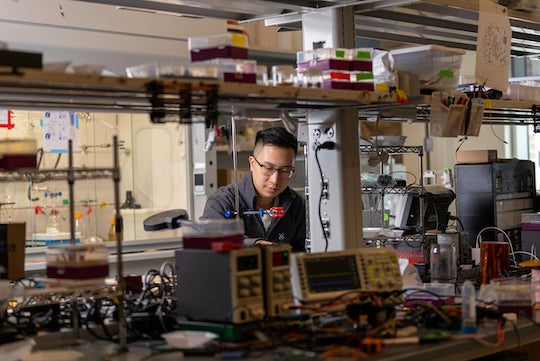 "Most of these devices come with large battery packs," Chen said. "My primary work in my Ph.D. was focused, on the one hand, on using wireless power transfer in order to miniaturize medical implants and find new ways of interfacing bioelectronics with the body, and, on the other hand, on trying to engineer magnetoelectric material itself as a stimulator."
Chen's research highlights the advantages of magnetoelectric materials over alternative forms of wireless power transfer. Moreover, he developed a creative way to maximize the therapeutic potential of magnetoelectric-based medical devices by harnessing the body's vasculature as a device-delivery system. This allowed him to develop the first millimeter-sized bioelectronic implant that can stimulate peripheral nerves from within blood vessels.
"In what has become a breakthrough work for our lab, Josh created the first battery-free endovascular nerve stimulator, which was the cover article in Nature Biomedical Engineering and is a seminal contribution to bioelectronics," said Jacob Robinson, an associate professor of electrical and computer engineering and bioengineering who was Chen's mentor and doctoral supervisor.
"Josh is on a fast track to leading a top bioelectronics lab and I have no doubt he will be an absolute star," Robinson added. "He has creative ideas and the tenacity to see them through to completion. He has already developed the skills to work across disciplines in circuit design, nanofabrication and intra-operative surgical procedures. He also has the soft skills needed to excel at the next level."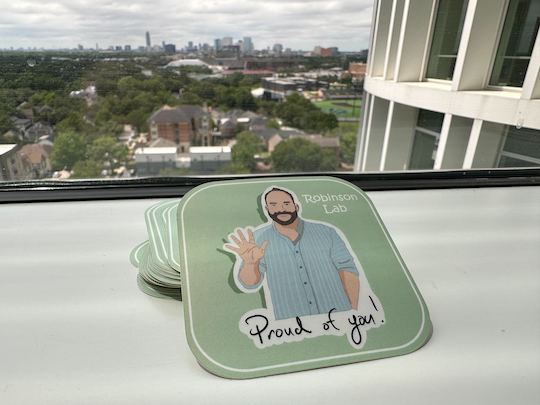 Chen exercises his creativity outside the lab by cultivating his love for art and graphic design. To express his gratitude for the guidance and support he has received from his mentor during his time at Rice, Chen drew and designed a Robinson Lab sticker that features an image of Robinson and reads, "Proud of you!"
"It's a tribute to Jacob for being an incredible advocate and role model for what I aspire to be in my own future lab," Chen said, emphasizing his own commitment to "embody a culture that celebrates community, diversity and advocacy."
"In my time at Rice, I've not only been able to think deeply about science and advancing technology for health care, but I've also been able to learn and practice mentorship and community-building," Chen said. "I'm really excited about my next steps, working towards a career where I am able to foster inclusive environments to do fun and creative science."
Award information:

Image downloads:

https://news-network.rice.edu/news/files/2023/04/pacemaker_LG.jpg
CAPTION: A standard-sized implantable pulse generator beside a magnetoelectric device. (Photo courtesy of Joshua Chen/Rice University)

https://news-network.rice.edu/news/files/2023/05/230427_BRC-Shoot-Josh-Chen_Gustavo-07769.jpg
CAPTION: Joshua Chen was selected to join the prestigious Schmidt Science Fellows program, which supports emerging scientists. (Photo by Gustavo Raskosky/Rice University)

https://news-network.rice.edu/news/files/2023/05/230427_BRC-Shoot-Josh-Chen_Gustavo-07817.jpg
CAPTION: Joshua Chen in his workspace at Rice's BioScience Research Collaborative. (Photo by Gustavo Raskosky/Rice University)

https://news-network.rice.edu/news/files/2023/04/StickersImage.jpg
CAPTION: Chen drew and designed a "Robinson Lab" sticker that features an image of Robinson and reads, "Proud of you!" (Photo courtesy of Joshua Chen/Rice University)
About Rice:

Located on a 300-acre forested campus in Houston, Rice University is consistently ranked among the nation's top 20 universities by U.S. News & World Report. Rice has highly respected schools of Architecture, Business, Continuing Studies, Engineering, Humanities, Music, Natural Sciences and Social Sciences and is home to the Baker Institute for Public Policy. With 4,552 undergraduates and 3,998 graduate students, Rice's undergraduate student-to-faculty ratio is just under 6-to-1. Its residential college system builds close-knit communities and lifelong friendships, just one reason why Rice is ranked No. 1 for lots of race/class interaction and No. 4 for quality of life by the Princeton Review. Rice is also rated as a best value among private universities by Kiplinger's Personal Finance.