HOUSTON – (May 22, 2023) – The Innovation Fellows program at Rice University has announced its latest cohort of talented researchers.
The Innovation Fellows program supports the translation of research from the lab to real-world startups through funding, mentorship and other resources. It is designed to help Rice faculty and doctoral and postdoctoral students turn their innovative ideas into successful ventures that make a tangible impact on the world. The program is run by the Liu Idea Lab for Innovation and Entrepreneurship (Lilie) and the newly created Office of Innovation, in partnership with the research institutes at Rice.
The inaugural cohort in 2022 brought in more than $1 million in venture capital funding, more than $3 million in additional nondilutive funding and more than $500,000 in customer revenues. The cohort included notable ventures such as the winner of the inaugural TEX-E Prize, Helix Earth Technologies, and the winner of the 2023 Massachusetts Institute of Technology Water, Food and Agriculture Prize, Sygne Solutions, which finished second at the 2023 Rice Business Plan Competition.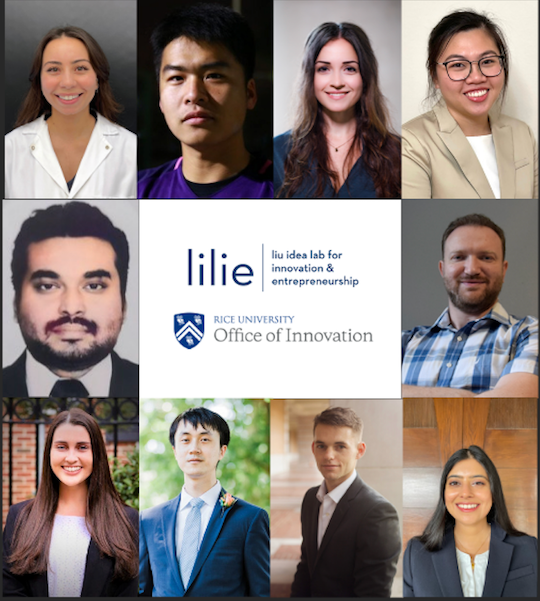 The 2023 Innovation Fellows cohort includes 10 outstanding researchers and innovators from a wide range of disciplines across Rice's schools of Engineering and Natural Sciences. They were selected from a highly competitive pool of applicants for their exceptional research, entrepreneurial spirit and commitment to driving positive change in industry and society.
"The Rice Innovation Fellows program is a critical part of our efforts to support innovation and entrepreneurship," said Rice President Reginald DesRoches. "These exceptional individuals represent some of the most innovative and promising research being conducted at Rice, and we're thrilled to support them as they work to bring their ideas to the world."
The 10 members of the 2023 cohort are:
Martha Fowler, a doctoral student from the bioengineering lab of Omid Veiseh.
Carson Cole, a doctoral student from the chemistry lab of Jeff Hartgerink.
Fatima Ahsan, a doctoral student from the electrical and computer engineering lab of Behnaam Aazhang.
Siraj Sidhik, a doctoral student from the materials science and nanoengineering lab of Aditya Mohite.
Roman Zhuravel, a postdoctoral student from the physics and astronomy lab of Guido Pagano.
Samira Aghlara-Fotovat, a doctoral student from the bioengineering lab of Veiseh.
Clarke Wilkirson, a doctoral student from the mechanical engineering lab of Peter Lillehoj.
Yuren Feng, a doctoral student from the civil and environmental engineering lab of Qilin Li.
Yang Xia, a doctoral student from the chemical and molecular engineering lab of Haotian Wang.
Thao Vy Nguyen, a doctoral student from the chemical engineering lab of Sibani Lisa Biswal.
Innovation Fellows receive up to $20,000 in funding as well as access to entrepreneurship training and mentorship from experienced entrepreneurs and investors.
"We're incredibly excited to welcome this exceptional group of researchers into the Innovation Fellows program," said Yael Hochberg, head of the Rice Entrepreneurship Initiative and faculty director for Lilie. "We look forward to working with them as they bring their groundbreaking research to market and make a real impact on the world."
"With commercialization of research at the forefront of what Rice University wants to do, the Innovation Fellows program is the first in a constellation of programs and resources developed by the Office of Innovation to help impactful new ventures overcome the hard tech 'valley of death' and transition from the campus to the community, so we can help create the next generation of game-changing company for Houston, Texas and the world," said Paul Cherukuri, Rice's vice president for innovation.

For more information about the Rice Innovation Fellows program, contact Lilie Executive Director Kyle Judah at kyle.judah@rice.edu or visit https://commercialization.rice.edu/