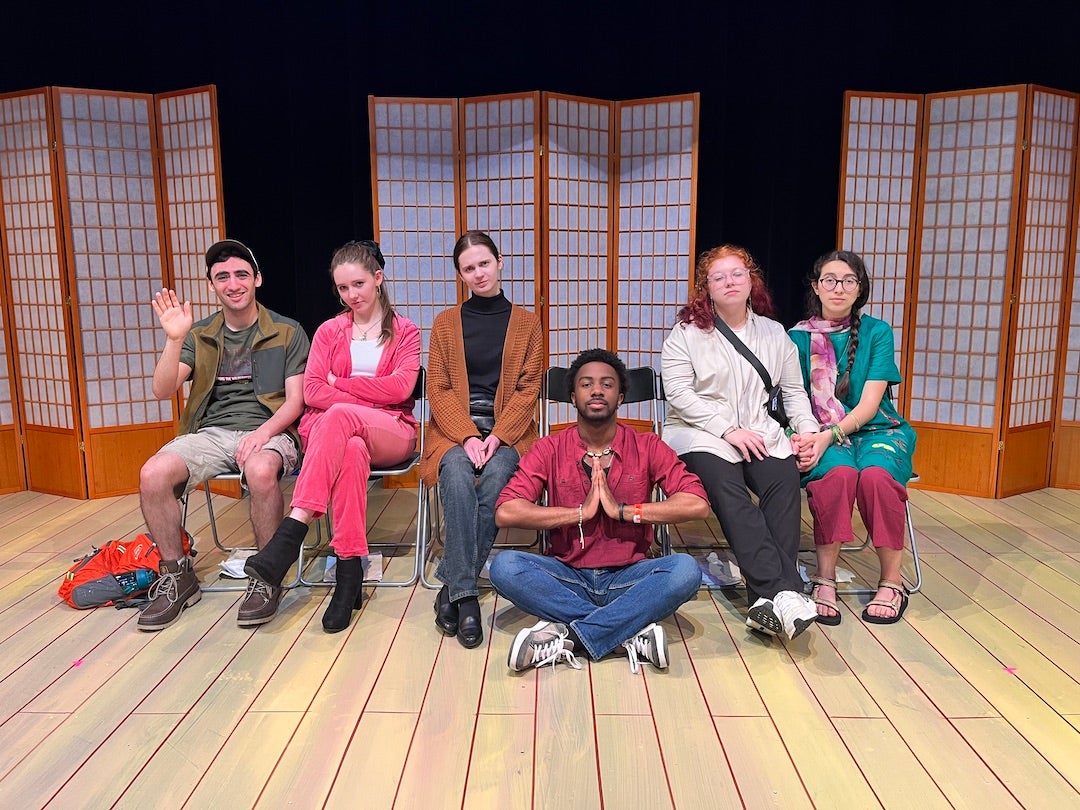 HOUSTON -- (April 10, 2023) -- Rice Theatre's "Small Mouth Sounds"— a play entirely produced, staffed and performed by this year's senior cohort, a first in the program's history — is set for April 14-16 at Hamman Hall.
Having lived through a pandemic, the students chose a show that tackles questions of self-reflection, communication and societal contribution sparked by that experience: How can human beings connect when they are forced to be silent?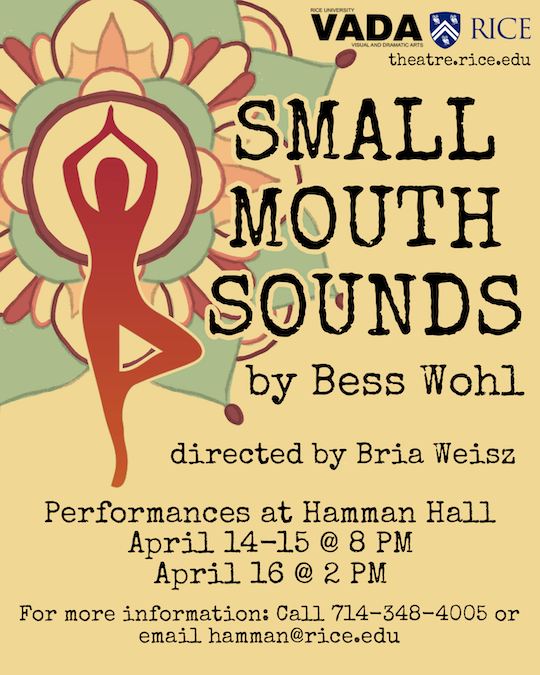 In this poignant play by Bess Wohl, six city-dwellers seek solace at a silent yoga retreat to confront the problems that have plagued their lives. The group gives up their cellphones and electronic devices as they try to escape from it all. "Small Mouth Sounds" teems with humor and compassion that brings audiences to laughter and tears, and makes us all think about how we address life's biggest questions when words fail us.
The seniors have overseen and managed the entire production, from choosing the play to disbursing duties for both cast and crew. "We are very fortunate to be part of a group of seniors who have been involved in theater over the past three to four years and also have interest in different production roles," said senior Alejandra Wagnon. "With this in mind, we wanted to put together our accumulated knowledge and interests to produce a show fully from start to finish. 'Small Mouth Sounds' was a perfect choice for us because it allows us to push our abilities while also challenging the type of theater that Rice audiences might be used to. It's an intimate, funny and heartbreaking show that we are extremely proud to share with audiences."
"Small Mouth Sounds" is directed by senior Bria Weisz. Her prior work includes directing Ken Ludwig's "Murder on the Orient Express" for Wiess Tabletop Theatre and serving as assistant director of "Twelfth Night" for Baker Shakespeare and the "Hello, Hamlet!" Zoom musical for Wiess Tabletop Theatre.
"Small Mouth Sounds" will launch the department's year-end celebrations that include an annual awards ceremony followed by the student film showcase "FLICKS," the senior studio show "Everything but the Kitchen Sink" and an undergraduate exhibition and reception that will be open and on view on multiple floors throughout Sewall Hall the evening of April 20.
Tickets to the senior show are free, but seating is limited to 60.
For more information on the performances, visit theatre.rice.edu. For a Rice University map and parking information, visit rice.edu/parking.
Located on a 300-acre forested campus in Houston, Rice University is consistently ranked among the nation's top 20 universities by U.S. News & World Report. Rice has highly respected schools of Architecture, Business, Continuing Studies, Engineering, Humanities, Music, Natural Sciences and Social Sciences and is home to the Baker Institute for Public Policy. With 4,552 undergraduates and 3,998 graduate students, Rice's undergraduate student-to-faculty ratio is just under 6-to-1. Its residential college system builds close-knit communities and lifelong friendships, just one reason why Rice is ranked No. 1 for lots of race/class interaction and No. 1 for quality of life by the Princeton Review. Rice is also rated as a best value among private universities by Kiplinger's Personal Finance.