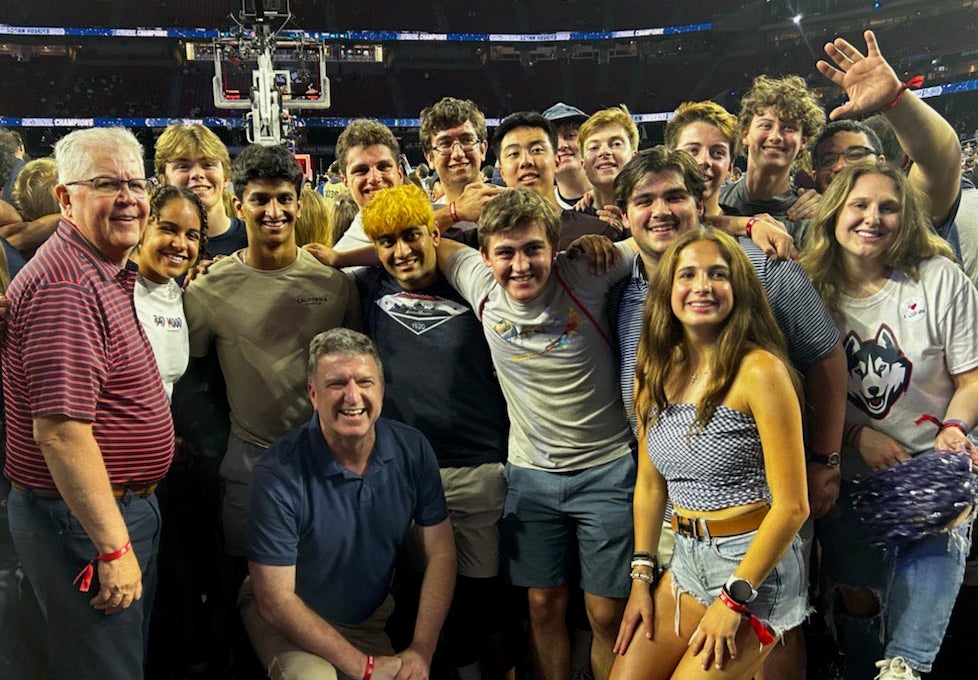 An innovative class allowed Rice University students to be heavily involved in the planning and production of the 2023 men's Final Four in Houston.
The course, titled The Business of Major Sporting Events, began last August with classes held at The Ion. Over two semesters, 17 Rice Sport Management students joined students from Houston Christian University, Texas Southern University and the University of Houston — the three other Final Four host institutions — in learning about the art of planning such a major event.
After absorbing invaluable information and lessons from distinguished speakers like the NCAA's JoAn Scott, managing director of men's basketball championships, and Dan Gavitt, senior vice president of basketball, as well as many more leaders in college athletics, the students were ready to play various roles in the planning and execution of the Final Four, which wrapped up April 3.
Students were split into four groups — marketing, community relations, volunteering and operations — and learned the intricacies of each function that helps lead to the end product.
"Students learned about everything that goes on behind the scenes to host an event like the Final Four, which is really fascinating," said Tom Stallings, a professor in Rice's Department of Sport Management. "In our case, we thought this would be a great opportunity to introduce to our first-year students."
Of the 17 Rice students involved, 14 were freshmen.
"It's a once-in-a-lifetime sort of thing for somebody in college to have the Final Four come to your town and to actually see everything behind the curtain and see it not just from a spectator standpoint, but from a sports practitioner standpoint," Stallings said. "What you find is that once you get exposed to everything, you notice a lot of the things going on behind the scenes as they have learned about the process of preparing for a large sporting event. So it's kind of neat for students to actually see that and be able to observe everything now that they know what it takes to implement something of this nature."
Lily Durant, a freshman at Rice, was a part of the community relations team leading up to the event, working with the director of community relations for the tournament, Dorita Hatchett. During the games at NRG Stadium, her job was to distribute and implement various promotions in the student section.
"It was awesome," Durant said. "It allowed us to get a lot of great experience and see what it takes. It really helped to see what you want to aim for and what the Rice Sport Management program can help you achieve."
Ashlee Austin, who recently finished her senior season on the Rice women's basketball team, was a member of the volunteer group, creating spreadsheets and directions for the event volunteers to navigate through the stadium and escorting people to where they needed to be during the games.
In addition, Austin was given the opportunity to pitch the idea of a Ted Talk-style event to the NCAA. As a collegiate programming intern with the Final Four's local organizing committee, she worked with class organizer and academic liaison David Brady in designing the concept of the event, titled "Final Four Talks," for student athletes to learn about the importance of mental, emotional, physical and financial health.
"(Brady) gave me a lot of creative freedom, especially as a student athlete, and I was able to give a lot of different topics and potential speakers that I thought would be beneficial to the conversations going around mental health for student athletes right now," Austin said. "It was really fun being able to use my experiences and experiences with my teammates to put together a program of how the Final Four talks could look. And it was really awesome getting to pitch the idea myself to the NCAA."
Through the Final Four Talks, student athletes heard from speakers like Jay Wright, former national championship-winning head coach of Villanova men's basketball, and Brené Brown, a professor, author and podcast host known in particular for her widely viewed TED Talk about the power of vulnerability in 2010.
This rare experience gave students a chance to zero in on what career field in sport management they want to pursue.
"I've always been kind of unsure of exactly what career I wanted to choose in sports. But I would say this experience has shown me that there's a lot of different professions that I could actually see myself in," Austin said. "And for me, I really was interested in community relations and being able to be representative and create different connections with people."
And for freshmen like Durant, this was just a taste of what the Department of Sport Management can offer over the next few years.
"It's absolutely insane as a freshman I was able to go to the Final Four games," Durant said. "There are so many opportunities that the sport management department and their faculty has brought to all of their students.
"Experiencing this, building my resume and meeting so many people that are going to benefit me in the future has just been fabulous, and I'm so grateful to Professor Stallings for his continued support and his encouragement both towards me and all of my peers. It is just amazing to be in this program. It's such a close-knit department, and I'm so excited to see what the next three years bring."
It's all about experiential learning, Stallings said.
"With everything we teach in the classroom, we do everything we can to make sure that students are implementing the skills, strategy and knowledge in their various sporting events and internships that are required in our major," he said. "And we believe this allows our students to interview with confidence, hit the ground running when they get hired for entry-level jobs and represent Rice with a distinction."
And after a long weekend of hard work and hustle, the students were able to sit back and enjoy the championship game simply as viewers.
"For everything they've done, they were rewarded by actually being able to sit together in a large block of seats and just enjoy the game," Stallings said.